Best 50 Birthday Wishes for your Ex
Just because the two of you are no longer together doesn't always mean you should be enemies. The birthday of your ex is a perfect opportunity to let them know that despite the fact that the romantic relationship turned sour and you have gone your separate ways, you still think about them and care. You can even use their birthday as an opportunity to make peace with them and try to reignite the relationship once again, provided that they are still not seeing anyone.
Below are some really cool birthday wishes that you can send to your ex boyfriend, girlfriend, husband, or wife as he or she marks another chapter in their life.

Table of Contents
Birthday Wishes for my Ex Boyfriend
The fact that we are no more together will never take away the fact that you will always be special to my heart. Happy birthday.
Wishing the most loving guy I've ever known a blissful birthday celebration. I can't deny the fact that my heart misses you badly. How I wish we never went our separate ways.
I hope we can put all the bitterness away and remember the reasons we loved each other. Happy birthday.
I tried to make you happy, but I guess my efforts weren't enough. I hope you find someone who gives you the happiness you are looking for. But meanwhile, do have a happy birthday.
Happy birthday, dear. You'll always occupy a special place in my heart even though we are currently living separate lives.
Today is your Big Day. I hope you celebrate it to the max. Please free yourself from the guilt of breaking my heart because I have forgiven you. Have a wonderful day.
I may not have turned out to be the love of your life but I wish you find your Sleeping Beauty soon, and when you do find her, I hope that she treats you with all the love and respect that you deserve. Happy birthday.
Best wishes to a phenomenal person on his birthday. How I wish I could undo all the hurt I caused you. I hope that one of these days you find a place in your heart to forgive me for all that I've done because I am truly sorry.
You still mean so much to me even though you left me heartbroken. I wish you find happiness in whoever you have found to call your own. Happy birthday, dear.
Thank you for still being my best friend despite all the hurt I have caused your heart. All I wish for in life is to have another chance to right all my wrongs. Wishing you a happy birthday with loads of love.
Birthday Wishes for my Ex Girlfriend
It's a shame I couldn't be the one for you. On your birthday, I pray that you will find someone who would love and cherish you all the days of your life. Have a beautiful day.
As you blow the candles on your cake, my heart wants you to know something. It wants you to know that it misses you like crazy. Happy birthday.
I try to completely erase you from my memory, but no matter how much I try, I just can't seem to do that. Could this be because this heart of mine beats only for you? Happy birthday.
Babe, you have no idea the things I would do just to get one more chance to be with you and hold you in my arms again. Happy birthday.
What has happened has happened. There is no need to hate and despise each other for our failed love. I still care about you and will never stop loving you. As you turn a new age today, I wish you a life filled to the brim with beauty and happiness. Happy birthday.
My heart has survived the demise of our relationship but I don't think it can survive the end of our friendship. Happy birthday.
I can accept the fact that I am no longer your Prince Charming, but what my heart can't stand is to no longer be your friend. Happy birthday.
I would like to move on in life, but I can't because I'm still in love with you. Please take me back, and let's live happily together once again. Happy birthday.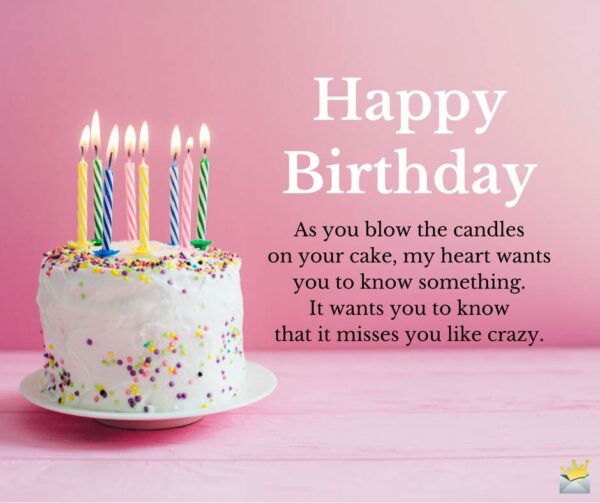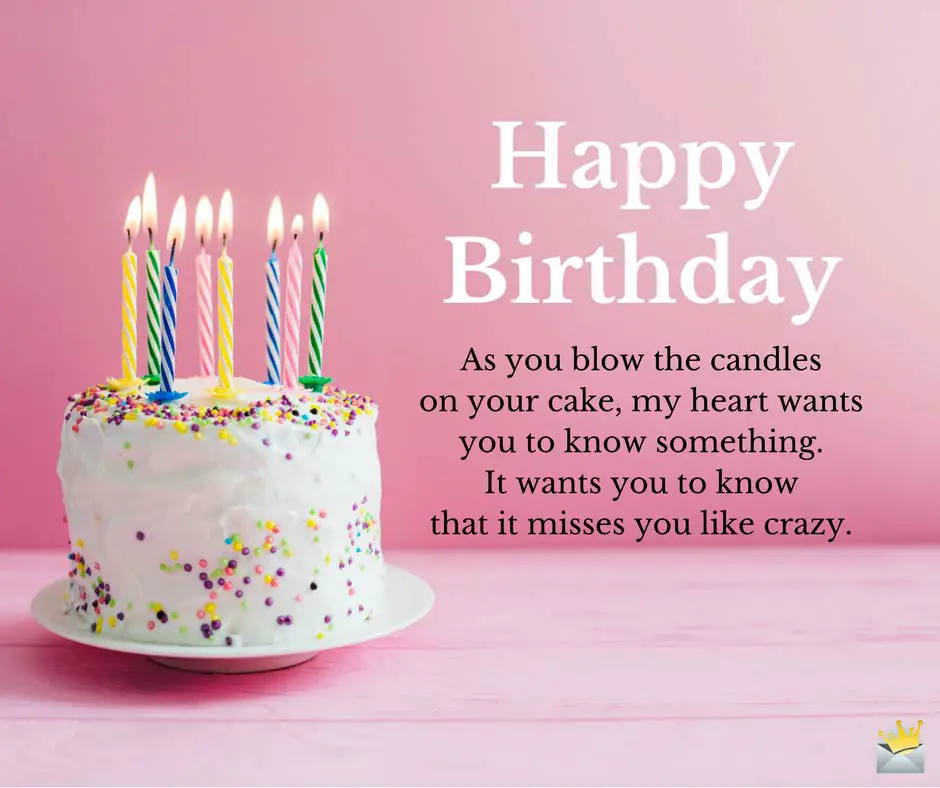 Birthday Greetings for my Ex Husband
Happy birthday, my dear. If we loved again, I promise I'd never let you down. I miss you so much and wish you could give me one more chance to make things right.
You might have moved on, but do know that this heart of mine still loves and misses you. I will never stop caring for you, my dear. Happy birthday.
I wish I was enveloped in your arms right now, but I guess those arms now belong to someone else. I hope she brings you the happiness that you have been chasing after. Happy birthday.
Happy birthday, dear. Celebrate today knowing that I pray for you all the time and I miss you so much. I hope all the things you dream of materialize.
Your birthday will always be a special day for me because you are special to me. The truth is I have never loved and cared for any one as much as I have loved and cared for you. You're such a wonderful man, and it is such a shame we couldn't make it work. Happy birthday to my ex husband.
You tore me apart and broke my heart, but I forgive you and wish you well in life because I still care about you. Happy birthday.
What wouldn't I do to have you in my life once again? I will walk across the hottest desert, swim across the largest ocean, and climb the highest mountain on earth just to get the chance to be with you again. Happy birthday, my love.
Birthday Messages for my Ex Wife
My intentions were to love you always and forever. Even though we are not together anymore, my intentions still remain the same. Happy birthday.
If I could get one more opportunity to be in your life, I would do things differently. I would tell you and I would show you how much you mean to me every blessed day. I miss you so much. Happy birthday.
Wishing a happy birthday to the woman, who once made me feel like the luckiest man in the world. Hope you have a beautiful day.
I miss our sweet conversations. I miss your sweet kisses. I miss you so terribly it is killing me. Happy birthday.
The truth is, I love you and I always will. You might not be mine anymore but the truth remains the same. Happy birthday.
I reserved a special place in my heart for you from the very first day I met you. We might not be together today, but that space can never be filled by anyone else because you still occupy it. Happy birthday.
I promised to love you forever, and even now that we are no longer together, I don't intend breaking that promise. Happy birthday.
You were my endless love, my pillar of support and my best friend. We might not be each husband and wife anymore but please let's not allow anything destroy our beautiful friendship. Happy birthday.
We might be living separate lives, but I will continue to always be there for you through thick and thin because you are such a wonderful woman. Happy birthday.
You may also like:
Did I Actually Miss your Special Day? | Belated Birthday Wishes
34 Original Birthday Wishes for a Woman
Birthday Wishes for a Man | Original Messages for Him