30 Creative Birthday Wishes for Dancers: Make Their Day Pirouette
Have you ever found yourself staring blankly at a birthday card, struggling to come up with more than just a generic 'Happy Birthday'? We've all been there, haven't we? Especially when it comes to people who carry a special spark, a distinct rhythm in their life – like our dancing wonders. Wouldn't you agree that their birthday message should match their passionate pirouettes and vivacious verve?
Imagine how delightful it would be to see their eyes light up as they read a wish that dances off the page, just like they dance off the stage! How satisfying it would be to know that you have truly touched the heart of a dancer with your words, just as they touch ours with their movements?
A dancer isn't just anyone. They are artists, rhythm chasers, dream spinners who create magic with their every step. Their birthday deserves more than a one-size-fits-all wish. It deserves a grand spectacle, a celebratory dance in words! But what does a perfect birthday wish for a dancer look like? Is it full of rhythm, beat, or a burst of graceful words?
Well, let's get those worries to waltz away, because we're here to inspire you with the perfect symphony of words! Get ready to step into a world of unique, heartfelt wishes that echo the rhythm of the dance. In this blog post, we've choreographed an exciting performance of various wishes and messages, each designed to strike a chord with your favorite dancer on their special day. Let the curtains rise, and let's twirl into the spotlight!
Table of Contents
Celebrate Their Rhythm: Unique and Inspiring Birthday Wishes for Dancers
Presenting our unique "Happy Birthday Wishes" for dancers. These messages are designed to inspire and motivate, mirroring their passion and dreams. Let's sweep them off their feet and make their special day even more vibrant!
To an amazing dancer with breathtaking dance moves, wishing you a birthday that's as beautiful and graceful as your performances. May you continue to inspire and amaze us on countless years of special occasions.
Sending birthday wishes to a friend who dances not just with her feet, but also with her heart. May your birthday be filled with as much joy as your dance brings to the world."
Here's wishing the best dancer I know a day filled with love, laughter, and plenty of dancing. May your birthday be as amazing as your pirouettes!"
May the rhythm of joy and happiness dance in your life today and always. Hoping your birthday is filled with wonderful surprises that make your heart dance.
On this special day, a star was born. You have turned that spark into a brilliant dance that lights up our world. May your birthday be as spectacular as your performances.
To the ballet dancer who adds grace to our lives with every dance, wishing you a birthday filled with beautiful moments that inspire you to continue mastering your craft.
You've danced into our hearts with your passion and talent, and we're hoping this birthday brings you as much joy as you've given us through your music and dance.
It's an honor to know a dancer as amazing as you. May your birthday be as memorable as your performances, full of joy, laughter, and of course, dancing!
As you hop, step, and leap into another year, may you find more inspiration for your beautiful ballet moves. Here's to a day as elegant and graceful as you.
Here's to the girl with the sparkling toes and the boy with the vibrant moves. Your dance is a gift to us all. May your birthday bring you as much pleasure as your dance brings us.
Just like your dance moves, may every moment of your birthday be filled with rhythm and grace. Wishing you a birthday as beautiful as your ballet performances.
On your birthday, let the music play and the good times roll! You're not just a year older, but a year better, a year more beautiful, and a year more amazing as a dancer.
Your performances on the stage light up our world. Here's hoping your birthday shines as brightly as your amazing talent.
To a friend who dances like there's no tomorrow, may your birthday be filled with endless music, joy, and of course, dance!
May your birthday be as fun-filled as a party dance, as graceful as a ballet, and as joyful as a hip-hop. You're an inspiration to every dancer out there.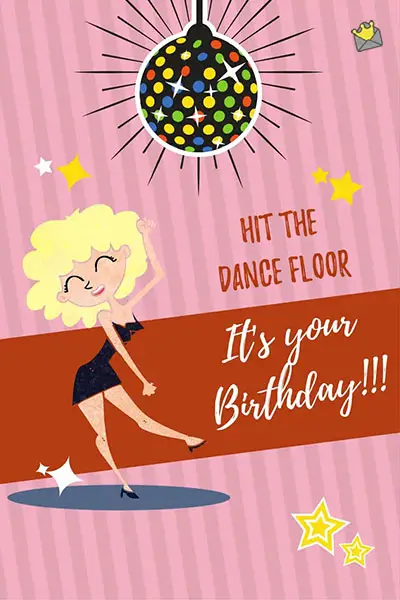 Put on Your Dancing Shoes: Short and Funny Birthday Wishes for Dancers
These wishes are light-hearted notes, designed to make a "Happy Birthday, Dancer!" wish just as vibrant and lively as their dance moves. Let's add some humor and joy to their special day!
Happy Birthday! May your day twirl but not into the cake!
May you always have a dance in your step, even over the presents. Happy Birthday!
Happy Birthday! May your joy rise higher than a grand jeté and troubles be lighter than a plié.
Age is a number, dance steps aren't. Happy Birthday!
May your birthday be as fun as doing the Macarena in neon leggings!
Wishing you a day that dances to your rhythm. Watch out for cake calories though!
You find a dance floor even in a desert. Happy Birthday to my enthusiastic friend!
May your cake calories fear your dance moves. Happy Birthday, twirl away!
Happy Birthday! Shimmy your way through this special day like a diva!
Like your dance, never wait for life's perfect moment. Happy Birthday, spontaneous dancer!
Happy Birthday! Here's to another year of dancing, even when everyone is watching!
Happy Birthday! Dance like a disco duck, party like a punk rocker!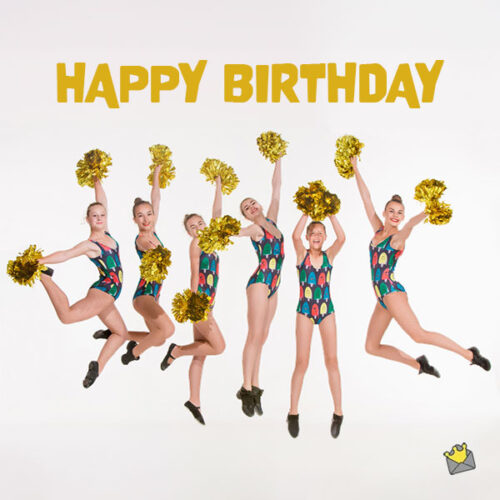 Dance to the Rhythm of Dreams: Inspirational Ways to Say Happy Birthday to Dancers
Remember, inspirational wishes should motivate and encourage the dancer to keep pursuing their dreams and passion. Here's to a day full of love, laughter, and lots of dancing!
Happy Birthday! May the music of life keep your soul dancing. Keep impressing us with your passion, my friend. Here's to another year of amazing performances!
Hey best dancer, on your special day, may your dreams guide your steps, and may your dance always be as beautiful as the art you create. Have a wonderful birthday!
To the person who adds beauty to our lives through dance, Happy Birthday! May your performances continue to impress and inspire. We're so proud of you!
It's an honor to celebrate the birthday of such a talented dancer. Keep following your passion, boy. The stage is yours, make it cool as always!
Happy Birthday to our dancer girl! May your life be filled with as much joy as you bring to us through your dance. Keep chasing your dreams!
Hey, baby! On this special day, may you find the hope and strength to perform your best and achieve everything your heart desires. Happy Birthday!
On your birthday, remember that you are a person of passion, beauty, and soul. May your dance continue to be as expressive and creative as you are.
For a friend who makes art with her dance moves, I wish you a life full of music, laughter, and amazing performances. Have a wonderful birthday!
You, boy, are the best dancer I know. Today, we celebrate your life, your passion, and your art. Keep dancing, keep inspiring. Happy Birthday!
That concludes our exciting collection of unique, funny, and inspirational "Happy Birthday, Dancer" wishes. We hope these expressions add a special rhythm to your dancer friend's celebration, making their day as memorable as their performances. Always remember, the best wishes are those that come from the heart and resonate with the receiver's passion. Don't hesitate to put on your creative shoes and modify these wishes to suit the dancer in your life. Celebrate, dance, laugh and create unforgettable moments. Happy celebrations!
Pin it to save it for later!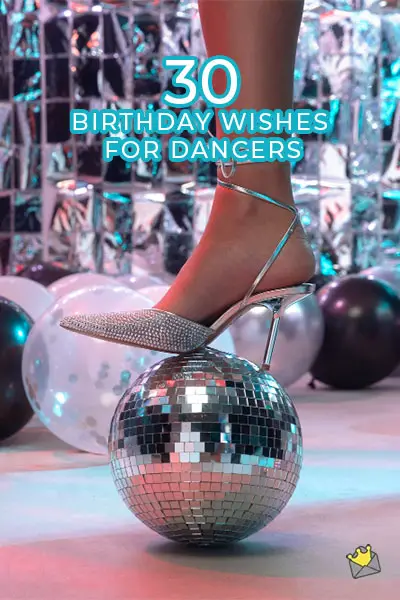 You may also like:
Birthday Wishes for My Best Girl Friend | Happy Birthday, Amiga!
84 Conversation Starters That Will Make You Instantly Interesting at a Party
Milestone Birthday Speeches for Friends and Loved Ones