Encouraging Words: 30 Inspirational Quotes To Inspire and Uplift
Everyone needs a bit of encouragement and love. Whether it's in our personal or professional lives, sometimes a little boost can make all the difference. That's why we've put together this collection of quotes to uplift, motivate and inspire! If you have someone special in your life who keeps pushing themselves to reach higher goals, show them how proud you are with these inspirational encouraging quotes.
These positive messages will remind your loved one just how much they mean to those around them. No matter what kind of words you want to express, there is something here for everyone!

1. "Success isn't about how much money you make; it's about the difference you make in people's lives." – Michelle Obama
2. "Shine your light so brightly that others can see their way out of the dark." – Unknown
3. "You are braver than you believe, stronger than you seem, and smarter than you think." – A.A. Milne
4. "The best way to make your dreams come true is to wake up." – Paul Valery
5. "Don't be afraid of your greatness; it's the only thing that can save us now." – Unknown
6. "Be brave enough to live life creatively; don't let fear stop you from creating something beautiful!" – Unknown
7. "Life isn't about finding yourself; it's about creating yourself!" – George Bernard Shaw
8. "Nothing can stop the man with the right mental attitude from achieving his goal; nothing on earth can help the man with the wrong mental attitude." – Thomas Jefferson
9. "The only person you are destined to become is the person you decide to be." – Ralph Waldo Emerson
10. "You have what it takes to be a victorious, independent, fearless woman—all you have to do is believe it and live it!" – Unknown
11. "You are capable of more than you know; you are worth more than you think." – Unknown
12. "What lies behind us and what lies before us are tiny matters compared to what lies within us." – Ralph Waldo Emerson
13. "Success is not the key to happiness; happiness is the key to success!" – Albert Schweitzer
14. "It's never too late to be whoever you want to be; there's no time limit, start whenever you want!" – Mark Twain
15. "The only way to do great work is to love what you do; if you haven't found it yet, keep looking!" – Steve Jobs
16. "The only limit to our realization of tomorrow will be our doubts of today." – Franklin D. Roosevelt
17. "A dream does not become reality through magic; it takes sweat, determination and hard work!" – Colin Powell
18. "You were born to make a difference; don't let anyone tell you otherwise!" – Unknown
19. "It is never too late to be what you might have been!" – George Eliot
20. "Stay positive and happy; work hard and don't give up hope because life's amazing journeys often begin with small steps." – Unknown
21. "You are strong, powerful and capable; never forget that!" – Unknown
22. "You are more powerful than you know; you have the strength to achieve your dreams!" – Unknown
23. "The only person who can limit your success is yourself; so take control and make it happen!" – Unknown
24. "Believe in yourself because no one else will do it for you!" – Unknown
25. "Successful people keep moving; they make mistakes but don't quit." – Conrad Hilton
26. "Your possibilities are endless when you believe in yourself; stay focused and go for it!" – Unknown
27. "You are the only one who can make the impossible possible; so don't be scared to go for it!" – Unknown
28. "It takes courage to grow up and become who you really are." – E.E Cummings
29. "The journey of a thousand miles begins with a single step." – Lao Tzu
30. "Don't let anyone tell you that you're not good enough; you have what it takes to make your dreams come true!" – Unknown
These positive proud of you quotes will remind anyone that they can take control of their lives, no matter how daunting life may seem sometimes.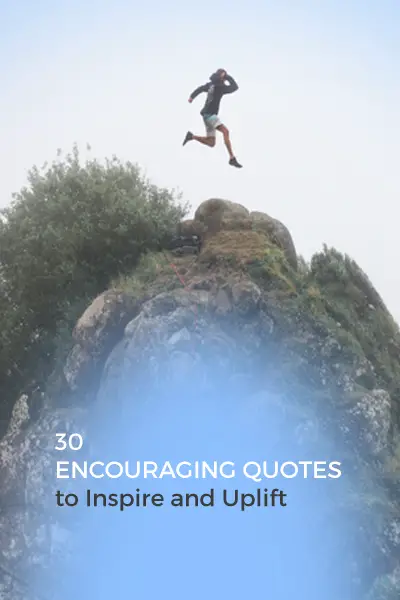 You may also like:
Unconditional Love, in Person | 180 Sister Quotes
Best 150 Smile Quotes About an Expression of Joy
150 Happy Quotes About The Importance of Happiness