Best 50+ Funny Birthday Wishes for your Sister
Few things bring us as much joy as a loving sister, and we can use the special occasion of her birthday to crack some light-hearted humor.
Here are some really funny birthday wishes you can share with your sister on that important occasion of her life.

Funny Birthday Wishes for your Sister
On your sister's birthday, remind her who the funny one is with one of these clever quotes that are sure to make her giggle.
It is your birthday sister, and everybody knows that things get better with age. So, by now you must be amazing!!!
Enjoy your birthday big sister! Thanks for always making me feel young and beautiful.
Wishing the happiest of birthdays to a little sister who is not anywhere near as evil as I once thought she was.
Birthdays are always special to me because it's the only thing that we didn't have to share as kids! Enjoy your birthday. It's all about you!
Happy Birthday, Sister! You're great at everything you do. And I'm great at being the brother you wish you never had.
The best part of being your sister is having a best friend that is almost as pretty as me. Best wishes on your birthday!
Happy Birthday from your brother! My gift to you is pretending that you're actually the favorite child.
It is your birthday! On this special day, I just want to speak from the heart and let you know … I am Mom's favorite!
When we were kids, my little sister stole my limelight, my toys, and even my money on occasion. So, today I am stealing her birthday! Happy Birthday to me!!!
You're not just my sister- you're my crazy best friend, drinking buddy, a cup of awesomeness, and you deserve a huge birthday cake – to share! Happy birthday to you!
Since we are sisters I guess I have to say something sweet on your birthday like if you fall I will help you up. You know I will always be there, but only after I've had a few laughs about it. Happy bday, sis.
Sister, my gift to you as you celebrate yet another birthday is to not remind you of just how incredibly old you have become. Love always and forever, your much younger sibling who noticed a gray hair the last time we had lunch.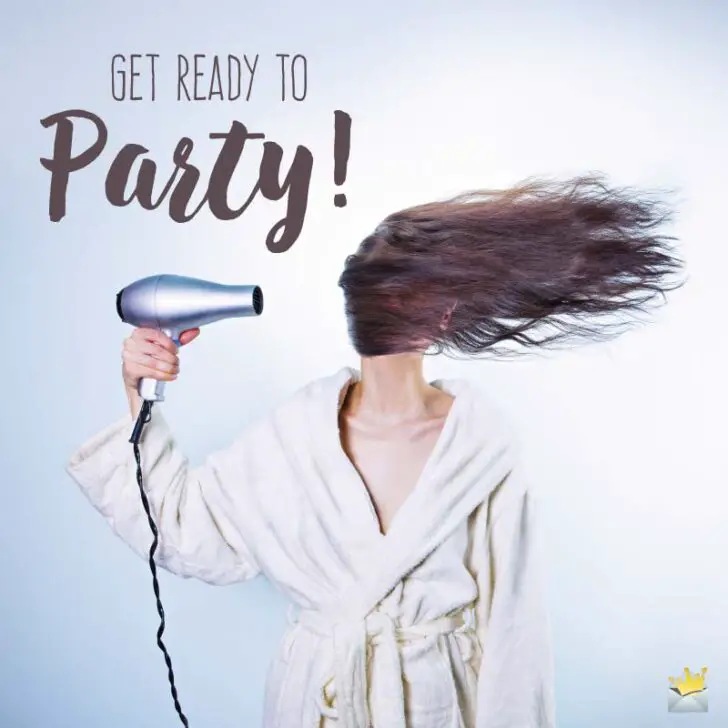 I used to think that you were just born bossy, then I realized you were just born first- so I guess you're off the hook since you were just being a big sister. Happy birthday to the bossiest best sister.
I always take it as my obligation to at least make you feel good on your birthday since I inherited all of the looks.
I wanted to put a candle for each year of your life on your birthday cake this year sister. Unfortunately, the fire department refused to give me the permit needed.
I could write a million songs about your grace and elegance – but mother always taught us not to lie.
Out of all of siblings life has blessed me with you're my favorite because only you can see the humor in receiving an empty box as a gift.
Birthdays are a time for us to show appreciation to those who mean the most to us, but I thought it would be tacky to buy something for myself.
If I were you, I would be more appreciative of the beauty, wit and charm life has blessed me with, and if you were me you would be the greatest person on earth.
The thing I love most about celebrating the birthday of my sweet, irreplaceable sister is her mouth being too full of cake to speak.
You're the type of sister I would feed to a dragon if we were on Game of Thrones.
Happy birthday to the girl with the coolest, most beautiful older sister in the world.
May you enjoy so much cake today that your stomach explodes.
Every hour I spend with you makes me feel as if I'm also aging. Enjoy every bit of your birthday, sweet sis!
I had a real funny joke about you prepared for this special occasion, but then I realized I didn't want people to see me get my ass kicked by a girl.
Happy birthday, beloved sis. May you grow up to marry the richest brother-in-law appreciator in the world.
As you grow older, may life continue to bless you to look more and more like me.
Sis, partying on your birthday is almost redundant because our lives have been like a never ending celebration since the day you were born.
You possess all of my good qualities but better, if such a thing is even possible!
Sis, I love you so much that if the technology existed I would make a clone of you every day, so that the whole world could be full of your joy.
If it's true that man gave up a rib to create a wife, then he must've given up a funny bone to create a sister.
Every time I ponder on all of the beautiful qualities life has blessed you with, I feel as if you're my own child instead of my sister. Happy birthday, dear sister!
Your unparalleled level of success, skillfulness in the kitchen and benevolence of spirit has made me decide to live with you forever, eat all of your food and never pay rent.
Anyone who still believes that a woman can't possess all of the qualities of a man has never met you.
Related: 40 Happy Birthday Wishes for your Sister-in-law
May you continue to grow so beautiful that soon you won't be able to open a Facebook account without attracting a thousand harassers.
Instagram was created to exhibit the grandeur of your being. Happy birthday, irreplaceable sister!
May fate bless you with a husband with the wealth of Jeff Bezos and the hotness of Brad Pitt.
If my love for you could be expressed in a birthday cake, it would stretch from the floor all the way to the ceiling.
This year, it was my mission to get you a gift that would make you laugh, so I to bought you a mirror. Happy birthday, darling sister!
Fate has already given you more than you deserve in granting me as your brother, but as the years progress, I hope that life only increases its favor towards you.
Sis, may your beauty continue to increase so that on the day I sell you to your prospective husband I'll make a lot of money.
On this special day, I can write a thousand passionate words explaining how I feel about you, my beloved sister, but then mommy would kick me out of the house.
If life granted me the wherewithal to get you any gift my heart desired, it would be a muzzle.
Now that you have grown into a successful, independent woman, I feel that all of the years of suffering as your brother have finally paid off.
Since you were already born with the looks of a centenarian, may fate also bless you with the years to match!
Every step in life I take with you is like having the bottom of my feet tickled!
Every year spent with you makes me increasingly grateful that I talked our parents out of putting you up for adoption on the day you were born. Happy birthday, my one and only sister!
As you grow into an increasingly beautiful woman, always remember to introduce me to your friends who share the same qualities.
You are a true reflection of my beauty. In fact we look so much alike that yesterday I was able to go shopping using your credit card.
I know that if I'm ever in trouble I can always call you- because the only thing crazier than me is my sister! Happy birthday to you, wild thing.
Having you for a sister is like having a crazy best friend that just won't go home. Happy birthday, crazy best friend.
Growing up with you has taught me that a woman can do anything a man can do, just that men can do them better.
This year, I wanted to get you a special gift that you would always remember – especially on my birthday, Christmas and when you receive your tax return.
Happy birthday, my dearest sis. May you experience long life and so many children and grandchildren that you forget their names!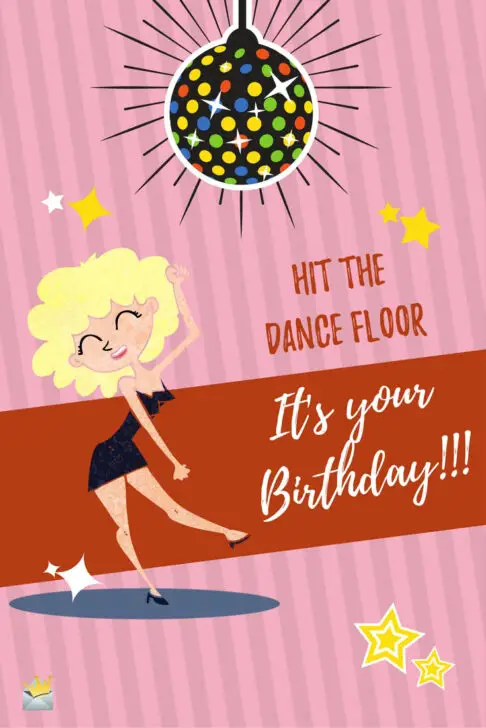 If you like it, pin it!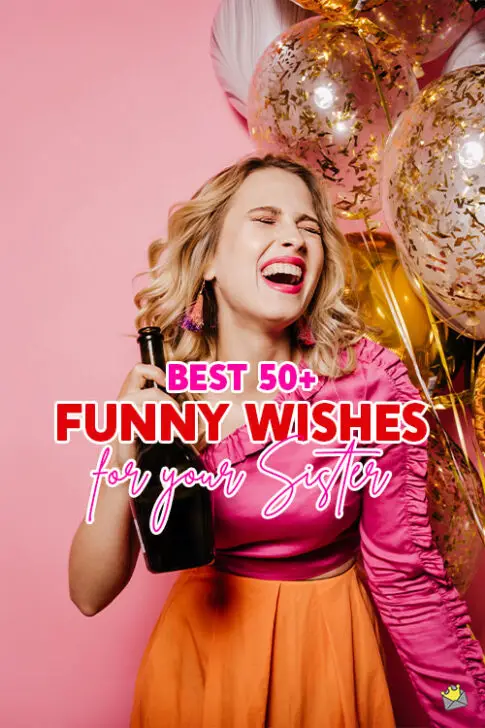 You may also like:
40 Sister Captions for the Photos of a Timeless Relationship
20 Happy Birthday Sister Images to Tell Her She's the Best
Best 35 Heart-Touching Birthday Wishes for your Sister
50 Hilarious Happy Birthday Memes to Share and Make them Smile
150+ Heartfelt Ways to Say "Happy Birthday, Mom"