10 Happy Birthday Paragraphs for your Sister's Special Day
Twitter might count the characters in your tweets, but there are times when you need all the words in the world to express your feelings. These well-written birthday paragraphs for your sister will let her know how much she really means to you. Share them with her and make her glow on her birthday!

Table of Contents
A Sister is a Gift
Sisters are friends you get to live in the same house with. Sisters are secret keepers. Sisters are shopping buddies. Sisters are more than bonded by blood, they are sewn together at the heart. Sisters are one of life's greatest gifts. And I'm so thankful that you're my sister. Happy birthday to you, sis!
Invaluable Life Companion
All through the years you have defended me against others, stood by me in the storms, held my hand in the dark, and showed me the right way when I couldn't find it on my own. You made me mad from time to time, but you always made me laugh harder later. You've always been there for me even when I didn't want you to be- and now I'm so glad you were. Happy birthday to the best sister in the world. You deserve all the happiness and joy life has to offer.
Birthday Thanks to my Sis
Thanks for always being the kind of woman that stands up for other women like me. And thank you for always caring and loving deeper than all the others in my life when I had no one else. Thanks for being a loyal sister even when I wasn't. You are the best of the best and you deserve all the great things in life. Happy birthday to the best sister of all.
Love you to the Moon and Back, Sister!
Hey girl, it's your birthday! There is no one more deserving, more thoughtful, more lovely, or more special than you on this day and always. I wish you all the love life can give, all the success one can have, all the happiness one can share, and all the freedom to be who you are one can gain. I love you to the moon and back with a cherry on top. Happy birthday, girl!
Sending Love & Happiness back to you
A super duper happy birthday to you, my cherished sister. You have been an incredible sister to me all my life, which is why I am more than ecstatic to share this special day with you. May happiness always consider your heart its permanent home so that a smile may always be present on your face. Have a beautiful day.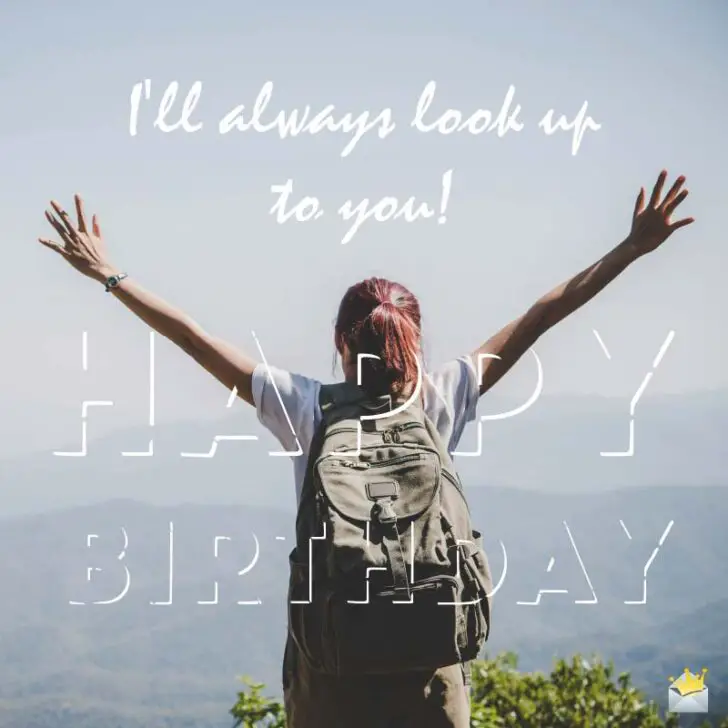 Sister Pride & Joy
I think the world of you, my dearest sister – you are loving, smart and caring. Don't ever forget it. There's nothing more I want in this life than to see you truly happy all your days here on this planet, and that is why everlasting happiness is all that I wish for you on your Big Day.
Always Believe in Yourself, Sis
If there is anyone I believe in with all my heart, it is you, sweet sister. I know you shall accomplish wonderful things in your life, which is why on your birthday, I want to encourage you to never stop believing in yourself. Congratulations on making yet another successful trip around the sun. Have a smashing birthday, and don't forget to keep on shinning like the star that you are!
Keep on Smiling
Wishing my super awesome sister a super awesome birthday celebration today! Nothing fills my heart with joy than seeing you smile. So keep on smiling, dearest. If there is one thing I am sure of, it's that if all sisters in the world were even as half as wonderful as you, this world would have been truly heavenly.
The Universe Celebrates with you
Behind my happiness is my beautiful, smart, kind and caring sister. Sweet sis, as we celebrate your beautiful life today, it's my prayer that your happiness and blessings will be more gargantuan than the universe. Have a fantastic birthday filled with events that are as beautiful as you are to me.
Birthday Blessings
May your blessings be as abundant as the grains of sand covering the Sahara Desert. May all the days of your life always move from strength to strength and glow with happiness. Happy birthday, dearest sister.
If you like it, pin it!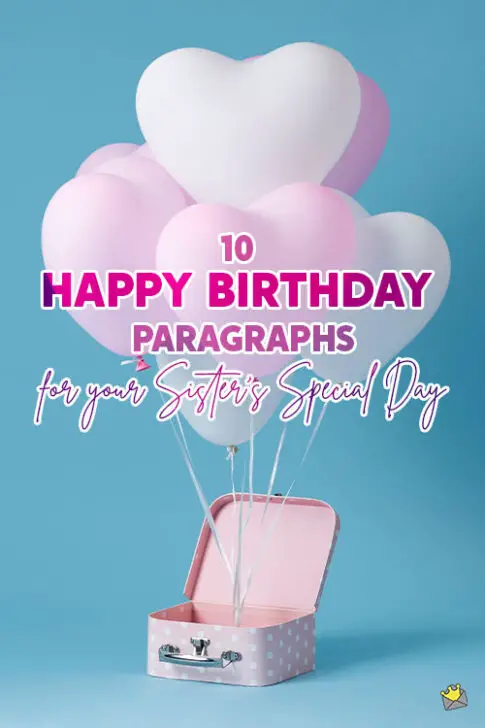 You may also like:
Best 35 Heart-Touching Birthday Wishes for your Sister
20 Happy Birthday Sister Images to Tell Her She's the Best
40 Sister Captions for the Photos of a Timeless Relationship