60+ Happy Captions for Those Instagram Posts of Today
There are plenty of reasons to be happy in today's world, and it's important to remember that you don't have to experience huge moments to feel true happiness! In fact, the smallest moments can cause the biggest impact when it comes to your "happiness gauge". When those moments happen, you're likely going to want to capture them in a picture- as many as you possibly can! It's wonderful to look back on social media and experience these moments all over again. However, it's often easier to capture a moment on film than it is to explain it to your friends and family. That's why we are here! We've created a large collection of happy captions that you can pick and choose from when you're looking for that ever-so-perfect expression that captures the moment ideally.
Check out all we have below, and remember to always smile!
Table of Contents
Short Happy Captions for Instagram
Short, happy, and to the point- check out the captions we've designed for you below!
Happy is a state of mind!
It's happy o'clock somewhere!
Sunshine and happiness wherever I go!
Life is happy!
Enjoying life one moment at a time.
Life is short-enjoy every second.
Life is a highway!
Life may be a rollercoaster, but enjoy it while you ride!
Happiness is the 3 L's-live, laugh, love!
Happiness is love and laughter!
Happiness can grow on you, so let it!
Smile even when you're down, you won't regret it!
A mile of a smile!
Can there be anything more beautiful and joyful?
My soul is happy, and that is all that counts!
Happiness clings to you when you try.
Funny Captions for Happy Instagram posts
Get a chuckle from your followers with one (or more!) of our funny captions below!
I may be crazy, but at least I'm happy!
My head and heart are so full of happiness, I could burst-so watch out!
If happiness were a physical thing, I'd be a handful of glitter.
If you're sad, buy a balloon. You can't be sad holding a balloon!
Laughing my way through life!
Thank goodness happiness isn't a crime-I'd be in jail!
Walking on sunshine, walking on air!
I may have wrinkles, but they are from my thousands of smiles over the years!
When life makes you sad, don't be afraid to ghost those feelings like you're on Tinder!
Happy-go-lucky is where it's at!
I love sharing happiness like it's the flu!
I'm rich with happiness, at least.
Happiness is the best makeup. At least for other people!
Type happiness into Google and you'll see a picture of me!
Happy Captions for Girl Pics
Taking pictures with your girlfriends calls for the best captions possible!
Hey, hey we're the girlfriends, and people say we're messing around!
We plan on raising the roof with our laughter and good times tonight!
When you're in our group, happiness is a requirement!
We're always happy together!
There is no other place I would rather be than giggling with the girls.
The girls are back in town, watch out!
Happiness is having dinner with your besties.
Girlfriends are the glue of life and the way to happiness!
There is no better happiness than being with your girls.
When you're sad, a session with the bestie is just what the doctor ordered.
We're taking the town by storm and laughing the entire way!
Look out, hysterical laughter is about to begin!
The road to happiness is paved with best friends that are there for you.
Being happy means enjoying quality time with your best friends.
Happy Captions for Selfies
When you want to show your followers how good you're feeling, feel free to grab some of the captions we have for you below!
When you're happy and you know it, take a selfie!
I want to capture this amazing feeling and look back on it in the future!
Life is a party, and I'm ready to indulge!
My soul is as happy as can be!
I love being happy-go-lucky. It makes life a lot easier!
I'm ready to be happy again!
It's definitely my time to shine!
Deleting the "life sucks" from the file in my mind.
Thinking nothing but happy thoughts, starting now!
I'm smiling because life is good!
Today is good vibes only!
Think happy and you will be happy!
Why sweat the small stuff? Be happy and be at peace like I am!
Happiness is flowing through my blood stream, charging me up for the best day possible!
If you like it, pin it!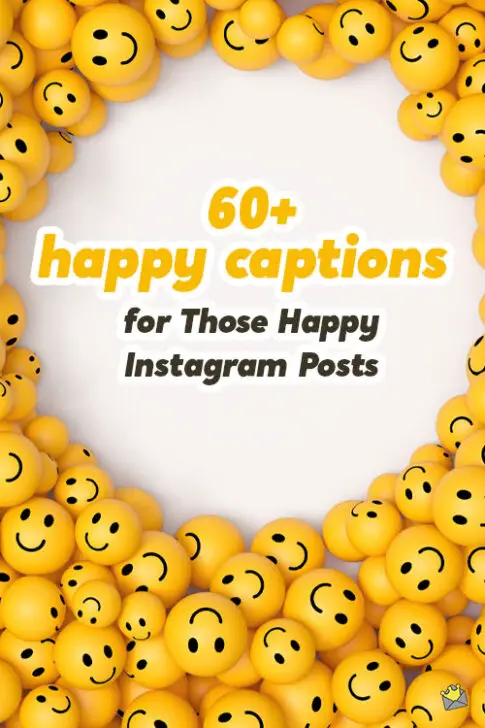 You may also like:
52 Vacation Captions for the Pics You Take When You Take Time Off
140+ Original Instagram Captions for Selfies
40 Sister Captions for the Photos of a Timeless Relationship