52 Beautiful Flower Captions For Pics that Admire Their Beauty
There is nothing better than the sweet smell of flowers on a warm, summer day. There is also nothing better than the sight of all the gorgeous flowers that bloom around us or the ones that we take care of in our homes. Flowers represent many different ideas and feelings for us, as well. Red roses symbolize love, yellow sunflowers symbolize friendship, blue lilies symbolize hope-the list goes on and on. We plant them, we pick them, we smell them, we give them away, and we take plenty of pictures of them along the way.
Of course, what better way to communicate our love for this beautiful foliage than to share those pics on social media? We love sharing the beauty and wonder of the world, and flowers pics allow us to do just that. And when you share these photographs with your followers, you'll need the captions we have prepared for you below. Your friends and family will love them!

Table of Contents
Short Flower Captions for Instagram
When you need a quick and easy caption for your pics, choose from the following ones we've designed just for you!
Flower power!
Winter is over, let's see the clover!
Flowers and beauty are synonymous.
when life throws dirt at you, plant flowers in it.
When in doubt, plant flowers.
Never forget to stop and smell the blooms.
The earth is blooming in spectacular fashion.
Always turn your head to the sun like the flowers.
You're never too busy to enjoy a bloom.
Spring brings forth flowers and faith.
Keep calm and bloom.
Flowers and happiness are the same thing in my book.
Check out these blooms!
A flower a day keeps my sadness away.
To be a bee on a flower!
Flowers represent love, hope, and innocence.
There is nothing better than a flower struggling to break through the rocks.
Flourish like a flower on a sunny day.
Never forget to bloom where you're planted.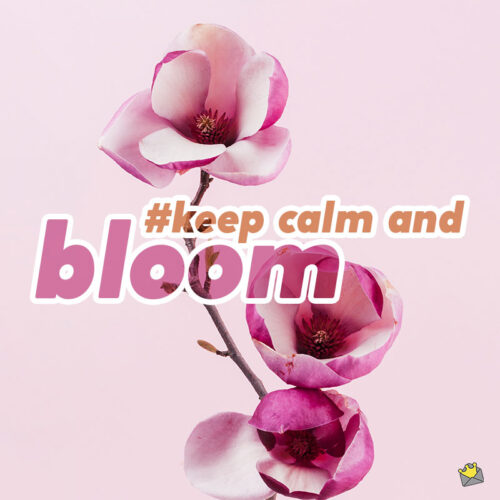 Funny Flower Captions
Get the laughter you deserve by using one of these captions below when you post your pictures!
Don't call dandelions weeds…they have feelings, too!
I'll grow on you just like these flowers!
Keep calm and pick a flower!
I be-leaf you better stop me before I pick every bloom!
You keep growing, girl!
Flowers keep my serotonin levels high!
If you want me to smile, buy me a plant.
We're blossom buddies!
Life is short. Buy another plant.
I'm easy to please, just pick me a flower and I'll be happy!
Just showing off the flowers I have managed to keep alive so far!
I never said I had a green thumb, so don't blame me for what happens when I'm given a flower pot!
I'm good to grow!
There is nothing wrong with being a wallflower when you're beautiful and smell good!
My flowers bring all the birds to the yard.
My brain may not produce the serotonin I need, but beautiful flowers can fill the void every time!
It's worth the sneezing to be surrounded by such beauty!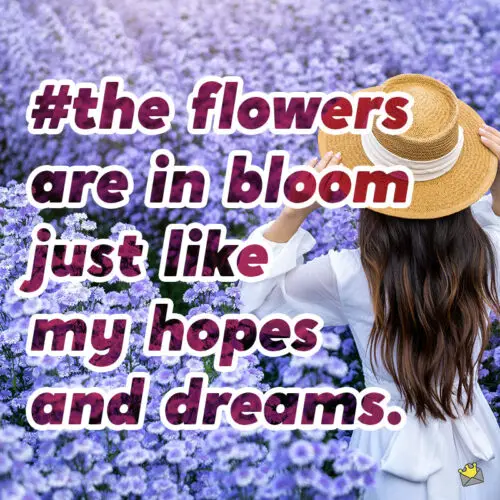 Captions for Flower Field Photos
A field of gorgeous flowers blooming in the sun calls for plenty of pictures, and we have the captions you will need to go along with them below!
A field of dreams or a field of flowers? They mean the same!
Roses are red and violets are blue, I'm surrounded by flowers, how about you?
If heaven had a scent, this field would be it.
What once was a field of dirt is now a field of spectacular flowers. Anything is possible, no matter where you have been planted.
Flowers and flowers as far as the eye can see!
Some people think heaven is above us. But I know that heaven is right here in this field.
Grow in places that no one believes will be possible, just like these wildflowers did.
Turn your face to the sun like a field of sunflowers. They knew that the sun would make them grow.
The flowers are in bloom just like my hopes and dreams.
Dancing in a field of flowers is my idea of the best day ever.
Have you ever seen a more beautiful sight than this?
Who could be sad looking at a field of flowers?
A field of flowers represents love, beauty, and hope.
It's not possible to be down when you're dancing among thousands of blooms.
Petals as far as the eye can see!
I wish I could explain the joy I feel while looking out at this sea of exquisite beauty.
I have never seen such a beautiful sight as I am seeing right this minute.
If you like it, pin it!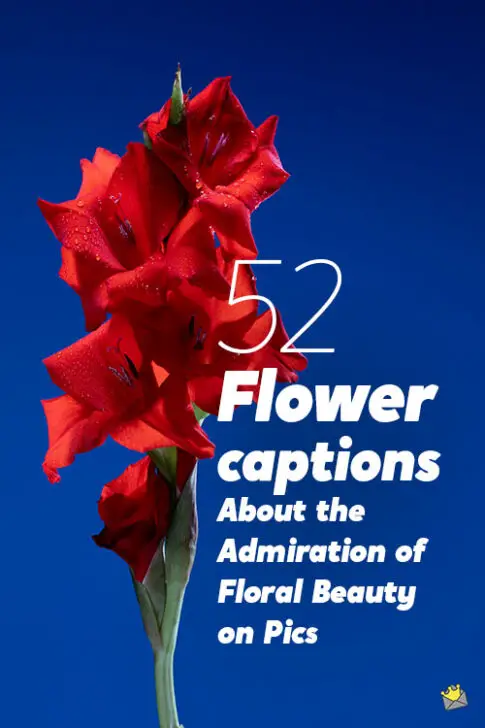 You may also like:
50+ Nature Captions for the Days It is Calling Us
52 Vacation Captions for the Pics You Take When You Take Time Off
50+ Smile Captions to Spread That Positive Energy