35 Golf Captions to Use When You're Swinging the Club
Whether you're a pro on the regular gold course or would rather fool around at your local mini-golf lot, we can pretty much guarantee one thing- you like to take pictures while you're swinging the club. Golf is a great game no matter how you look at it, but sometimes you need a little help with the right captions to go along with the pictures you took.
When you're worn out from the game but still eager to post your pictures, we can help make your photos pop! Check out the various golf captions we have put together for you below, and make sure you post the best pictures you have with them!

Table of Contents
Top golf captions
Summarize your golf game with one of the following captions!
I never knew a ball could go so far!
Every minute on the golf course is a minute spent well.
I'd rather golf in the rain than sit at a desk any day!
A bad day on the golf course is still better than a day at work!
Meet me on the course, and bring your best game.
Gone with the wind-the ball, not the movie!
Clubbing is my life. On the golf course, that is.
Getting up at the crack of dawn has never felt so good!
A golf game a day keeps the blues far away!
Swinging clubs and chugging suds. What could be better?
Golf is a game of perfection and dedication. Therefore, it is the perfect game for me to play!
It's time to putt away your worries and enjoy the game!
Funny golf captions
Give your social media followers a chuckle with one or more of the following captions!
Golf is the only game where you pay big money to walk for miles.
It's always a great day for golf!
Golfing will always be my favorite cup of tee.
The greatest golfing trophy goes to this guy right here!
I already know how to golf. I played the game for hours on Wii sports.
A perfect golf game may be hard to obtain, but I will do my best to work for it!
I may take forever on the course, but my swing is getting better!
Do you think my swing goes with my outfit?
It's not my fault I'm swearing so much, it's this course!
How am I playing so well yet scoring so badly?
Golf-the only game where you try to hit a ball into oblivion.
Wii sports never prepared me for this course!
Mini golf captions
Take some amazing pictures on the mini golf course, and caption them with one of our sayings below!
It's mini golf time for a not-so-mini man!
I may suck on the real golf course, but on the mini course I'm a pro!
Look out world, mini golf is my game!
I told you all that I had game!
No one can beat me at golf, as long as we are on the mini golf course!
There are two types of golfers. Those that can play on the big course, and those that can play on the mini course. I'm definitely the latter.
How can I be losing at mini golf?!
I thought even mini golf had golf carts?
Who is going to drive me to the next hole? I didn't know I'd have to walk!
I don't want to embarrass anyone on the real course, so we decided to play a game of mini golf instead.
Thank goodness I'm only playing the mini version today!
If you like it, Pin it!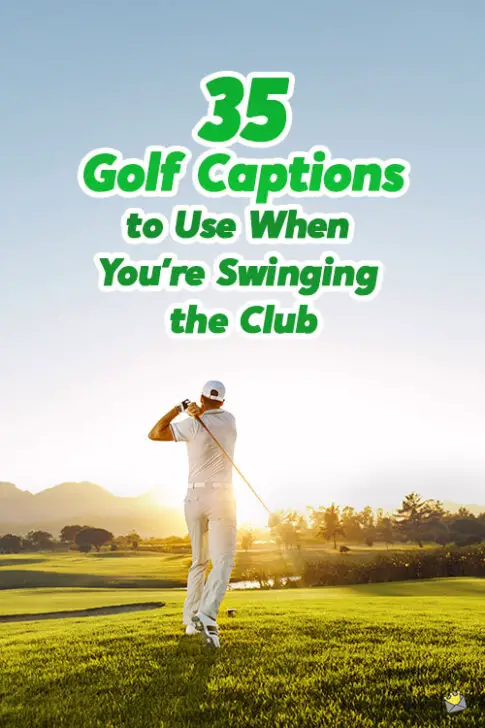 You may also like:
50+ Smile Captions to Spread That Positive Energy
40 Waterfall Captions for Those Amazing Water Shots
50+ Captions for the Days Nature is Calling Us