32 Dog Birthday Captions for Instagram Photos on their Special Day
You probably think of your dog as a member of your family, and this is probably one reason you'd take pictures of your pup every time he or she has a birthday. Because these photos hold a special place in your heart, you may want to post them on social media. If you do, make sure the captions you put underneath them make viewers smile and appreciate the precious photos of your pooch.
If the caption is for a picture that celebrates your dog's 1st birthday, show how important that day is with a few special words. These are some wonderful captions you can use:

Table of Contents
Cute Captions for Photos on a Dog's Birthday
If you are looking for adorable captions you can include with your dog's birthday photo, consider these choices:
You know you can't resist these puppy eyes!
I was born to lick my way to your heart!
I'm so happy because you love me.
I think I look cute. What do you think?
If you're happy and it's your birthday, wag your tail.
My therapist is having a birthday today!
It's my birthday, and I'm planning on having a grrreat time.
Today is my birthday. Can I go outside and fetch some sticks?
It's my birthday! Don't I look cute in my party hat?
Another year with my favorite human. I love birthdays!
Woof, woof! It's my birthday.
Do I get to sleep on the bed when it's my birthday?
You always make my birthday a fun day.
All I want for my birthday is an enormous stick and all of your love!
Because I'm your best friend, I expect you to celebrate my birthday.
Please don't make me wear this funny-looking hat any longer because it embarrasses me.
Funny Captions for Dog Birthday Photos
If you're going to post funny pictures of your dog on social media, why not up the humor a notch by making these hilarious captions part of your post:
I see you made me a cake for my birthday. All I can say is, I hope there's bacon in it.
I appreciate the gesture, but I think I'll just have a small piece of cake because I'm lactose intolerant, and you and I will suffer the consequences if I eat too much whipped cream.
Ask me to say "bacon" instead of "cheese" if you want me to smile for the camera.
For my birthday, can we not invite the cat to my party?
Is dressing me up for my birthday your idea of funny?
To a dog, a birthday means more dog treats and belly rubs. I'm ready!
You'd stick your tongue out at the camera, too, if you were forced to wear this silly-looking hat on your birthday.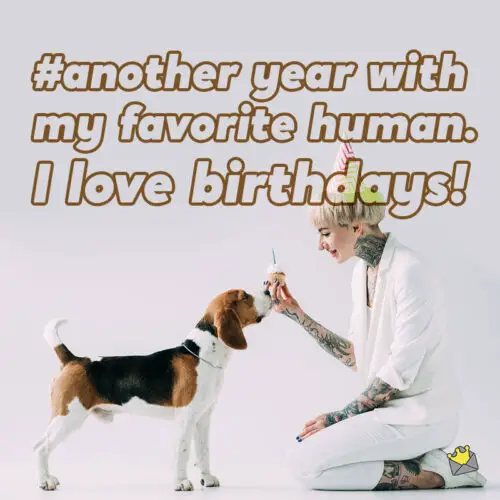 Captions for Photos of a Dog's 1st Birthday
Your dog's 1st birthday is a very special day, so make it known by placing one of these captions below your dog's 1st birthday picture:
It's my 1st birthday, and I'm so excited, I can't stop wagging my tail.
This is my first time doing this. Am I doing it correctly?
I will forever look forward to birthdays because this is my first one, and I like the idea of getting all this attention.
I'm having my 1st birthday, so I believe it's okay if I still act like a puppy for a while.
Happy birthday to me! I'm just a one-year-old with a tail and a friendly bark.
Learning how to celebrate my birthday because it's my first one.
I'm I the mood for fun. This is my very first birthday.
Excuse me while I let out my inner puppy on my first birthday.
Today is my first birthday, so make it a good one by giving me some of those yummy liver treats.
Like it? Pin it!
You may also like:
32 Loyal Birthday Wishes for Dog Lovers
66 Dog Captions for Those Cute Fur Ball Pics
50 Couple Captions for Pics When You Are Together