54 Wine Captions When You're Tasting a Fine Glass
There are so many reasons to enjoy a nice glass of wine, right? Sometimes the day is just so hectic that you need to unwind with a tall glass and the latest Netflix series. Maybe you're celebrating a fun occasion out with some friends and family. Or you're on vacation and sampling a new, local brand that your waiter recommended. There are lots of good reasons! And whether you love a dry, red wine or a cold, crisp white wine, we can all understand why it's easy to enjoy a glass on multiple occasions. But no matter when or where you are pouring that glass, it is a moment you will want to commemorate on social media. We have the perfect wine captions for all of those pictures you're going to end up taking along the way!

Table of Contents
Smart Wine Captions for Instagram
Let your followers know just how knowledgeable you are when it comes to wine with the following captions!
Starting this evening off right with a vintage pour.
A light-bodied wine is the best when you want your tastebuds to come alive.
This earthy taste reminds me of my trek through the mountains.
A glass of wine makes any dinner table a little more elegant.
A fruity Shiraz is the key to wine that makes your tastebuds tingle.
This wine is like drinking a little bit of heaven!
No day is complete without a glass of wine that has a supple taste to it.
This bottle certainly has plenty of tannins in it.
Wine tastes better when you know how to properly swirl.
It's a gorgeous color with a fruit-forward taste.
Nothing like a cold glass of Chardonnay to top off a busy day.
Chianti- the best wine when you need to relax and clear your thoughts.
No night is complete without a buttery Cabernet in your glass.
Cute and Funny Wine Captions
It's always great to have some fun when you're enjoying a good glass of vino!
You'll always be the wine that I want!
Pour me a mega pint, please!
I'd like a glass of Charda-YAY, please!
The forecast today calls for a 99.9% chance of a wine shower in my kitchen.
It's always time for a huge glass of wine!
I adult, therefore I wine.
Life is much too short to pass up a glass of wine.
A glass of wine a day makes the stress go away!
It's not the type of wine you choose, it's the size of the glass you pour it in!
I may make "pour" decisions, but those pours include wine!
Chianti, Shiraz, Merlot, Cabernet- How can I choose just one red?
My wine has earthy notes-wet leaves, damp forest, oh, who cares, it's amazing!
Every day is a good day for a glass of wine.
I conserve water by drinking water.
Winery Captions
Show off your trip to the winery by grabbing a caption below to use for your beautiful pics!
There is nothing better than a day spent enjoying a beautiful winery while sampling dozens of delicious flavors.
So many wines, so little time.
I'm glad I plan on taking an Uber-it's time to enjoy as much wine here as possible!
I'm like a kid in a chocolate factory here, except my chocolate is wine-flavored!
Delicious wines as far as the eye can see!
If you need me, I'll be enjoying every minute of this winery tour.
It's a dream come true-wine, wine, and more wine!
Time flies when you're having wine!
It's the time of day to wine down!
We made a really grape decision coming here.
Tasting and enjoying our way through this gorgeous vineyard!
There's no whining in the winery!
I've got time to wine.
Wine Tasting Captions
When you're enjoying a variety of flavors, be sure to catch the moment on social media!
Heaven is here on earth, right at this wine tasting!
Who would have thought there would be this many flavors to enjoy!
Getting tipsy and feeling fine, tasting wine and enjoying time!
I taste, therefore I am.
A taste here, a taste there, here a taste, there a taste, everywhere a taste, taste!
Lots of wine has me feeling fine!
A day without wine is like a day without sunshine!
Wine tasting is my favorite activity.
We're here to taste some wines and laugh until it hurts!
It's always wine-o'clock here!
So many flavors, so little time.
An evening of wine tasting is an even well-spent.
My favorite drinks are the ones that come from fruit.
Wine is ALWAYS the answer, no matter the question!
If you like it, pin it!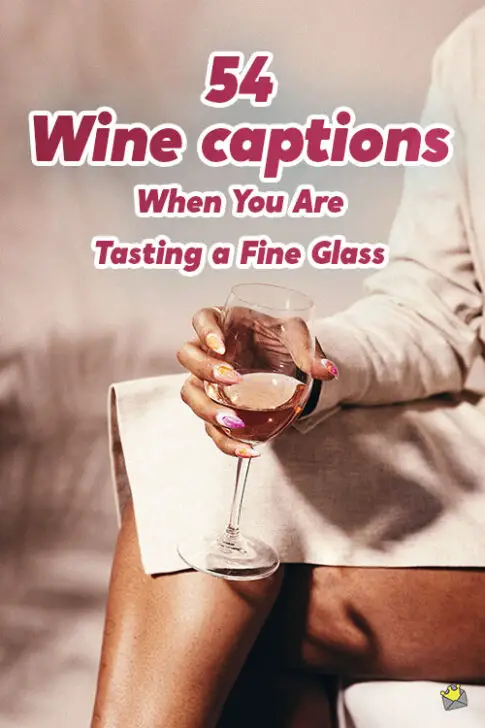 You may also like:
40+ Relaxing Pic Captions to Get the Chill Mood Across
51 Coffee Captions to Keep Everyone Awake
70+ Smart Instagram Captions for Girls of All Ages