Best 70+ Smart Instagram Captions for Girls of All Ages
If you have girl pics you plan on posting on Instagram, make sure they are accompanied by cute or clever captions that will leave a good impression on anyone who reads them. Each caption should say something interesting about the picture you share. The following Instagram captions for girls will come in handy.
Whether the words below your photo say a lot or a little, the person reading them will appreciate what you have to say and probably like your image more than he or she would if it had no caption. Don't post pictures of girls without including captions! Use the ones below to make your photos more appealing.

Table of Contents
Short Instagram Captions for Girls
If you want to get right to the point, use these short captions for the pictures of girls you post on Instagram:
Smart and sassy!
Naturally beautiful!
A captivating smile!
Diamond girl!
Shine on!
Primped for the camera.
My breathtaking beauty!
Pink is my color.
Just being me.
Me after makeup.
Makeup makes me pretty.
Daddy's spoiled girl.
Too hot to handle!
Perfect photo!
Makeup magic.
Be different.
Me without you.
Having girl fun.
Like my new haircut?
Awesomely attractive manicure.
Looking cool!
This girl loves bling.
 Love being a girl!
My forever love.
Confident kind of girl.
Showing off!
Me without makeup.
Cute Instagram Girl Captions
Highlight how sweet your girl images are by posting cute captions like these below them:
Don't talk to me until I've had my coffee and I've applied my makeup.
I'm as sweet as the coffee I drink when I want to be.
I don't get angry, I go shopping instead.
Whenever I start missing you, I put on your flannel shirt and pretend you're hugging me.
Nothing is cuter than seeing your little girl wearing your high heels.
A cute smile is a genuine one.
I'm the proof you need to believe that good things come in small-sized packages.
To a girl, happiness is a new pair of shoes.
Pink clothes are part of a cute girl's wardrobe.
A girl can melt hearts with a cute smile.
Pigtails on a girl look so adorable.
She's so cute, and she is my sunshine.
Shopping always makes me more pleasant to be with.
I may be small, but don't be surprised if you can't handle me.
Girls look cute in footed pajamas.
Paint each nail a different color and put on a happy face.
Chocolate and the color pink are just two things that make me smile.
Who's cuter than this?
I'm smiling because I dreamt of you last night.
Just be yourself. That's cute enough!
A girl and chocolate make the sweetest pair.
If the sun isn't shining, smile and make your world sunnier.
Relax and save your energy for fun activities.
If you want to look cute, put your hair in a ponytail and smile.
Give a girl a box of chocolates and watch her get sweeter.
It doesn't pay to cry because it makes your mascara drip down your face.
This girly girl's favorite color is pink.
Pretty Girls Captions for Instagram
Since a picture of a pretty girl deserves a caption that's just as appealing as the photo, use one of these captions for the image of a pretty girl you want to post on Instagram:
This girl sparkles like a diamond.
Never underestimate a pretty girl's power.
With the right makeup, any girl can look pretty.
A smile makes a girl look prettier, so smile often.
Let your kindness shine through because being kind makes a girl more beautiful.
Color yourself beautiful with makeup and nail polish.
Don't hide a beautiful face when the world wants to see it.
Seeing a pretty face always makes you smile.
A picture of a gorgeous girl should always be shared.
This is a photo of the prettiest girl I ever saw.
A girl with a pretty face can bring a man to his knees.
More than beautiful, inside and out.
Don't change a thing because you're beautiful as is.
Wouldn't you agree, this face is flawless?
Matching the beauty of her surroundings is effortless for this pretty girl.
Sometimes imperfections make you more beautiful.
Pretty even on a bad hair day.
In this case, makeup isn't needed to look beautiful.
Beautiful eyes that mesmerize.
Ruffled lace and a pretty face can make your world go around.
Seeing a pretty face is like looking at a beautiful sunset.
Unbelievably pretty is what this girl is.
Waking up looking beautiful isn't easy, but this girl has no trouble doing it.
My pretty little girl knows how to pose for a picture.
Caution: This pretty girl could break a few hearts.
Looking pretty in pink is easy when you have a beautiful face like this.
Pretty, but so very wild.
If you liked  it, Pin it!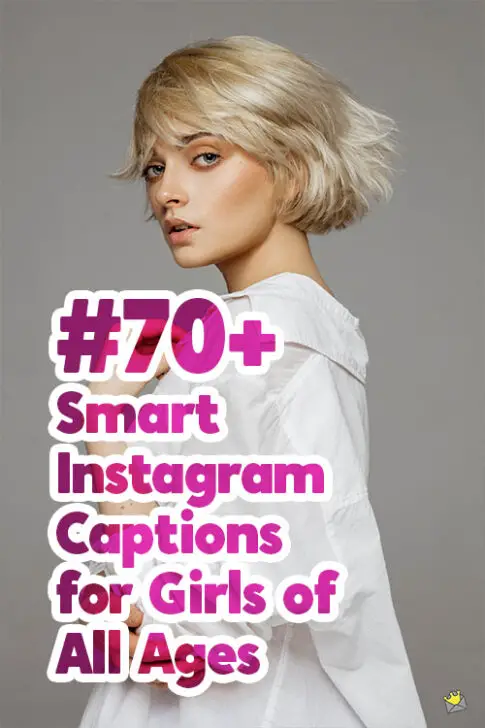 You may also like:
140+ Original Instagram Captions for Selfies
54 Wine Captions When You Are Tasting a Fine Glass
Truly Special Texts for Instagram | 100+ Birthday Captions
51 Coffee Captions to Keep Everyone Awake