Best 50+ Nature Captions for the Pics We Post When It's Calling Us
If you've captured nature's beauty in a few photos, share them on social media because there are lots of nature lovers who'd love to see them. You don't have to be a professional photographer to produce nature photos people will love, just create interesting captions for your images before you post them, and sit back and wait for viewers to submit their likes.
Look through the captions listed below, and match them up with your snapshots if creating nature photo captions is something you're not good at. Let others fully enjoy the pictures you submit by adding these captions to them.

Table of Contents
Nature Captions for Instagram
Simple nature captions are often very interesting, so don't complicate things by searching for ideas when you can use these:
Watching the squirrels prepare for winter.
Nature has so much to offer if you just keep your eyes and ears open.
Just when I thought nature had nothing special to offer me today, a cute ladybug landed on my hand.
A sunny autumn day is magical!
Nature is interesting to watch, and it's free.
Lightning lights up the sky better than any streetlight.
All over the world, nature touches lives in profound ways.
I watch the stars in the sky, and they watch me.
A dose of nature is healing.
If we want to get the best from Mother Earth, it's essential that we treat her with respect!
Take a minute to smell the flowers in your garden before they die from frost.
Nature sounds are too delightful to describe.
Treat the earth the way you would want the earth to treat you.
Sunshine warms the soul and the heart.
Funny Nature Captions
A picture of nature paired with a funny nature caption is a recipe for smiles, so use these if you find them appropriate:
I appreciate the beauty of a snowfall, but I'd rather feel sand between my toes.
One of nature's most beautiful animals appeared before my eyes. It roared and then growled, and I got out of its way fast.
I just read that a Gladicosa gluosa spider will purr to serenade a mate. As much as I can appreciate that, I'd rather hear my cat purring.
Mother Nature has a cruel side. Like when she produced 36 inches of snow without warning.
My cat freaks me out when he poses like a human.
Give me a nut so I can forget where I put it.
Be careful where you park because I just may poop on your car.
Looks like you failed to secure the lid to your garbage pail again. Am I one happy raccoon or what?
I wish Mother Nature would give Old Man Winter the boot because she's in charge, and he should have been out of here already.
One Word Nature Captions
When all you need to describe your pictures is one word, let these be the captions you include with your photos:
Invigorating.
Captivating.
Enchanting.
Mesmerizing.
Magical.
Breathtaking.
Awe.
Stunned.
Lovely.
Uplifting.
Glorious.
Beauty of Nature Captions
Captions like these highlight nature's beauty, so use them when you want to make others see and appreciate the beauty in your photos:
Beautiful is the shoreline at sunset!
Nature is beautiful in every way.
Looking up to see a rainbow in the sky is an awesome experience.
Every season has something beautiful to offer.
Autumn leaves are one of nature's most beautiful sights.
Beautiful is a field full of wildflowers.
A pretty butterfly is one of nature's most beautiful creatures.
Stepping on the grass barefoot is a beautiful feeling.
A manicured landscape is nature tamed.
Let nature's beauty fill your eyes and heart with delight.
Marvel at the fine details in a flower, for God's art is perfect in every way.
Even dandelions look pretty.
A rose in bloom is an example of nature's beauty.
A blue sky fills the heart with joy!
Everyone loves rainbows because they're beautiful works of art produced by nature.
Like it? Pin it!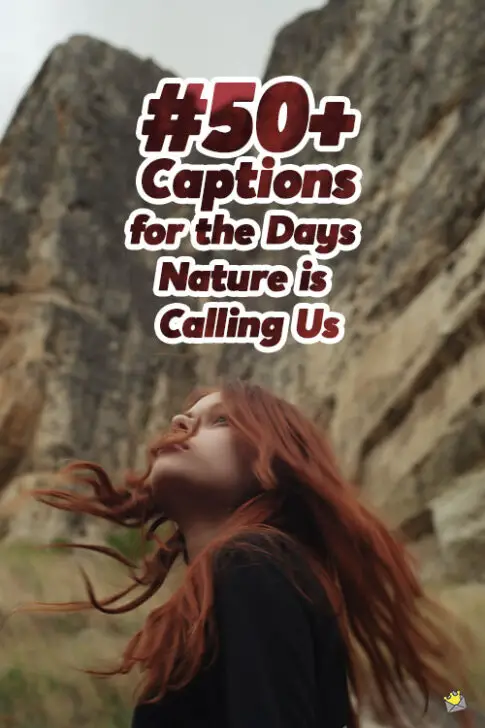 You may also like:
45 Captions to Keep Your Hiking Photos on the Right Track
72 Sunset Captions that Capture the Magic Hour
40 Waterfall Captions for Those Amazing Water Shots