Happy Birthday, Neighbor! 38 Birthday Wishes for Those Nearby or Next Door
Birthdays are important days when people, including your neighbors, start a new year and celebrate the gift of life. We love good neighbors who are caring, courteous, friendly and trusted. You can count on such neighbors to be there for you and offer you help when you need it.
If you have a good neighbor, it's good to celebrate them on their special day. You can do this by sending them a birthday wish. We offer this collection of messages to wish your good neighbor a happy birthday.
Table of Contents
Heart-Warming Birthday Wishes for a Special Neighbor
The following are heart-warming birthday wishes to send your neighbor on their birthday:
Best birthday wishes to my special neighbor. Thank you for all your love and support and have a special day today.
Living in this apartment and neighborhood couldn't have been easy without you. Have a wonderful birthday and continue being a good neighbor.
Happy birthday to my wonderful neighbor. I wish you a great time today. Surround yourself with loving people and have fun!
A very happy birthday to my beloved neighbor. It is amazing to have a friendly neighbor like you.
As you turn a year older, I wish you all the best in your personal and professional life. May all your dreams come true.
In the short duration that we have known each other, you have not only been a good neighbor but also a great friend. Accept my best birthday wishes and have a fantastic day!
I celebrate you every day for being the best neighbor in the world. Most importantly, I celebrate you today as you start another year. May it be fruitful and prosperous.
Not everyone is lucky to get a good neighbor like I am. Best wishes on your birthday and have a great celebration.
Cheers to the friendliest neighbor around. Happy birthday and pass by my place after work for a memorable ceremony.
Dear neighbor, enjoy your birthday. Expect the best out of it and make memories that you will cherish forever.
Best wishes today. Have a fabulous day, and may you live to blow many candles.
It's no secret that your loving and caring attributes are growing with age. I hope you have a fantastic time on your special day.
Funny Birthday Wishes for Your Neighbor
Here are funny birthday wishes that will lighten up your neighbor's special day:
May you live to be old and toothless. My best wishes on your birthday!
To many years of being stubborn and getting into trouble with the house manager. Have a good one, neighbor.
Isn't Facebook helpful? This is the seventh consecutive year it has reminded me of your birthday. Eat, drink and merry!
You are always welcome to sleep at my place when you lose your keys again. Make today count!
Organize a ceremony but don't bother counting your years. You will forget your age soon anyway.
Just because you are turning a year older doesn't mean you cannot party the whole night. Celebrate to the fullest, even if it means missing work tomorrow.
Start acting your age this year! But first, eat plenty of cake and enjoy your birthday neighbor.
As you turn older, be ready to get tons of wrinkles. Happy birthday, neighbor.
You are just as boring as you were the first day you moved into this apartment. Never change and enjoy your birthday.
I wish you another year of greyer hair and forgetting your age, neighbor! My best wishes.
Enjoy your birthday person next door. Regarding today's party, practice your dance moves. Your performance last year was whack!
Hurray! It's your birthday, that means I'll get free food at your place. Don't forget to buy plenty of drinks and desserts.
I know you like a low-key birthday, but we won't do that this year! Best wishes on your special day and prepare for an eventful ceremony courtesy of me.
We moved from quarrelling the first day we met to becoming the best neighbors. May this day be full of love and laughter.
Belated Birthday Wishes for Your Neighbor
You can send one of these belated birthday wishes to your neighbor:
I may have forgotten your birthday, but you have a special place in my heart. Happy belated birthday, neighbor!
Not only did I forget your birthday but also your present. Happy belated birthday, neighbor. You will receive the gift on your next birthday.
I know your birthday was filled with joy and laughter because I attended in spirit. My best wishes.
Although this is a late call, it's never too late to wish you a happy belated birthday and all the best in your life.
Apologies for my late birthday wishes. To more success in all your endeavors!
I didn't forget about your birthday; I am just slower. Best birthday wishes.
The rate at which I forget things is alarming. I am wishing you a happy belated birthday, neighbor.
I am sending love and light your way. I hope your birthday was as fun as you are!
Now that all the birthday wishes you received have faded away, receive my best birthday greetings.
They say good things take time. That's why I am always late. Receive my best wishes from the bottom of my heart, neighbor. May this be your best year ever.
I am honored to be the first person to wish you a happy belated birthday this year. Live to blow more than 100 candles.
If you like it, pin it!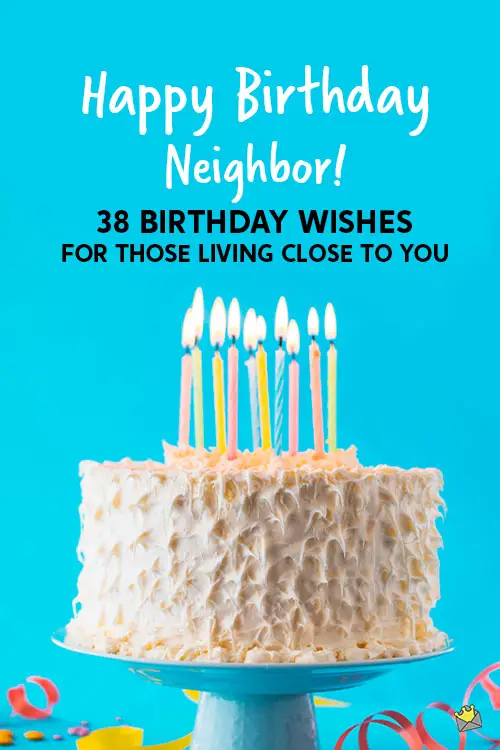 You may also like:
The Best Birthday Wishes for a Married Couple
My Buddy's Big Day | Happy Birthday to Male Friends
Funny Lines for their Special Day | 99 Happy Birthday Jokes