Best 35 Heart-Touching Birthday Wishes for your Sister
When it's your sweet sister's special day, you will probably want to make her feel extra special. These carefully selected heart-touching birthday wishes for sisters will help you do that.
Whether it's your little sister or your big sis, sharing an emotional birthday wish with her will bring a smile upon her face.

Sentimental and Heart-Touching Birthday Wishes for your Sister
Today is the day my best friend was born, Happy Birthday sister!
Everybody has that one special friend who is always there for them. I am lucky enough that mine is also my sister. On her birthday today, I wish her all the joy she has brought me throughout the years.
When I was little, I prayed for God to send me a friend. He gave me that friend in the form of a sister. I celebrate your birth every day and today, on the anniversary of that occasion, I want you to know that my life would not be complete without you in it. Enjoy your birthday little sister.
Sisters like you are rarer than a shooting star and none shine brighter. You light up the world and I hope your birthday is amazing.
Although we may not talk every day, my sister is my best friend and I love her with all my heart. Today is her birthday and although I cannot be with her, there is always a little piece of me with her just as she is always with me.
We may be sisters by pure chance, but we are the best of friends and that is by choice. Love you always. Have a great birthday!
If I had one wish for your birthday little sister, it would be that you finally see yourself through my eyes. Then you would see that you are the most amazing person I know with a heart made of gold, a mind as sharp as a razor and a soul that shines brighter than the sun. You are my inspiration.
Most people just get older on their birthday. Not my sister! While she seems ageless, she continues to become wiser, more beautiful, wittier, and more amazing in every way each year. Enjoy your special day.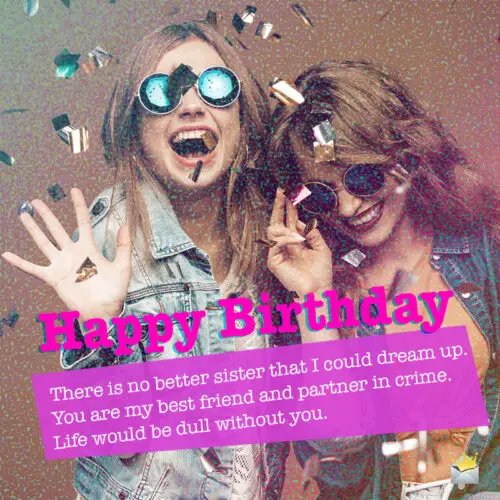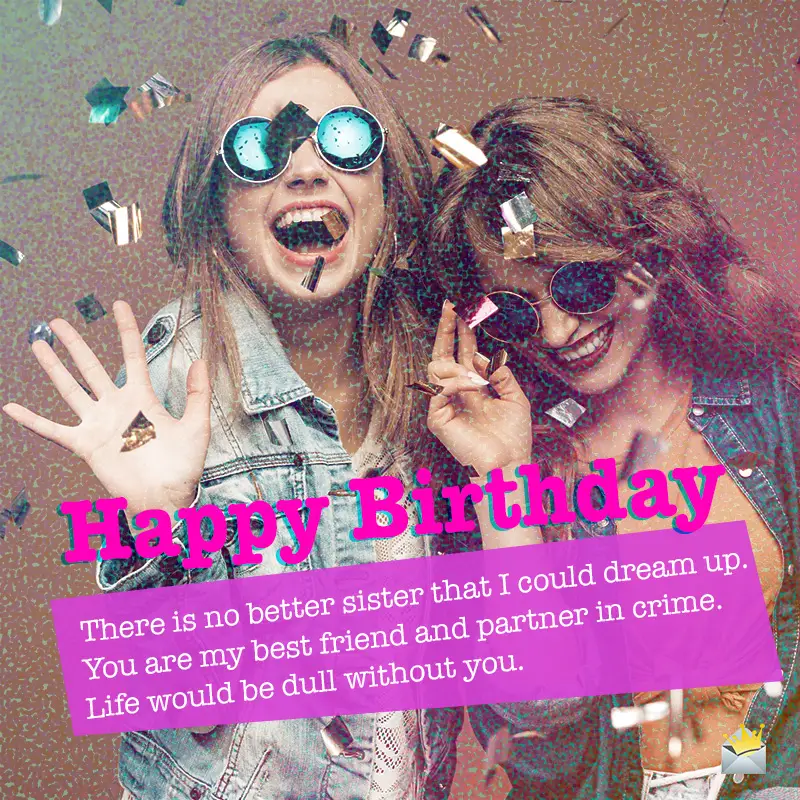 Friends are for whenever. But sisters are forever. I love you and Happy Birthday!
Wishing the happiest of birthdays to the best sister anyone could ever want.
I am so proud to be related to you. Happy Birthday, from your loving brother!
My childhood would not have been so special without you by my side. I'm thankful for you on this special day. Happy Birthday!
Today, I celebrate a friend and role model. I celebrate the best sister in the world. Have a spectacular birthday!
Secrets, stories, and lots of tears. These are the things we have shared throughout the years. Growing, fighting, and learning together. I am always here for you sister. Now and forever. Wishing you the happiest of birthdays.
Growing up with you was the best! I am grateful to have a loving and caring sister like you! Happy Birthday!
Life is a fun ride and I've always enjoyed sharing it with you on my side. I wish the best of birthdays to a perfect companion to this crazy trip!
Today is your special day little sister and even though I cannot be there to celebrate your birthday, I want you to know that I am always with you in my heart and you are always on my mind. I love you tons and cannot wait to celebrate you the next time we are together.
Sister, growing up with you will always be the greatest gift I have ever received. While I know I can never give you a gift that even comes close, I wish you the happiest of birthdays.
Heart-Touching Birthday Wishes for your Little Sister
Happy birthday to my little sister: the queen of all hearts, including mine.
What a miserable life, indeed world, this would be without you. Happy birthday, my precious little sister.
This present day, I celebrate the life of a lovely little girl who has gracefully blossomed into a beautiful and successful young woman. My dear sister, may you continue to be an inspiration and a shining light in our lives for years to come.
The sweetness of this birthday cake is a representation of the delightfulness you have brought into our lives. Thank you for always being a charming little sister!
They say spending time with your sister is like going back to your childhood for a short time. Those memories can never be lost and neither will the bond we share. Happy birthday, little sister!
Heart-Touching Birthday Wishes for your Elder Sister
Growing up, you spent so much time building me up. Now that we're older, I want to repay you by giving you the encouragement you deserve. Enjoy your birthday! Your best days are ahead of you.
Reflections of our upbringing lead me to think about what a wonderful sister you are! Happy Birthday to someone who has only improved my life!
You are a unique sister! Your example of being yourself inspires me! I hope the experiences that you have on your birthday are terrific, pleasant, and stand out, the way you do!
Sis, when your birthday came to mind, I was overjoyed! You are the best sibling in the world!
Even though we did not have many material things while growing up, I felt comfort in knowing that we had each other! Happy Birthday, sis! You made my days brighter! May this day be luminous for you!
It is an honor to wish you a Happy Birthday, big sis! You mean the world to me! I hope that yours is amazing!
We are sisters heart to heart, so nothing can ever keep us apart. Wishing you love and happiness on your birthday, sister. You deserve it all and more.
I love that we get to play dress up together and still laugh about boys. I love how even though we fight we are always there for each other at the end of the day- because we are sisters. Thanks for being such a great sister and a loyal friend. Happy birthday, big sis.
There is no better sister or friend than you. You mean the world to me, sis.
Dear sister, you have taught me so many things in life I will forever be in your debt. Through your eyes I've seen so much of what the world has to offer and the lessons I needed to learn. Through your heart I've gained knowledge and learned to love deeply. Happy birthday to the most beautiful person I know: my sister.
Wishing you the happiest and most blessed day of all. Happy birthday, my lovely sister.
We dance together and laugh, but we also fall together and cry. We climb mountains together and hike through life, even in the mud and rain. I'm so glad we've come this far together and I cannot imagine having a better partner all along. Happy birthday, big sis.
You may also like:
Sisters Are Forever | 200+ Birthday Wishes for your Sister
Live it Up, Sis! | Inspirational Birthday Messages for your Sister
Unconditional Love, in Person | 180 Sister Quotes