Best 100+ Unbeatable Funny Birthday Messages For Cards
Ever opened a birthday card only to find a message so bland, you wondered if it was actually meant for plain bread and not a human? We've all been there, haven't we? Welcome to the remedy! This post is dedicated to everyone tired of those yawn-inducing, cookie-cutter birthday card sayings. Why go vanilla when you can go rocky-road-with-extra-sprinkles? Dive in for unbeatable funny messages that'll guarantee a chuckle, a snort, or even a full-on belly laugh! Whether you're after sassy one-liners, age-related giggles, or quips about cake and candles, we've got it all covered. Ready to transform your card content from meh to memorable? Let's roll!
Table of Contents
Unleashing the Best Birthday Card Funny Messages for Ultimate Laughs!
Ditch the dull and dive into the dazzling! Discover the ultimate funny things to say in a birthday card that'll have recipients laughing louder than the party itself.
You're not old, you've just been young for a very long time.
Here's to another year of questionable life choices!
Don't count the years. Count the number of chins in your next selfie!
Congrats on being vintage… and still in mint condition!
Oh, it's your birthday? Hadn't noticed amidst all the youthful glow!
Another year older? Let's pretend it didn't happen.
I googled your new age… Google said, 'Did you mean 21?'
Remember when we were young and cool? Me neither.
Your age in unicorn years? Practically a baby!
Growing older: It's a bold move, but someone's got to do it!
Your secret's safe with me… I can't remember it anyway.
Aging gracefully: It's your superpower!
Birthdays are like pizza… the more you have, the harder it is to breathe!
Remember: Age gets better with wine.
You're not aging, you're marinating!
Happy birthday! Wishing you a year filled with fewer 'oops' and more 'aahs'.
Dinosaurs called. They wish you a roaring birthday!
If age is an art, you're a masterpiece!
Another year? You're braver than I thought!
Maturity's calling. I think we'll just let it go to voicemail, shall we?
Another birthday? Well, at least you're consistent.
Age is just a number, and you… well, you've collected quite a few numbers!
Just when I thought you couldn't get wiser – you prove me wrong!
Top Funny Things to Write in a Birthday Card
Steering clear of the clichés? Dive into these funny birthday wishes that are as unexpected as socks with sandals!
Act your age? Maybe next year!
Happy birthday! At this age, every time you see a new wrinkle, just remember it's a wrinkle from laughter and… possibly from reading my birthday cards."
Another year closer to being that eccentric relative everyone talks about.
The more candles on your cake, the hotter you are!
Birthdays are nature's way of telling us to eat more cake… and maybe drink more wine.
Aging: the only race you didn't sign up for, yet you're still winning.
Aging gracefully? You're making the rest of us look bad. Stop it!
If your age were counted in birthday balloons, we'd be causing a helium shortage!
Your birthday's the perfect time to reflect, reminisce, and regret those dance moves from last year.
Your age in dog years is… Oh, never mind. Happy Birthday!
Birthdays: The universe's way of giving you a performance review.
If age is just a number, can we use math to subtract a few?
If life were a movie, your age would be the plot twist nobody saw coming.
If we could turn back time… I'd still have forgotten to buy your present earlier.
In the grand theater of life, your age deserves a standing ovation. Or at least, a well-meaning nod.
Welcome to [Insert Age]. It's like [Insert Age – 1], but with more flair!
Maturity's calling. I think we'll just let it go to voicemail, shall we?
Age: Clearly, you're doing it wrong. Every year, you look a day younger!
Cake: Check. Candles: Too many. Age: Just perfect!
Another year, and you've still maintained that irresistible charm… to pets and small children.
If I forget to get you a birthday present, just remember it's the thought that counts… and I thought about it!
Growing Older, Laughing Louder: Age-Centric Birthday Card Lines
When it comes to birthday cards, sometimes the age-old formula works best: literally! Age jokes can add just the right touch of humor to birthday wishes, ensuring the card doesn't just mark another year, but elicits a hearty laugh. Because, let's face it, if there's one thing better than celebrating a birthday, it's laughing about it!
They say with age comes wisdom. You must be the wisest person I know!
You're not old; you're just… experienced.
Welcome to the age where you forget why you walked into a room. But hey, more steps!
Happy birthday! You've earned another wrinkle and a ton of wisdom (but mostly the wrinkle).
Remember those questionable life decisions we made? Here's to making more, but with cake!
On this special day, remember: you're not aging, you're just updating your version!
Impressed by all those candles? Wait till next year!
I've got the fire department on speed dial. Not for your candles, just because they like cake too!
Let's make a pact for your next birthday: fewer candles, more cake.
Young at heart. Slightly older elsewhere.
You're the 'Before' in 'Before & After'. Keep rocking!
Happy Beer-thday! May your brews be cold and your age be… a secret.
Old age called, but I told it you're busy having a birthday today!
A little birdie told me it's your birthday today. I told it to get me some cake.
Growing old is mandatory. Growing up? Totally optional.
Another happy birthday? Okay, you need to stop making age jokes now because soon you won't be joking!
Packed some extra birthday wishes, just in case you're feeling extra special today.
Your age might be increasing, but so is your awesomeness.
Old enough to brag. Too young to exaggerate.
You're not old, just vintage. And spicy!
Historical birthday fact: You were around when WiFi was sci-fi.
Totally forgot your age. But remembered the cake. Priorities, right?
Your birthday wishes have been upgraded to birthday demands due to popular demand (mostly mine).
Your birthday present? My presence. Lucky you!
This birthday message comes with a warning: Too many birthdays can be hazardous to your health. Proceed with cake.
Laugh Out Card: Perfectly Funny Birthday Notes for Every Type
Looking to tailor your birthday wishes based on relationship or the recipient's quirky character? Dive into these categorized, rib-tickling messages that are sure to hit the funny bone just right!
For the Best Friend: If anyone asks, we're 29… again.
For the Hopeless Romantic: Your age might be going up, but so is your charm!
For the Sarcastic Soul: Happy Birthday! You're one step closer to dinosaurs. In age, not in coolness.
For the Wine Enthusiast: May your birthday be filled with as many fine wines as bad decisions.
For the Tech Lover: If birthdays were like software updates, I'd skip this version and wait for the bug fixes!
For the Workaholic: Happy Birthday! Here's to one day out of 365 where you consider taking a break.
For the Philosophical One: Another year around the sun, and all you got was this card!
For the Pet Lover: Happy Birthday! Here's to being the person your pet thinks you are.
For the Foodie: May your birthday be sweet, spicy, and everything nice-y!
For the Sibling: You're one year closer to officially being the 'weird old aunt/uncle'. Congratulations!
For the Procrastinator: Happy Birthday! Here's to celebrating today… or maybe tomorrow. Whenever you feel like it!
For the Office Colleague: Another year closer to retirement… but who's counting? Happy Birthday!
Remember, the best messages are often those tailored to the recipient's unique personality or shared memories between you and the birthday person. Feel free to use these as a starting point and tweak to best fit your intended audience!
The Perfect Blend: Cute and Funny Birthday Card Messages for Friends
So, another birthday and you're still cooler than unicorns and sparkles combined. How?
Happy Birthday to someone who's twice as sweet as any birthday cake.
Another trip around the sun and you've only gotten sunnier!
Hope your day is filled with sunshine, rainbows, and tiny cats playing instruments. Because why not?
You might not be a unicorn, but you're birthday magic in my book!
May your day be sprinkled with fun and laughter. And cake. Lots of sprinkled cake.
Another year older, another year of stealing the limelight with your impeccable style.
Hoping your birthday is as sweet and special as you are! But no pressure, really.
Out of all the lots of birthday wishes you'll get today, this one is the funniest. Trust me, I checked!
May you have enough breath to blow out all your birthday candles and enough cake to forget about the growing number!
Each of your birthday candles represents a year of laughter, memories, and the occasional embarrassing moment. Here's to lighting up more!
Your cake's candle count is just trying to keep up with your awesomeness.
Getting older is a pickle, but at least we're pickle friends together. Happy B-day!
You're the only person I know who gets younger each birthday. Got an aging app we don't know about?
If I had a balloon for every time you made me smile, the sky would be full of your birthday balloons!
Here's to the birthday star: May your celebration be as legendary as your dance moves!
Wait, is it your birthday or someone else's birthday? I get confused because you look younger every year!
True friends don't count wrinkles or candles. We count cake slices!
Your birthday celebration is the one time a year when you can blame your excessive cake-eating on a special occasion. Make the most of it!
Oops, did the cake arrive late? No worries! Check out our laugh-out-loud happy belated birthday wishes to make up for the delay!
Funny Birthday Messages: Sarcasm Included!
When it comes to inside jokes, nothing beats the hilarity that ensues between close friends. And what better way to immortalize those moments than with a birthday card? Dive into these funny birthday wishes that pack a punch of humor, a sprinkle of sarcasm, and a dollop of those good ol' memories. Perfect for friends who love a good laugh, and even for those who might just need one!
Every year you shine… but mostly from the increasing bald spot.
Happy 'I did stupid stuff and survived another year' day!
Every 'happy birthday' you get today comes with a side of 'you're aging like a fine leftover pizza: even better.
May you have more birthdays and fewer reasons to pretend you're younger!
If candles were a measure of coolness, your cake would be the North Pole.
Wishing you a wonderful birthday! Don't count the wrinkles, count the blessings. And the candles… maybe ask for help with that.
Oh joy, another year added to your old age! Keep it up, and soon you'll be the main attraction at a museum.
It's time to celebrate! And by 'celebrate,' I mean eat all the cake before anyone else gets a slice.
You know how they say 'things happen for a reason'? Your birth is still a mystery to many of us.
Hoping this card will make them laugh, because honestly, your age already does.
Happy to have a family member like you to grow old with. But remember, I'm still the better-looking one.
Remember the past you can't change? Me neither. And even if I did, your secret of dancing to 'Barbie Girl' is safe with me.
Another common birthday for you? Wow, you're like the pumpkin spice latte of people – showing up predictably every year!
A true friend reminds you that you're like fine wine. A bit tangy, often corked, and leaving a questionable aftertaste.
Tips for Crafting the Perfect Funny Birthday Message
In the digital age, where instant messages and social media posts have become the norm, a hand-written or personally selected funny birthday message in a card offers a refreshing touch of sincerity mixed with humor. When you incorporate comedy into your birthday greetings, it not only lightens the mood but also makes your message more memorable. Who doesn't cherish a good laugh, especially on their special day?
1
Know Your Audience
Always keep in mind the personality and sense of humor of the recipient. What's funny for one person might not be for another.
2
Blend Personal with Universal Humor
Using inside jokes personalizes your message, but blending them with universal humor ensures everyone can have a good chuckle.
3
Stay Authentic
Even in humor, sincerity counts. Make sure your funny birthday wishes come from a place of genuine warmth and affection.
The Art of Choosing Birthday Cards: When to Go Humorous
In the colorful realm of birthday cards, there's an art to deciding when to sprinkle in dad jokes or slide in those funny birthday messages. For the birthday boy or girl who appreciates a good chuckle, humor can be the magic touch that sets your card apart from the rest. With our guide you'll never miss an opportunity to spread joy with a side of laughter!
1. The Great Debate: Serious vs. Silly
When selecting a birthday card, consider the celebrant's current phase in life. Are they going through a significant change, or are they in a playful mood? Sometimes a funny birthday card message works wonders, while at other times, a touch of sentimentality might be apt. Balance is key!
2. The Belated Card Savior
Did you skip a beat and forget the D-day? Turn that oversight into a comedic triumph with a belated birthday wish. Something like, "I didn't age a day waiting to send this card. How about you?" might just win them over!
3. Synergy with Gifts
Think of your birthday card and birthday gifts as a comedic duo. A heartfelt gift, like a book or a keepsake, can be paired with a light-hearted card. Or reverse it; a funny gift (like a quirky mug) might pair well with a more touching message.
4. Playing to the Gallery
While a lot of folks appreciate humor, few people enjoy the same type of joke. Some might adore a dad joke, while others appreciate sarcastic quips. Knowing your audience is half the battle.
5. The Occasion Dictates the Mood
Is it a landmark birthday? Perhaps turning 21, 30, or 50? Such milestones often come with reflections, making it crucial to strike the right balance between humor and nostalgia.
Wrapping up, our curated list of funny birthday wishes is the perfect antidote for the usual, mundane birthday card greetings. Whether you're aiming to elicit a chuckle or make up for a belated birthday, peppering in some of these funny things can turn any simple note into a memorable laugh. Embrace the humor, and let your cards stand out in the birthday crowd!
Pin it to save it for later!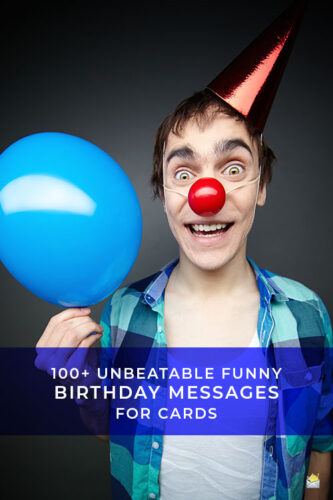 You may also like:
250 Funny Birthday Wishes that Will Make Them All Smile
99 Funny Birthday Wishes for my Best Friend
It's My Birthday Month! Best 20 Quotes and Memes