10 Great Funny & Emotional Birthday Poems for your Sister
Sharing this amazing birthday poems for sisters will make yours shine on her special day. Remember: it's not a crime if the message rhymes!
Being poetic is something people don't do when they're young. Poetry sometimes feels like a set of words that were written for other occasions. However, as we grow older we often realize that celebrations are never too casual to use rhyme in our birthday wishes.

Happy Birthday, Sister Poems
Express your love and warm wishes with a short poem that sends birthday wishes with rhyme and rhythm.
Roses are red,
Violets are blue,
It's your birthday today,
And sister, I love you!!!
As time marches on and we continue to age,
Friends may come and go.
Life moves on and we turn each page,
But you should always know.
That you're more than my friend in every way,
You're my sister and this is your special day.
Friends are from silver – sisters, from gold
I'll always love you as we're getting old
Watching you blossom as time goes by
Let this birthday make you fly.
Sisters like you are rarer than gold.
A shining treasure to behold.
Sent to Earth to inspire and guide,
And sometimes to help out with a ride.
Sisters like you rise above the rest,
Happy birthday sister,
You're the best!
On your birthday I want to say,
I love you sister,
Every day.
You've always been my best friend,
Believing in me without end.
I need you to know that I believe in you too.
There's no one on earth as amazing as you!
Not a year goes by without this day
while happiness is key in every way,
but know that the love you get today
will stay forever and all the way!

Life can give you so much joy
and then there's so much to miss
but with this wish I can't be coy,
Have a great birthday, sis!

Friends may come and friends may go,
But there is one thing I will always know.
You, my sister, will always be here.
Cheering me on.
Assailing my fear.
And that is why I applaud your birth,
On this, your birthday,
And throughout the year.
My little mother you are




Who cooks, cleans, pampers and comforts me




Annoying as I may be, your patience is never-ending




He is lucky and blessed who has a sister like you




Happy birthday, sis!
You are a wonderful sister and a fabulous friend
Though familial ties bind us, we are more than just family
Your warmth and cheer make you fun to be around
Thank you for making sisterhood so special and sweet
Happy birthday
If you like it, pin it!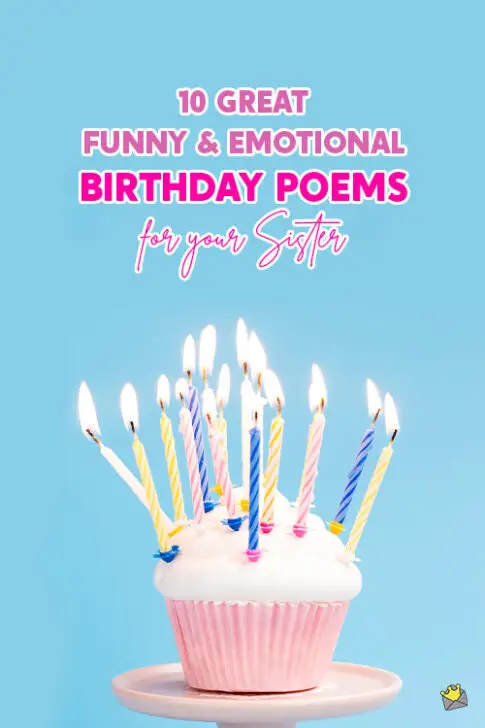 You may also like:
Best 35 Heart-Touching Birthday Wishes for your Sister
20 Happy Birthday Sister Images to Tell Her She's the Best
40 Sister Captions for the Photos of a Timeless Relationship