64 New Hair Captions for What Stands on the Top of Our Head
Our hair often defines us. We spend a lot of time, energy, and money to take care of those thousands of strands, and we like to show off our efforts as much as possible. When you've captured the perfect picture of your style and you're just itching to show it off, you'll want the right caption to go along with it. Your efforts won't be in vain with us on the job! We've put together a wide range of hair captions that will go along with your cut, color, and style-each and every time!

Table of Contents
New Hair Captions
New hair means time for new pics and new captions to go along with them!
A change in hair means a change in life!
Time for a massive change!
New hair and I don't care!
There is nothing better than a brand-new hairstyle!
New cut, new color, new attitude.
I like to change my hair like I change my clothes!
Here in the chair, ready for my new hair!
Curly Hair Captions
When you're showing off your curly hair, check out the following captions that will compliment your photos!
Putting a spring in my step by putting some spring in my hair!
I'm not perfect, but these curls sure are!
My curls are much too perfect to stay under wraps!
Curls by the mile!
A girl with curls in her hair is a girl that can rule the world.
Headed out with curls galore!
Curls in my hair, not a care in the air!
Short Hair Captions
Short hair deserves all the love, too, so use the following captions to show off those pics!
My hair is as short as my temper can be!
Life is too short to deal with tangled hair every day!
The shorter my hair, the more people stare.
Never conform to what people think you should look like.
The shorter, the better.
Time for a massive change!
It's short and I'm adorable-get over it!
Captions for Long Hair Pics
It takes years to get long hair, so make sure you show it off along with a caption or two below!
My hair was made for tossing!
Long and soft, just the way I like it!
I like long hair and I cannot lie.
Today hasn't been perfect, but at least my hair is.
Every girl with long hair knows what it is like to roll it up in the window!
Feeling your hair softly brush the middle of your back is a wonderful feeling.
My superpower is my hair. Long, strong, and powerful.
Blonde Hair Captions
Show off that gorgeous color and grab a caption for the picture below!
It's true- blondes really DO have more fun!
Hair as bright as the sun and as pure as light!
You can't go wrong when you're a blonde!
Blonde and beautiful!
It's a blonde world, after all!
My superpower is having natural blonde hair.
It's a blonde world after all!
Captions for Photos of Your Black Hair
Black hair is gorgeous, so show the world what you're rocking!
Black is back!
When you can pull off this shade of black, you have it made.
My hair is the color of my soul-black.
I always wanted my hair to match the night, and here I am.
You can't go wrong with a head of soft, black hair.
I wanted a change that would cause a shock. Black hair it is.
It's black and it's beautiful!
Red Hair Captions
When red is your preferred hair color, cause a splash online with your pictures and our captions!
When you want to challenge the world, change your hair to red. It gets the job done.
Red is the color of fire and a way to make the world see you.
I wanted danger in my life. Red hair it is.
A blonde may have more fun, but a redhead will never be forgotten.
Rocking the red hair!
Redheads aren't afraid of anything.
If you can't handle me at my worst, you can't handle me with red hair.
Captions for Blue Hair Pics
Take a selfie and choose a caption when you're ready to show off your gorgeous blue hair to your followers!
With blue hair comes great responsibility!
Having blue hair means knowing what you want in the world and going for it.
My life is way too short to go around with boring hair.
This shade of blue is what I need to do.
My hair is BLUEtiful today!
When you love blue, you rock it.
My hair is blue but my attitude is awesome.
Messy Hair Captions
When you just don't feel like doing your hair, let your followers know with one of these captions below.
My attitude is as much of a mess as my hair.
Embracing the mess, rocking the nest.
Sorry if my messy hair is a distraction!
Bad hair day, who has a hat I could borrow?
Yes, my brush is broken today!
It's a messy hair day all day!
If you like it, pin it!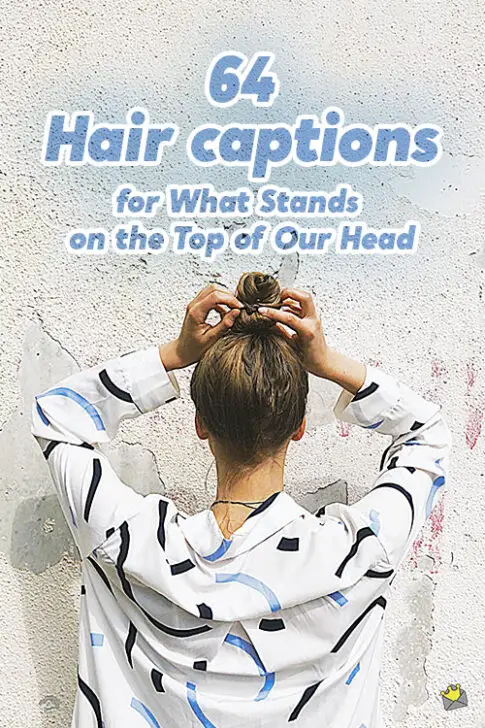 You may also like:
50+ Smile Captions to Spread That Positive Energy
70+ Smart Instagram Captions for Girls of All Ages
51 Coffee Captions to Keep Everyone Awake