66 Great Dog Captions for Those Cute Fur Ball Pics
When you own a dog, young or old or anywhere in-between, you can't help but take pictures of your furry friend whenever you get the chance. Take a look at all the different social media accounts dog owners set up specifically for dog pictures, and you will see just how much we all love our faithful companions! It's a delight to see all the gorgeous pictures online when you are scrolling, especially when you need a little lift.
When you are constantly taking pictures of your pet, you'll want the best captions to go along with them. Make sure you get the likes and followers by sharing your perfect dog pictures along with these perfect captions! Your followers will love them, and you'll get to tell your pet that they are a media sensation! Even though they won't quite understand, you'll know the truth!

Table of Contents
Cute and short captions for dog photos
Show off your best friend with one of these quick and easy captions!
It's always a dog's life!
Best friends forever!
I'm paws-itively in love!
Love starts with four legs and a tail.
Dog kisses are the best!
Love is a wagging tail.
Happiness comes with lots of fur!
Real love knows how to bark.
A bark is the sound of music to me!
Where would I be without this ball of fur and fluff?
Furry, funny, and fabulous!
Dogs are better than people. Prove me wrong.
Dogs are the essence of unconditional love.
My dog is my life, 100%.
My puppy is the goodest boy of all.
My best friend is a furball.
Warning- cuteness ahead!
My rescue rescued me.
Live, laugh, shed.
Funny dog captions
Get your followers to laugh with the following funny dog captions we have ready for you!
Yes, I am a crazy dog lady, why do you ask?
You're dog-gone right that I love my dog!
My favorite accessory is dog hair.
You know you are a dog owner when you carry a lint roller everywhere you go!
Life can get pretty ruff when you are this adorable!
Keep calm and wag on.
Thanks fur all the love!
The more I'm out in public, the more I want to be home with my dog.
Slobbers are the best kisses!
Puppy love is the best love of all.
I can't see you through all of this fur!
My therapist can't exactly talk, but he is all I need to feel better!
It's hard being a dog, isn't it?
Love is carrying a poop bag for your best friend!
It may be puppy love, but I promise it's for real!
Nobody can take the place of my dog, so don't even try!
If you want to date me, my dog better like you!
Dog's point of view captions
Let your pup do the talking with the following captions we've put together for your pleasure!
I'm ready to work for a treat!
Just what do you expect me to do for a treat?!
Let me slobber all over you to show you my love!
I'm the best dog in the whole dog park!
Sign me up for the dog show!
I'll steal your heart while I steal your sandwich!
I'm a good dog, why do you keep asking?
Thanks for letting me shed all over the house.
You're my favorite people in the whole wide world!
Where did you hide the treats?
I want to go outside…never mind, I want back in…no, I want back out again!
There isn't a squirrel that can get the best of me!
All I want to do is eat and lie in your bed all day.
Let me show you how much I love you in wags and kisses!
Here is my leash, get your butt up and let's go for a walk!
Christmas dog captions
Enjoy the holiday even more when you include your pup in the festivities!
It's beginning to look a lot like Dog-mas!
Decorating my tree with tinsel and dog fur.
My rescue is the best present I have ever gotten!
Celebrating the holidays with the pack!
Merry Christmas from me and my pooch!
The holidays are the best time to be thankful for our four-legged friends.
Merry Christmas from one pack to another!
We Woof you a very merry Christmas!
We're having a paws-itively wonderful Christmas!
Don't be afraid to un-leash your holiday cheer!
Santa Clause has nothing on Santa Paws!
Just waiting on Santa Paws to drop by!
Sorry if your present has any dog hair in it. Merry Christmas anyway!
Christmas wouldn't be the same without my best friend by my side.
Christmas wishes and doggy kisses!
If you liked it, Pin it!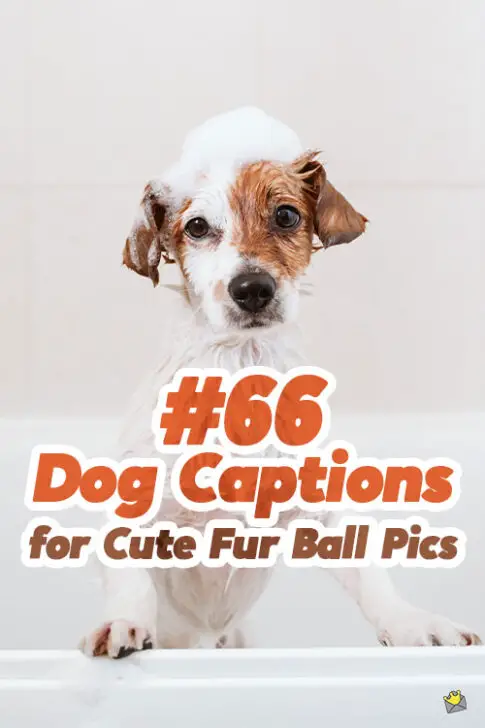 You may also like:
32 Instagram Photo Captions for Your Sweet Dog's Birthday
Happy Birthday to Woof | Birthday Wishes for Dogs
32 Loyal Birthday Wishes for Dog Lovers
60 Dance Captions and Quotes for Times of Expression