50+ Best Fishing Captions for Instagram in 2023
For some, fishing is simply a hobby -a way to pass the time in the beautiful weather. For others, fishing is, and will always be, a way of life. Whether you are simply out fishing during a holiday or fishing to collect another trophy, you will likely take plenty of pictures of the event. And, of course, you will want to share those pics on your social media pages like Instagram, especially when you manage to catch the big one!
When you do share your accomplishments on the water, as well as your failures, you'll definitely want the best captions for each picture. We're here to provide you with the captions you need for every click of the camera!

Table of Contents
Funny fishing captions
Reel in your followers with a laugh when you choose one of the following captions below!
I'm reeling in the fun today!
Happiness is a fishing rod baited with the best worms!
Having a wonderful time on the lake! The worms, not so much.
There will always be time for one last cast!
Life is simple, just add a rod and a reel.
This is reel-y a good day for fishing!
If you're going to get hooked on anything, get hooked on fishing!
I can totally get behind a sport that allows you to sit as still as you wish.
It's beginning to look a lot like Fish-mas!
To fish or not to fish? That's a stupid question for sure.
Fishing captions for guys
Pick a caption for your trip and watch your likes and views soar!
I'm soaring as much as my fishing line!
Who said that men can't sit still when they need to?
Quiet please…men fishing.
Who cares about work when you're out on the lake on a beautiful day like this?
A guy and his fishing rod-two peas in a pod!
Men are notorious for tackling problems, especially when it involves a tackle box!
I wish I could hook a woman like I can hook a fish!
I'm baiting you to be my girlfriend!
Men enjoy fishing like women enjoy shopping.
Just a guy and his rod and reel, ready to pull in a whopper of a tall tale!
Bass fishing captions
When it's time to post your bass fishing photos online, feel free to grab one of the captions we came up with below!
It's all about the bass.
Any bad day can be improved with a little bit of bass fishing.
I'm hoping the bass come out and play today!
The bass may be aggressive, but they are no match for my skills!
Luring in the bass-the subtle art of seduction and skill.
Thank goodness it's catch and release here, because I'd have every fish in the pond by now if it wasn't!
Bass fishing is a sport you can enjoy at any age or skill level.
I bass you can't figure out what I am doing today!
Drinking the day away and baiting my hook for the bass. What could be better?
Funny bass fishing captions
Your followers look to you for a laugh, so give them what they want even when you're out on the water!
You should have seen the bass that got away. It was THIS big!!
I may be failing at life, but I'm excelling on the water!
When you want the best seafood, head out to the sea and bass in the sun!
I bass-ically know what I'm doing out here!
The bass are biting and the beer is flowing. Life is good!
Life is always better with a rod and reel in your hands.
Fishing for bass means being allowed to lie a little bit about size, right?
Bass fishing is the only time I'm eager to get up at the crack of dawn!
Fly fishing captions
After a great day on the water, show your followers what you have been up to by using one of the captions we came up with below!
I didn't know fly fishing didn't use real flies. I feel deceived!
I hope the fish don't catch on that they aren't real flies!
It's a flying good time out here on the water!
No one is happier about fly fishing than the worms!
Happiness is catching a big fish with an artificial fly!
This is the closest to actual flying that I'll ever get!
Drop your line and stay for a while!
When you want to catch a variety of fish, fly fishing is where it's at!
Artificial flies make the best lure for the fish I'm after!
Flying on air and fly fishing for life!
If you like it, Pin it!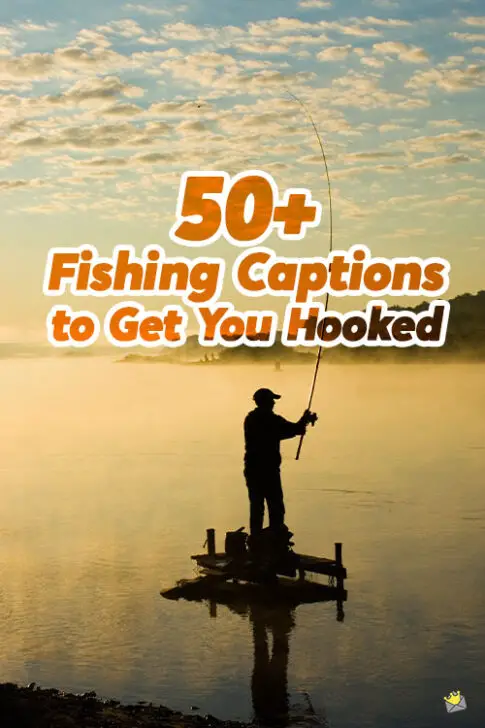 You May Also Like:
50+ Captions for the Days Nature is Calling Us
45 Captions to Keep Your Hiking Photos on the Right Track
40 Waterfall Captions for Those Amazing Water Shots