45 Hiking Captions to Keep Your Hiking Photos on the Right Track
Many people love the feeling of hiking in the great outdoors. For some, it's a hobby while for others, it's exercise. Of course, taking pictures along the way is always part of the joy of a hike, no matter where the trail leads you. Of course, we need the right hiking captions to go along with the many photos we snap along the way.
We love showing our friends and family our adventures on the hiking trail. Here are some great captions that will make your nature pictures pop on your favorite social media platform!
Table of Contents
Hiking captions for adventurers on Instagram
A picture on Instagram demands a great caption, so check out the following when you're posting your hiking pics!
Enjoy the trail no matter where it happens to lead you!
The road to happiness begins and ends in nature. You can't be one with yourself if you aren't one with what surrounds you every day.
Hiking is only half the battle. Your mind has to make the furthest journey of them all if you want to reach your goals.
When the trail is full of twists and turns, only then can our journey become the one you have been waiting for.
Cancel your therapy session and take a hike through the mountains instead.
You'll find more peace on the trail than you could ever have thought possible.
I've never been freer than when I am hiking the longest, hardest trail in the mountains.
Your legs may be doing the physical work, but your mind is what really matters when the trail is tough.
Life is much better when there is a walking stick involved!
Let your adventure take you where the trail never ends. And if it does, know how to create your own trail.
There's nothing better than a hike to clear your mind of the stresses of everyday life.
I never knew what love was until I got on the hiking trail for the very first time!
The fresh air, shining sun, green foliage, and the presence of wild animals make the journey one you will never forget.
You'll always find the greatest view after the roughest climb.
Funny Hiking Captions
Make your followers laugh with one of the funny hiking captions we have for you below!
Why sit and watch a movie when you can sweat and cry on the trail?
Always bring a compass so you don't have to waste valuable resources calling for help.
It's times like this I wish I didn't enjoy an outdoor adventure!
Hiking away from all the annoyances of life.
I'm out for a long hike, and I may never come back!
I never knew hiking could make a person so exhausted!
The top of the mountain didn't look this far away from below!
Stand by- someone may be calling an ambulance for me yet!
I'm not lost, my GPS is just recalculating.
No one told me there would be so many hills to get over!
Hiking may be a peaceful activity, but my muscles are definitely yelling at my brain right now!
The end result of this hike will be worth it. It's making it to the end that is killing me!
Bug spray is now my best friend.
I had no idea how many mosquitoes could be in one area of the mountains!
You never want to follow in some else's footprints. Unless you're lost in the middle of the woods.
I hope all of the blisters on my feet will be worth it when I make it to the top of the mountain!
Hiking Pun Captions
Have some fun with your followers by using the following pun captions for all of the hiking pictures you snap on your journey!
Just get over the hill already!
How much longer until we get there?
Life is like a hike. It's hard, it's long, and you collapse when you get to the end of it.
This hike definitely rocked.
Should I Netflix and Chill or Trail mix and Hill?
If you want to summit all up-just keep climbing until you get to the top!
I'm mount-ain my distance for peace of mind today!
My terrain of thought is all over the place on this trail!
This hill has really peaked my interest!
A change of altitude is what one needs when a change of attitude is necessary.
When you want the prize, keep your eyes focused on the rise!
Top of the mountain to ya!
It's always been a hard rock life for me!
I'm out here with my best buds!
I decided to "take a hike" very literally!
If you liked it, Pin it!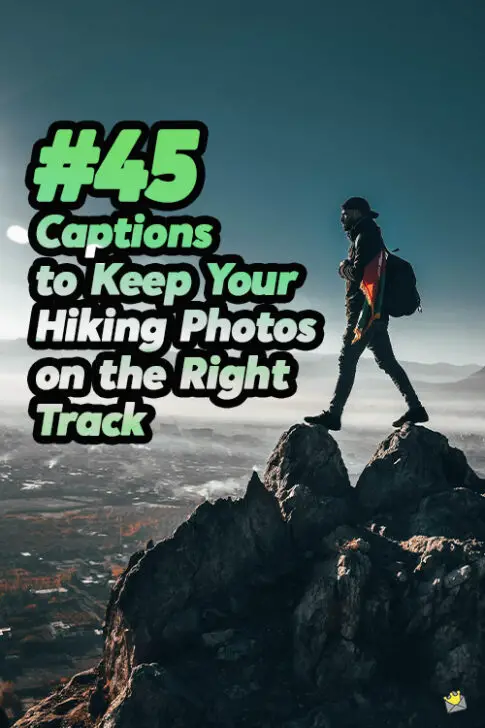 You may also like:
50+ Captions for the Days Nature is Calling Us
51 Coffee Captions to Keep Everyone Awake
40+ Relaxing Pic Captions to Get the Chill Mood Across
40 Waterfall Captions for Those Amazing Water Shots