52 Exciting Vacation Captions for Pics You Take When You Take Time Off
You've been looking forward to this day for weeks, if not months. You've packed and re-packed your bags to make sure you have everything you need. It's time for your vacation, and you couldn't be happier! Vacations are a time to relax, unwind, and have fun. Of course, they are also a time to take plenty of pictures. We all love documenting every step of the way when we are enjoying our much-needed break, and it's also a fun way to share them with our followers.
Whether your time off is spent lounging on the beach, hiking through the rainforest, or enjoying the sights of a big city, you'll likely have your camera out for most of it. When you post those pics on your social media pages, you'll need the best captions for them. We have you covered- choose from the captions below to convey what a wonderful time you're having!

Table of Contents
Short Vacation Captions
Time away from the stress of work and home life deserves recognition with one of the following captions for your pics!
A weekends stay-cation is just what the doctor ordered!
On the road and on the mend.
Relaxation, here I come!
There's nothing better than a vacay.
Stay-cay, vacay- close to home and loving it!
Wanderlust is my middle name.
This view heals my soul.
Traveling is a form of stress relief.
Sun's out, phone's going off – see ya all later!
Even in the rain, a vacation day is the best.
Waking up to paradise every day!
Can you believe this view?
Just me and the trees!
Family and fun, that's what it is all about.
Funny Vacation Captions for Instagram
Make your followers chuckle when they check out your pictures!
Please don't make me go back!
No place like home is only appropriate sometimes- it's time for some fun in the sun!
My feet may be hurting, but my heart is full!
Only humans enjoying burning in the sun for a fun time. That's me, I'm humans.
Hopefully the waves will wash away my responsibilities!
It's getting hot out here, so I'm taking off my clothes-be warned!
I may end up broke from this, but I'll definitely end up happier!
Being everywhere is always on my to-do list!
Eating and drinking and eating some more- could this vacation be any better?
I'm far enough away that my work email can't reach me!
Don't even try to find me-I'll be out of reach and out of your hair!
It's the day before my vacation and it's dragging on and on and on…
Don't ever keep your vacation waiting, you don't want to be rude!
Family Vacation Captions for Instagram
Family vacation time is a wonderful experience, so make sure to document your pictures on social media!
Family vacation- we're hitting the road and finding ourselves!
Family experiences are like the spices of life. Don't forget to sprinkle them generously!
My favorite place in the world is wherever my loved ones are, especially when we enjoy the world together.
Family, the open road, and fun. That's what life is all about.
I can't think of a better place to be than with my beloved family!
We're here and ready to party!
Calling a truce on the family feuds for a wonderful week away from home! Don't worry, we'll get back to it!
The family that travels together, stays together.
Getting away from work, school, and stress together is the best therapy.
Our family therapist suggested a week in the sun. I believe he is right!
The happy screams of our kids as they enjoy themselves are amazing to me to hear!
We're just a beachy kind of family!
One hotel room, three kids. Don't worry, we'll survive-somehow!
Couple Vacation Captions
Taking photos together is one of the best parts of being a couple on vacation- show them off with a caption (or two!) below!
I can't imagine being anywhere else in the world than right by your side for this trip!
Paradise is here by your side.
The beach, sun, sand, and you…that is all I could ever need!
Taking the obligatory beach selfie!
We travel together to stay together.
With you by my side, every vacation is one to remember.
The couple that vacations together, stays together.
Travel is the spice that helps hold our relationship together.
We've never regretted any vacation we've been on together, even when plans don't always work out.
My love for you is as wide and deep as this ocean!
Could this trip together be any better?
We're here to party until we drop from exhaustion!
If you like it, pin it!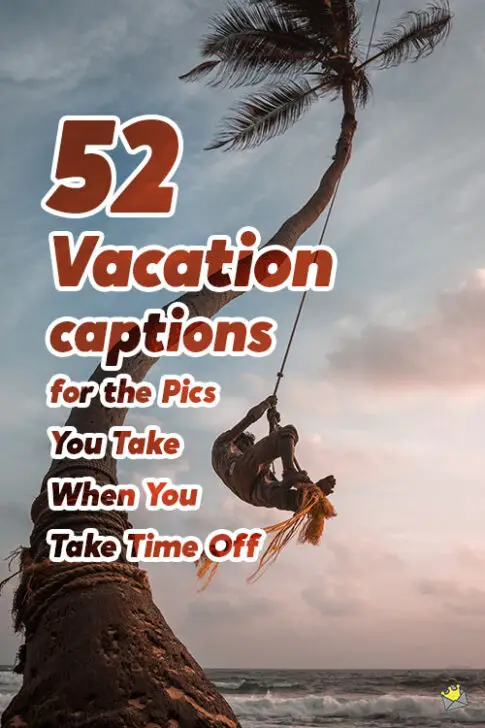 You may also like:
50+ Fishing Captions to Get You Hooked
It Begins on Instagram (and Offline too)! | 59 Summer Captions
72 Sunset Captions that Capture the Magic Hour