Best 60 Dance Captions and Quotes for Times of Expression
Who doesn't like to get up and dance? Maybe you are a professional dancer who pours your heart and soul into every move, every day. Maybe you love to hit the clubs on the weekends or attend all the school dances you can. Or maybe you just like to move to the music alone at home or wherever the urge hits you! Whatever the reason, dancing is the equivalent of happiness and joy, and who doesn't want to take photos when that happens?
And when we take pictures, we usually want to show them off on social media. When you need the right captions for your pics, we're here to help with a whole bunch of great ones that will compliment every picture you snap. Check them out below!

Table of Contents
Short Dance Captions
Dancing is a great activity no matter how well you do it, so snatch a caption below for your best pics!
Don't be afraid to show up in your best and hit the dance floor!
Life is much better when you know how to move in rhythm to the music!
Show me someone sad, and I'll show you someone who doesn't like to dance.
Take a chance and get up on your feet!
You don't have to be the best to let the music move your feet!
Bop, boogie, hop, and twirl- whatever you want to call it, just get up and go!
I'm not happy unless I am moving to the beat.
Live, love, dance!
When you dance like no one is watching, you release a power you never knew you had.
Dancing frees the soul, strengthens the mind, and soothes the heart.
Don't ever be afraid to show off your moves around others!
Connect your mind and body through the power of music.
Famous Dance Quotes
Moving your feet to the rhythm has inspired so many.
Dance, dance, otherwise we are lost. Pina Bausch
It takes at least five years of rigorous training to be spontaneous. Martha Graham
Let us read, and let us dance; these two amusements will never do any harm to the world. Voltaire
Dance is the only art of which we ourselves are the stuff of which it is made. Ted Shawn
If I could tell you what it meant, there would be no point in dancing it. Isadora Duncan
Kids: they dance before they learn there is anything that isn't music. William Stafford
And those who were seen dancing were thought to be insane by those who could not hear the music. Friedrich Nietzsche
Dance, when you're broken open. Dance, if you've torn the bandage off. Dance in the middle of the fighting. Dance in your blood. Dance when you're perfectly free. Rumi
Dance is an art that imprints on the soul. It is with you every moment, it expresses itself in everything you do. Shirley MacLaine
The truest expression of a people is in its dances and its music. Bodies never lie. Agnes de Mille
Dance for yourself. If someone understands, good. If not, no matter. Go right on doing what interests you, and do it until it stops interesting you. Louis Horst
We do not dance to reach a certain point on the floor, but simply to dance. Alan Watts
Life isn't about waiting for the storm to pass… It's about learning to dance in the rain. Vivian Greene
Dancing is a spiritual exercise in a physical form. Merce Cunningham
School Dance Captions
There is nothing like a school function to bring out the beat, so take a look at some of the captions we have ready for your use!
Time to show up and show off on the dance floor!
Who's ready to hit the dance floor with me?
Don't be scared to enjoy the music-this is one of the best days of our lives!
School dances are meant for slow dances.
Having a blast and tearing up the dance floor with my friends!
To dance is to live, and to live is to dance!
Dancing, even if it is bad, is better than not dancing at all.
Dance to enjoy the night, not to impress people you'll forget about in five years.
Doing what I do best under the bright lights!
When you move to the music, you bring the lyrics and instruments alive.
There is nothing better than forgetting your cares and dancing away your worries.
Dance like we never have to grow up!
Funny Dance Captions
Sometimes there is nothing sillier than dancing at an event, so grab a caption below for your funniest photos!
Nothing says embarrassing memories like a school dance!
Pardon me while I concentrate on where my feet go!
I may have two left feet, but that won't stop me from dancing all night long!
My dancing is for entertainment purposes only. Don't try to imitate them!
Warning- I'll be dancing soon. If you don't want a broken toe, you don't want to be my partner!
I may not be that funny normally, but you haven't seen me dance yet!
Don't worry, everyone is too busy looking at their phones to notice how bad you're dancing!
Promise me that this night won't come back to haunt me if I get on the dance floor!
When all else fails, just forget it and dance.
We're here to dance, sing, and make the best memories we can!
That stumble you saw was just a part of my dance, honest.
Dancing Queen Captions
When you're the queen of the dance floor, make your photos pop with some of the following captions!
You don't have to be the prom queen to be the dancing queen!
Dancing queen, wild and free, dancing like I don't have a care in the world!
You're never too old to be a dancing queen, so hit the floor and show them what you mean!
Being the designated dancing queen is an honor I happily accept!
Dance to the beat of your heart and soul-be the queen of your dreams!
Life is much better when you are the dancing queen!
Watch out, the dancing queen has arrived!
Who knew my moves would make me into the dancing queen someday?
Free your spirit and dance like the queen you are.
Being a dancing queen means never caring what anyone thinks-go for it with your all!
If you like it, Pin it!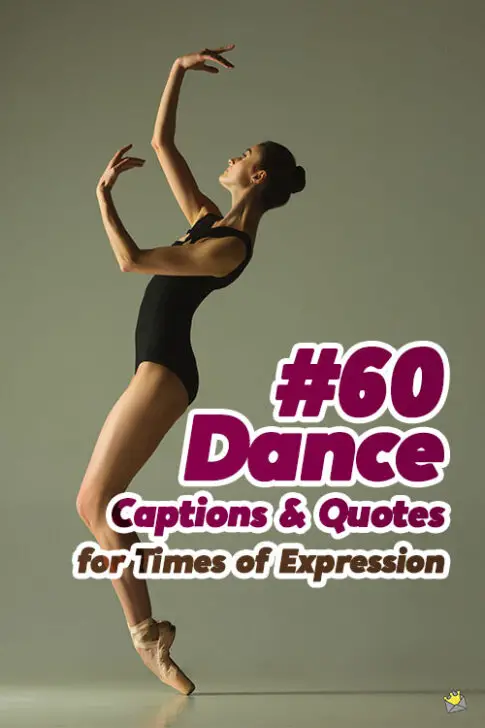 You may also like:
140+ Original Instagram Captions for Selfies
50 Couple Captions for Pics When You Are Together
50+ Smile Captions to Spread That Positive Energy