Best Happy 40th Birthday Messages for a Famous Crisis
Without question, turning 40 is a milestone birthday that deserves to be celebrated in a big and dazzling fashion. That said, we have compiled a brilliant list of Happy 40th birthday wishes that you can use to make any 40-year-old's Big Day one heck of a colorfully fabulous occasion.
Feel free to share them as they are or change them to adapt to your great celebrant's special moment.

Table of Contents
Funny 40th Birthday Quotes
Funny and Teasing Birthday Messages about the 40th Birthday's Midlife Crisis
Happy 40th birthday! You have become a middle-aged man/woman and there's absolutely nothing that you can do about it! Enjoy life in the middle lane!
Happy 40th birthday! Don't worry about hitting middle-age. At this age, your skin might start wrinkling faster, but take solace in the fact that it's a million times better than the alternative – six feet deep in the ground!
As we bid farewell to your 30s forever, I'm on my knees desperately begging you to reduce the rate at which you age. You're scaring me! Happy 40th birthday!
Happy 40th birthday! Do you know what you have done? You have just increased your likelihood of surviving into old age.
So long to your youthful days. May they rest in perfect peace! Happy 40th birthday.
By the time Jeff Bezos was 40, he was a billionaire. All you can boast of are saggy skin and a bundle of midlife crisis. Happy 40th, though!
If aging were a swimming competition, not even Michael Phelps could compete against you! Happy 40th birthday!
In honor of your 40th birthday, I bought you a very useful book titled "How to cope with Mid-life Crisis". Happy 40th birthday.
May your life as a 40-year-old be as awesome as you pretend it is to your friends and followers on social media. Happy 40th!
I'm writing an article on the woes of aging. Would you be kind enough to grant me an interview on your 40th birthday?
Happy 40th birthday! At this age, my advice to you is to start a relationship with an archaeologist because he/she would be the only one whose love for you will grow the older you become.
Wishing you a fabulously fantastic 40th birthday! Don't let old age get you down. Remember it is a privilege a great many will never have. Besides if you allow it bring you down, standing up again will become a really herculean task!
Happy 40th birthday! I get this feeling that at this age, most of the celebrities you admired as a kid are dead.
If you think middle age is bad, you just wait and see the horror old age brings with it! Appreciate your 40s and enjoy it while you still can. Happy 40th birthday!
At 40, your young and wild days might be gone, but there are plenty of reasons to be cheerful. For example, you're less likely to become pregnant. So let the party begin!
Life is short. Even teenagers think life's very short. At your age, I shudder to imagine how incredibly short life must be looking to you right about now. Happy 40th birthday.
Happy 40th birthday! If you are not happy with your life at 40, I have some good news for you: it will soon come to an end.
Old age is the perfect price to pay for living long. Enjoy it. Happy 40th!
It's incredible! Just 10 more years and you'll be half a century old! Happy 40th birthday!
The chains on your youthfulness just snapped. Get ready to start aging! Happy 40th!
Happy 40th birthday! At this age, I pray that mid-life crisis will have mercy on you and leave you alone.
Bravo on turning 40, birthday boy! Turning this age doesn't make you an old man. You're gonna have to wait some more years for that!
Short 40th Birthday Quotes
Their Celebrity Status Update!
Happy 40th birthday to a truly beautiful woman. You look as stunning as Marilyn Monroe in her prime. Keep it up!
Happy 40th birthday! You aren't getting older. You're getting sexier and more gorgeous – "Zac Efron" gorgeous and "David Beckham" sexy!
Wishing a fantastic 40th birthday to an outstanding individual whose incredible looks remind me of George Clooney. May you forever be a recipient of grace from above.
Wow, I can't believe you're 40! Your stunning body is one of the irrefutable proves that you are as smoking hot as Eva Mendes!
Happy 40th birthday to one of the best-looking men in the world! Looking at you, I have absolutely no doubts in my mind that people often mistake you for Brad Pitt! Enjoy your life to the max!
God has been truly generous to you. He not only blessed you with the face and body of Eva Mendes but also the behind of Jenifer Lopez. May your immense beauty keep spiraling out of control. Happy 40th birthday!
I think you have a Kim Kardashian look, and that's truly hot. May God keep blessing you with that beautiful look for a long time to come. Happy 40th birthday, my dear!
You are so cool the only one I can compare you to is Kanye West. Have yourself a super cool 40th birthday.
You bear a striking resemblance to Angelina Jolie. If I didn't know for a fact that Jolie doesn't have a twin, I would say you were definitely her twin. Happy 40th birthday, my dear!
You've been blessed with the smile of George Clooney, the face of Robert Pattinson and the awesome body of Idris Elba. All in all, you're smoking hot! Happy 40th birthday!
Happy 40th Birthday Messages
'Cause They're Still Young in their Forties
Happy 40th birthday to one of the most inspirationally young men/women I know! I swear if I didn't know your actual age, I would say you didn't know your real age and that you were a decade younger.
Happy 40th birthday to a wonderful person who is ageless in body, heart and mind. I hope you enjoy every waking moment, stay young.
Happy 40th birthday to an amazing individual who is still fresh, young and good looking. God has really blessed you.
At 40, you are still youthful enough to do what a 20 or 30-year-old can do. Cheers, my friend, on your 40th birthday!
You may have just turned 40 years of age, but in my eyes, you're still young. Enjoy every millisecond of your youthfulness. Happy birthday!
At 40, I refuse to believe you're old. You're still young and strong enough to chase after your dreams. Keep shining!
You look absolutely amazing for someone who has just turned 40. Don't let age hinder you from achieving all your goals, for you're still tremendously young. Happy birthday, dearest!
Happy birthday to an incredibly wonderful 40-year-old! Anyone who doesn't know that life truly begins at 40 knows nothing. This is the most wonderful chapter of your life. I hope you have as much fun as possible.
Is it really your 40th birthday that we are celebrating today or your 20th? I'm confused. All the same, have yourself an absolutely joyous birthday celebration.
Happy 40th Birthday Images
Happy 40th birthday memes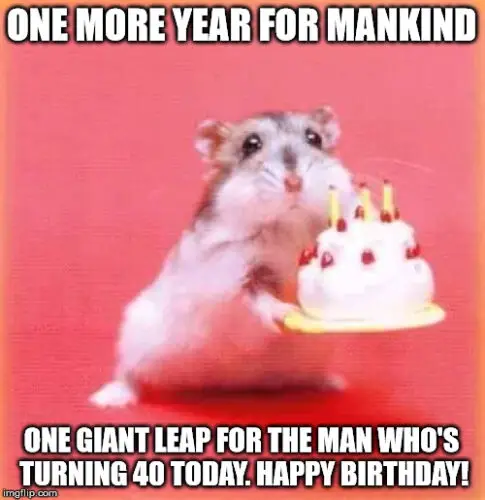 You may also like:
My Very Own Birthday Wishes | Happy Birthday To Me!
Birthday Wishes for your Facebook Friends
150 Original Birthday Messages for Friends and Loved Ones