Birthday Prayers for Myself | May God Give His Blessing
Many people see the annual coming of their date of birth as a good opportunity to acknowledge their spiritual blessings and look towards future with faith of even greater gifts.
If you are such a person, here are some prayers that you can use on your birthday to request further grace from the Most High.

Heavenly Father, on my birthday, I thank You for all of the talents and years You have granted me and now ask that You act as my supporter to help me share them with the world.
I know that today is dedicated to me, but only You are worthy of praise and can grant my grand request, which is a long, healthy life.
Dear God, my special birthday wish is that You bless my life with Your glorious favor, for I know your resources and kindness are never-ending!
I entreat You to heal me of whatever diseases may be plaguing my soul so that I can approach all of the coming days of my life in perfect health.
Dear God, I hope that when we have this discussion again next year, You will bless me to be humbly addressing you as a millionaire!
Another birthday means another day of praising You and requesting a special, noticeable act of favor in my life.
The fact that I am still here lets me know that You still have a wonderful purpose for my life, and I humbly beseech that You reveal that purpose to me so that I too may share in the optimism!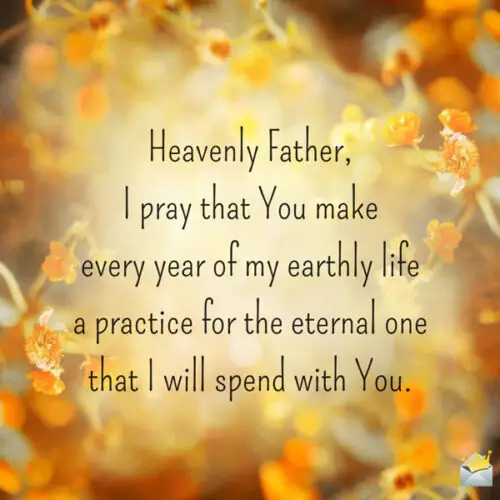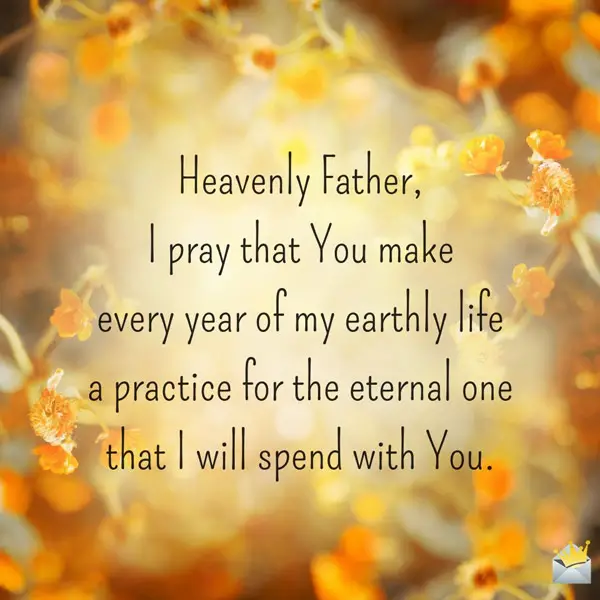 I approach this birthday in faith that this is the year in which You will heed my prayer and bless me with a magnificent breakthrough!
Dear God, I pray that You intercede during this special time, remove all gloominess and negativity from my world and make this my best birthday ever.
Thank You for bringing me to this new age. May it now also be marked by new manifestations of Your goodness in my life!
Oh Lord, thank You for bringing me to this day, and I pray that You will grant me with many more beautiful birthday celebrations for decades to come!
I appreciate every day of the life You have given me, dear Father in Heaven. Please bless me with more of this priceless gift as I celebrate this great day of my life.
On this special day, O God, I humbly come before You asking for special blessings. May ill fortune never cross paths with me. May Your protection and favour always be with me.
May God grant me the health and wisdom to be a successful and happy person throughout all of my remaining years.
I thank God for the beautiful people my life has been adorned with and ask that He will enrich me to compensate them accordingly!
I thank You for increasing my joy as well as my years and ask that You position me to face a long, prosperous future. Thank You, Lord.
I am dedicating this year of my life to being someone that You can be proud of, and as I go about it, I pray that my sacrifices are pleasing to You.
I am oblivious to what lies ahead of me, but no matter what I face in life, I beg to always prove worthy of Your protection, love and favor.
I implore the Creator of the universe to continue to keep me in His love and protective embrace, today and forever.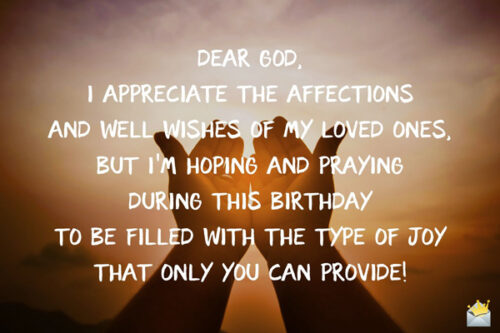 Only You know the desires of my heart, and all that I request is proving worthy to receive them from You.
Today I will engage in a fast to remember You instead of honoring myself and also use the occasion to humbly plead for Your invaluable favor.
May we come to appreciate You on a daily basis – not just during special occasions like today – for the wonderful presents You have bestowed upon us.
I call upon the Lord to make this birthday of mine a most-memorable one for myself, my family and my friends.
I pray to You, dear God, to make all my dreams come true, for the years have taught me that as hard as I may try, I still cannot realize them through my own strength and wisdom.
It is during this time I remember just how much You love not only me but indeed all of us, and using my birthday authority, I ask that You grant us all long life and prosperity. Thank You, dear God, for I know You have answered this humble prayer of mine.
Heavenly Father, I pray that You make every year of my earthly life a practice for the eternal one that I will spend with You.
May God grant me countless more years of excitement, revelling in the ceaseless wonders of His innumerable creations.
I appreciate the affections and well wishes of my loved ones, but I'm hoping and praying during this birthday to be filled with the type of joy that only You can provide!
Just as these candles wonderfully illuminate my birthday cake, may God also light the paths of all of my steps.
Glorious God, I thank You in advance for hearing my birthday request to make my future even brighter than my past!
God Almighty, just as You have brought me to this special day, I entreat You with all optimism and expectancy for a long life of perpetual blessings.
I pray that negativity is a thing of the past and that today marks a new, prosperous era in my life.
What I am most appreciative of during this special day is my family and friends, and I hope that God will continue to keep us all fit and content.
El Shaddai, I beg Your forgiveness for all of my imperfections during the past year. I promise to try harder to be a better person during this new one! Please, never stop blessing me.
Jehovah Almighty, I pray that no matter how great I may become – as my prayers are answered and dreams fulfill – that I never forget my allegiance and gratitude is always with You.
Elohim, I pray that You accept my sincerest gratitude in thanking You for letting me greet another year of physical existence.
Today as I celebrate not only the preservation of my body but also the maturation of my spirit, I ask that Jehovah God will forever provide for my needs and bless me with divine protection.
I pray that today God will bless me with my favorite food, a nice bottle of booze and a very-beautiful person to share it with!
---
You may also like:
My Very Own Birthday Wishes | Happy Birthday To Me!
True Blessings for your Special Day | Happy Birthday Prayers
Powerful Messages To Kick Start The Day | 100 Morning Bible Verses
Funny Birthday Wishes for my Best Friend