The Age of Reason | Birthday Wishes for 80th Birthday
Today is a joyous occasion if it is the 80th birthday of a loved one! Living your life in full is one of the true gifts of our era, but some thoughtful wishing would definitely do no harm.
Don't let the opportunity of this milestone celebration pass you by to get in a few sweet words and let this brand new octogenarian in your life know how much you care!

My earnest desire for you this coming year is that it proves to be the happiest, most fruitful and prosperous one you've ever experienced.
Hoping your Happy 80th birthday is as beautiful as your presence is to us. Wishing you the very best.
Celebrating your 80th birthday is like celebrating my own, because I wouldn't be here without you. Happy birthday, mom.
The day you were born was like an angel was sent to earth to show us all the path to happiness.
Life without you is like a cake without sugar. Have the grandest birthday ever!
If life is like a box of chocolates, then you're the sweet filling that makes every bite a delectable experience.
You are such a delightful person that the whole world should be celebrating today! Have yourself a truly happy 80th birthday.
If a monument were erected in honor of the sweetness of the love you give to me, it would be a tower of chocolate so huge the whole world could take a bite! Happy 80th birthday, dear sweet and irreplaceable one.
You're so sweet a new flavor should be named after you. Best wishes!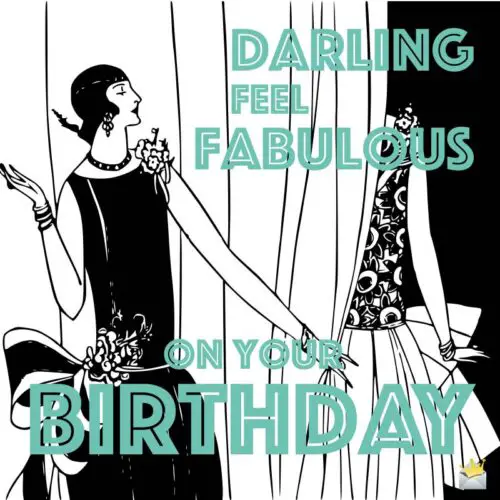 Wishing you a very joyous and blessed 80th birthday! My life would be bitter and dark if not for the sweetness and light of your presence.
Yesterday I drank a cup of tea where the cook forgot to add the sugar, and for the first time I realized what life would be like without you.
Happy 80th birthday, and may life grant you as many years as grains of sugar in a chocolate factory!
Wishing you a gloriously happy 80th birthday. Being able to spend this special day of your life with you makes me feel like I'm the one receiving the gift.
On the occasion of your 80th birthday, I need you to know that my life became exponentially sweeter since you came into it. May blessings of good health and absolute joy be with you forever.
I wish your 80th birthday proves as sweet to you as your presence has to the lives of those you've touched. Happy birthday, blessed soul.
The joy and sweetness of this day make it my favorite of the entire year.
With each single year that passes, my love and respect for you doubles. Happy 80th birthday, and many more.
Your birthday is more important to me than even my own. Life's sweetest memories are made of spending wonderful occasions like today with you.
The anniversary of the day you were born is one of the most important days on my calendar. I hope you have many more years of good health, strength and happiness.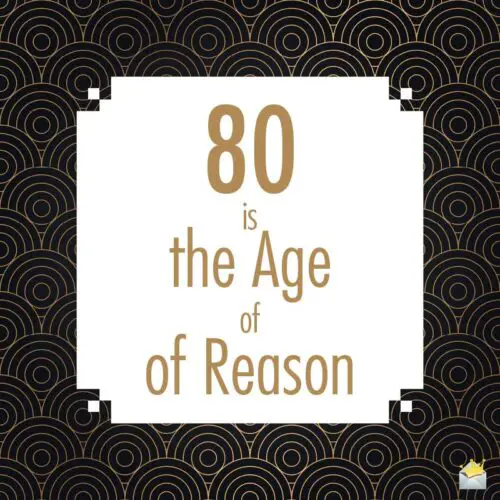 Each passing year with you is a reminder that fate really does look down on me favorably.
Calendars were invented just to remind mankind to honor special people like you. Happy 80th birthday, dear friend and mentor.
May all of your tomorrows embrace you with the same beauty, grace and favor that today has.
I had to use today as an opportunity to show you appreciation for all of the kindness you've always shown me.
I woke up today happy, knowing that no matter what happens I'm going to see you smile, hopefully a thousand times. Have a joyously spectacular 80th birthday. May you always feel true bliss in your heart.
I'm very excited because today marks the first day of the rest of your long, glorious life. May God bless you with a glorious 80th birthday.
On your 80th birthday, I wish you a life filled with happiest form of happiness. Hope your special day goes down in history as one of the greatest birthdays ever!
As you fish for happiness in life, may your net snap with success. Happy 80birthday.
May an increase in your age also coincide with an increase in your happiness and health. Wishing you a truly happy 80th birthday.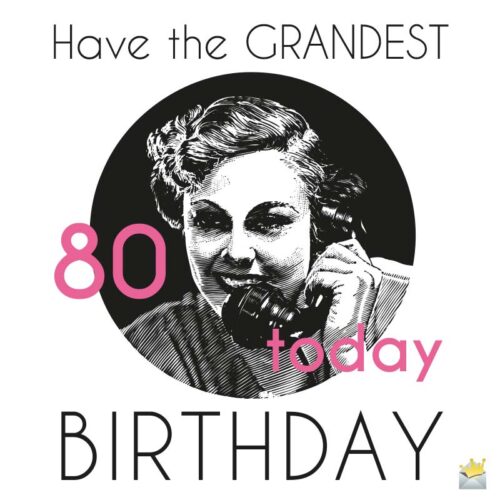 Your 80th birthday is a national holiday in the kingdom of my soul. May you experience many more. I wish you a beautiful, happy and prosperous life. Happy birthday.
I strive to express my love to you on a daily basis, but today I decided to say it with a box of chocolates.
As the years progress, may our relationship grow deeper like the roots of the mightiest tree. Happy 80th birthday, dear friend.
You are the icing that adds an extra layer of sweetness to my life. May you experience countless more birthdays to also bring the same flavor to innumerable others. Enjoy your 80th birthday to the fullest.
May life bless you with a universe of happiness, peace and good health as you commemorate your 80th birthday. I love you so much.
Some of the most treasured moments of my life were spent in your presence. It's a great privilege, honor and blessing to have you in my world.
May fate reciprocate you with the same joy that you have brought into the lives of others. Happy 80th birthday, and many more.
Wishing you a fabulous 80th birthday! If my love for you could be measured in the form of material gifts, the price tag would be higher than the GDP of a First World country. May life bless you with many more birthdays!
Your friendship has turned my life from a horror movie to a fairy tale! Hoping your 80th birthday will bring you the amazing joy you bring into my world. Love you and will never ever stop being there for you.
I could build an entire candy factory off of the sweetness of your love.
You may also like:
Best Birthday Wishes for my Super Grandma
The Sweetest Birthday Wishes for your Grandpa
Happiness in my Heart | Emotional Birthday Wishes