Happy Birthday in Heaven | Wishes for Celebrants that Passed Away
A good way to remember your dearest ones who have sadly passed away and cannot be with you any longer is by commemorating their birthdays when they do arrive.
To do so, you can count on our trove of heartwarming happy birthday in Heaven wishes here on this page to reminisce all the lovely times you have spent with them and let them know you still remember them.

Table of Contents
Special Happy Birthday Wishes For A Friend in Heaven
 Use these words to pay recognition to a special friend's heavenly birthday:
Not even heaven is far enough to make me forget your big birthday. Missing you on this special day.
Although you aren't here to celebrate it with me, I know that you're getting a birthday serenade from the angels. Sending my best to you and your family today.
Many birthday greetings from all those you left behind on earth. We love and miss you dearly, my friend.
You, my amazing friend, were a gift from the day you were born. While my gift won't quite reach the heavens above, know that I'm doing something special today in honor of the day you were born.
We had many marvelous birthday celebrations while you were here with us. Today, you celebrate without your earthly friends, but that doesn't mean we aren't loving and wishing you all the best from back here on earth.
Oh, dear sweet and beloved friend of mine, life just isn't the same without you here to celebrate your B-Day. Don't worry, though. We will be sure to eat some cake and ice cream for you.
Thinking of you on the day you were born brings so many happy and cherished memories. I wish we'd have had a few more before you had to go. Sending all my love above.
Losing you was the hardest and most unfortunate moment in my life, but knowing that you are happy up in Heaven brings me so much joy. Happy birthday, friend!
I appreciate all the moments that we had together, and today being your birthday, I want you to know that every little moment spent with you were the happiest in my life. I miss you so much, pal!
You made my world so beautiful, and for as long as I live, I shall always treasure every single moment spent with you. Happy birthday, friend!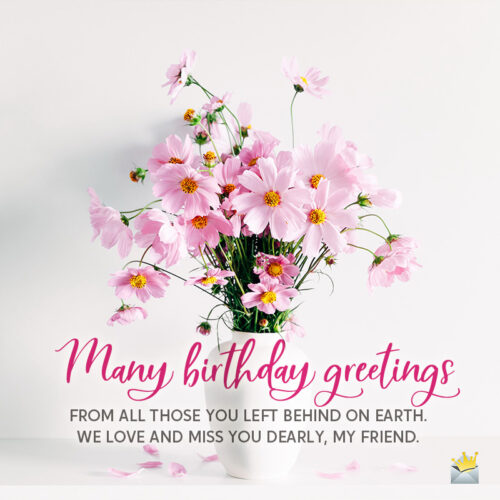 Best Birthday Wishes For Dad In Heaven
 Finding the right words to express birthday sentiments to a father who's passed away can be an emotional strain, but these messages may help you find your way:
Father, oh, father, I miss you and cherish the lovely birthdays we shared. Until we meet again, I'll wrap my arms around this day each year and send all my adoration straight above.
Your heavenly birthday hall must be a beautiful sight to behold, daddy. You deserve it all after being such a gift to your family. Missing and loving you everyday, especially today.
My beloved dad, we are celebrating the day you were born even though you're so far away. I miss you daily, but even more on the day your life was given.
It was only a matter of time before heaven reclaimed such a treasure as you, my dear sweet daddy. May your heavenly birthday be rich with pure serenity.
So many things I had yet to buy and say for your special day. For now, I'll just look upon a shooting star to bring my birthday wishes and love straight to heaven's door.
Whether near or far, my father's birthday will always be a day of thankfulness. Thank you for being my everything, and I hope your celestial birthday is as bright and beautiful as you made life for me.
Although you're in heaven now, I feel your spirit with me on my important days. So, on this important day – your birthday, I hope you, too, can feel all my love for you.
Despite the fact that my heart still aches for your sudden departure, the bright lights that you left in my life shall continue shining brighter and brighter each day. Wishing you a happy birthday in Heaven, Dad!
Happy Birthday Wishes For Mom In Heaven
 The following words for a mom's birthday can help you wish the deceased matriarch of the family the very best on her special day:
Mother, I miss you so, but I understand that heaven needed such a treasure back. I just hope the angels are singing you the sweetest and happiest birthday song ever from me to you.
My birthday gift to you this year is of tears of happiness in remembrance of all the birthdays we shared as mother and child before you flew away. Loving you today and always and on earth as it is in heaven.
The sweetest memories of all the birthdays we shared together is what I'll think about today. Mom, I hope you're doing the same and enjoying today with all of heaven's other angels.
Someone in heaven has a special day being remembered on earth today. A very beautiful birthday for a very beautiful mother.
Related: Happy Birthday in Heaven, Mom | Wishes and Poems
Wishing you the happiest birthday in heaven from your child that loves you so much from below. May your day be serene and all your worries at ease.
Happy birthday in Heaven, dear Mom. I miss your lovely voice, your heartwarming smiles, and every single thing about you.
Lasting memories of your loving ways and tender kindnesses carry me through the days without you. It's why, even though you aren't here, I can smile on my mother's birthday knowing she's making heaven an even more joyous place to be.
No wealth or clout you took. Only love and goodness in your baggage. So, what to give my angelic mom on her birthday in heaven? A million dollar smile straight from the heart, of course.
Happy birthday in Heaven, Mom! In the midst of your absence, the joyful and wonderful moments you shared with us are the only things that keep us going.
Also check out: 150+ Heartfelt Ways to Say "Happy Birthday, Mom"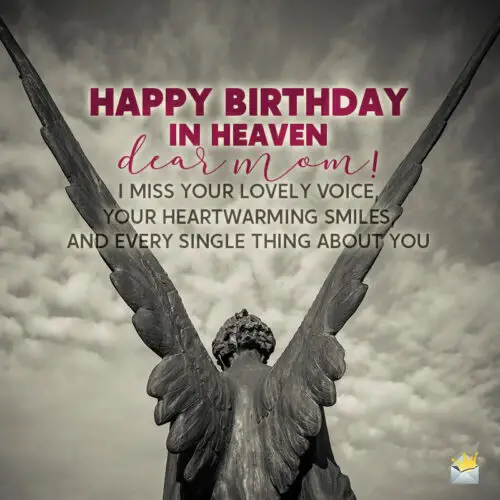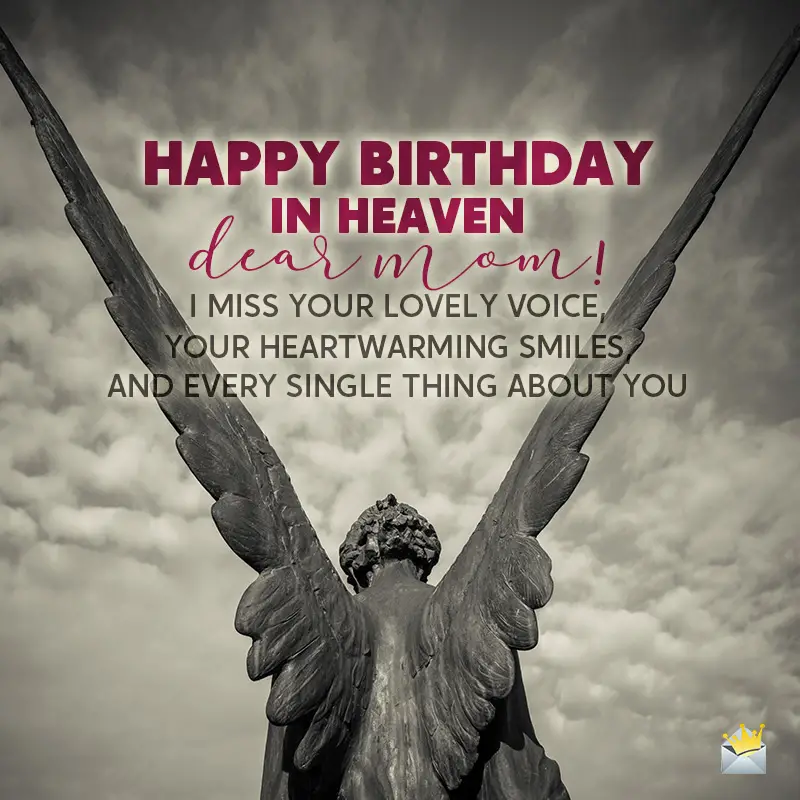 Birthday Messages To My Brother In Heaven
 These offerings can help you give voice to your thoughts on your late brother's birthday:
Dearest brother of mine, it hurts that I can't be with you to celebrate the anniversary of the day you arrived into this world. You made each day on earth count, and I know you're doing the same amongst the angels. Sending you my warmest birthday wishes way up high.
From the rowdy and funny to gentle and loving, each memory with you is a treasure that I'm sifting through like pages in book as I celebrate the life you lived. Happy, happy, happy birthday to you, my dear brother.
I'd say that I hope the afterlife is treating you well, my brother, but I already know that the clouds would be raining rocks if it wasn't. So, enjoy your b-day in the sky.
Your memories, deeds, and causes for celebration will always live on through me, your loving sibling. You didn't think I'd ever forget that you were born today, right? How could I? Hope you have an amazing day in paradise.
Birthday cake, balloons, and gifts can't last forever, and they certainly can't be taken to the next life. But, what you, my lovely brother, did take with you for eternity is my love. Death can't part that, and it will never stop me from saying happy birthday.
I miss my brother every single day, but today I miss him extra special because it's his special day. I can't give him an extra special birthday hug, but I can ask the stars to shine extra bright tonight.
Brother, your absence is felt daily, but it's particularly heavy on the day we should be celebrating your life. May your birthday in paradise above be overflowing with divine happiness.
Related: 40 Happy Birthday Wishes for your Sister-in-law
Lovely Birthday Wishes For My Sister In Heaven
 Express what you want to say to your late sister with these special birthday messages:
Sister, life is hard to find cause for celebration since you joined the heavens. Yet, today, I feel overwhelmed with peace and happiness as I imagine you celebrating a very special heavenly birthday.
My beloved sis, you may not be here to physically hold my hand, but I feel your strength and support all around me as I traverse this life without you. I hope you can feel the same from me today – your sweet birthday.
As you peacefully enjoy the afterlife, please know that my sister's birthday will always be cause for me to give thanks for the time we had together. Thank you for being the best sibling imaginable.
The bond between siblings can never be broken, not even in death. Know that I feel the peace and happiness you're experiencing on your heavenly birthday, even from so far away. All my love to you this day and everyday.
May the anniversary of your earthly birth be celebrated in the heavens. Let the angels sing, and let the poets weep sweet ink into the clouds. Wishing my angelic sister a truly befitting birthday.
Your journey upon earth was so short. Yet, you managed to fill our hearts to capacity with love. Loving and missing you with that same overflowing heart and wishing you the most wonderful birthday, sister of mine.
My soul hurts in wishing my sister a beautiful and bountiful birthday from so very far away. My comfort, however, is in knowing that someday she and I will celebrate together again under heaven's delight.
Happy Birthday in Heaven for Someone Dear
The great bond that exists between us shall never be broken even though you are not with us anymore. Your teachings and guidance shall forever remain in our hearts. Happy birthday!
I must say how tough it has been ever since you left us. Although our lives have never been the same, we are joyful to celebrate your Big Day today, knowing that you are smiling in Heaven.
You are not with me today to blow the candles on your cake, but I want you to know that the beautiful memories of you shall forever bring me something special to cherish. Happy anniversary in Heaven!
I celebrate you today and every other day because you have been the sweetest part of my life and the memories of you shall forever dwell in my mind. Wishing you joy on your birthday in Heaven!
In my heart, you shall forever remain despite the fact that you are not with me any longer. Wishing you a lovely birthday!
Being without you anymore causes my heart to ache, but I derive great comfort and joy knowing that you made it to Heaven and that you are happy up there. Wishing you a smiley birthday, dear!
Just wanted to tell you how much I miss you and that the loving memories of you are everlasting in my mind. I wish you a marvelous anniversary, knowing that you are by the Lord's side!
My heart aches in grave sorrow since you departed for Heaven, but I take solace in the extremely beautiful moments that you left behind. Happy birthday in Heaven!
Today, even though we miss you, we are all glad to celebrate your birthday in the knowledge that you are by God's side, smiling and with your heart overflowing with joy.
You brought happiness into my life, showed me love, and taught me how to be kind. Your departure has left me empty. However, I shall forever be grateful for the time I got to spend with you. Happy birthday!
Though thinking of the incredibly beautiful moments that you have left behind is something that cheers me up, my heart still feels the pains of your absence. Happy birthday in Heaven, Daddy!
I have been broken into countless pieces by your sudden departure, but the thought of you being in Heaven is the only reason why I still keep on going. Happy birthday!
I know no amount of sorrow, tears or heartaches will bring you back to me, so all I can do now is to move on and cherish all the great times that we spent together. Happy birthday to you in Heaven!
I always give thanks to the Lord for having the opportunity to be with you and to share my love with you. It is so unbearable being without you. However, I wish you a happy birthday.
Happy anniversary! I have been torn apart ever since you left this world. The only thing that gives me consolation is the fact that you are incredibly happy in Heaven.
The Lord knows why He made you leave so many wonderful memories behind. I believe this is so that we can have something to cherish when you are gone. We miss you and wish you a happy birthday.
Though you have departed this earth, I believe that you have accomplished all that the Lord sent you to do, and the greatest of all was to leave amazing moments in my world. Happy birthday.
Even though it is extremely hard to live without you, I thank the Heavenly Father for all the unforgettable memories that you have left in my world. Wishing you happiness on your anniversary!
On your birthday today, I want to wish you great joy and also let you know that you shall forever remain in my heart despite the fact that we are worlds apart.
Happy birthday in Heaven, buddy. My heart will never ever stop missing and loving you. I can't wait to see you again.
Happy birthday, dear. Deep down in my heart, I know you are smiling in Heaven. That makes me feel good.
I still can't come to terms with why the Lord chose to take away from my world such a spotless kind of human like you. But I believe you are enjoying your special place in Heaven. Happy anniversary.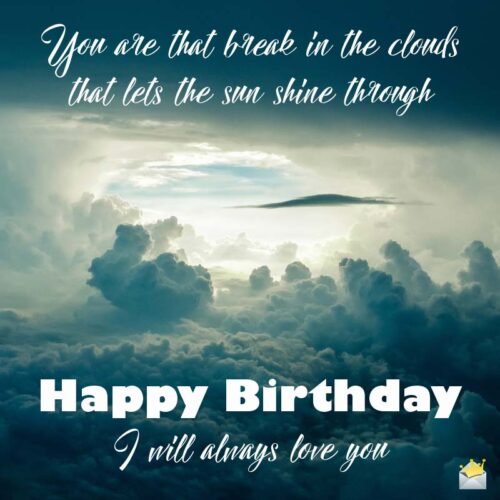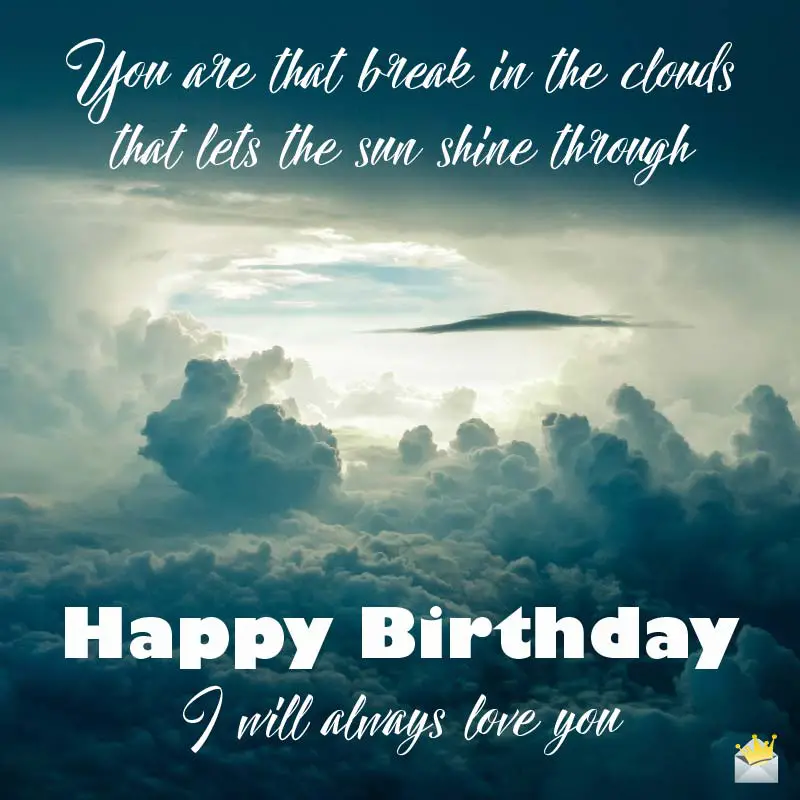 Happy birthday! I can hear the echoes of your beautiful voice. I still remember all the joyful moments that we shared. It seems like you never left, however, the heartaches keep reminding me of your absence.
Though your departure makes my heart ache with immense sorrow and anguish, I am at least relieved to know that you are happy and having great fun up in paradise. Happy birthday!
Though the hardest thing for me now is being without you for the rest of my life, I will surely never forget the brightness that your presence has left in my world. Happy birthday in Heaven!
Missing you is tough. It really is, and I can't conceal that fact. But I know you left for a much better place and that you are truly happy now that you are in heaven. Happy birthday!
Wishing g gloriously happy birthday to a friend whose time on earth brought nothing but joy and happiness to me. May you always have a smile on your face as you rest in God's loving arms.
As you celebrate your birthday today up in heaven, I hope you know that I am missing you so badly and that the love you left in my heart is the only thing I hold on to in your absence. Happy birthday!
You may also like:
Best 36 Birthday Wishes for your Father-in-Law
Divine Grace | Religious Christmas Wishes
Condolence Messages of True Compassion
True Blessings for your Special Day | Happy Birthday Prayers