Happy Birthday in Heaven, Mom | Wishes and Poems
Losing someone you love can leave a big hole in your heart and life. Birthdays offer an opportunity to remember the ones you love and reminisce in the heart-warming memories that you have of their life. Planning a way to remember your loved one is a big task, one that takes much thought and effort.
To make the process easier for you, we offer this collection of messages. We hope they will bring as much joy to your heart as it did to ours in writing these missives.

Table of Contents
Happy Birthday in Heaven, Mom
To the woman who always loved me at my worst. Through good times and bad, my mother was my number one fan. I am so grateful to have felt her love during her time here on earth. Missing you on your special day, Mom.
Mom, if you were here right now I know that you would tell me not to cry. So, I will keep my chin up, and remember you as the guiding light that you were and continue to be in my life. Happy Birthday in heaven, Mom.
The pain of losing you will never go away, will never dull, and will never be forgotten. The hole that your death left in my heart can never be filled. You were one of a kind, Mom. I miss you dearly.
You were taken too soon, Mom. I never got the chance to say goodbye. I miss you terribly, but I know that you are looking down on us and smiling at the life that we have created. Happy Birthday in heaven, Mother. See you again soon.
The sun is shining bright, which is no surprise for your special day. You were always such a ray of sunshine in my life. We miss you immensely but know that you are somewhere better. Have fun on your special day in heaven.
Mom, you aren't here to blow out the candles on your cake this year. We have planned this event to remember you and your life. In honor of you, we are dedicating this birthday cake in your memory. We will never forget your special day.
Another year, another birthday without you, Mom. It never gets easier. The days go by, and I miss you more than you can imagine. Happy Birthday in heaven, Mom.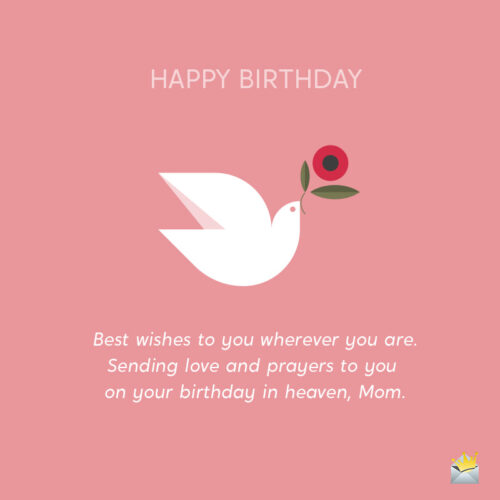 I thought of you today. Your laugh, your eyes, your humor, and your smile. These memories of you carry me through the hard days. I know that you are watching over us, especially on this day. Happy Birthday in heaven, Mom.
Your mother is someone who can never be replaced. No one can compare to her love for you. The days go on, but it doesn't get easier. To keep the memory of you alive, Mom, we will have this celebration of your life every year on your birthday. I hope I make you proud. We love you.
I go to your grave and sit there often in quiet thought and meditation. Your spirit is there, and I can feel you all around me. You are in my thoughts, actions, and decisions every single day. The memory of you will live on forever, and on this day I commit my thoughts and actions to you.
Best wishes to you wherever you are. Sending love and prayers to you on your birthday in heaven, Mom.
Your life on Earth may have ended, but you will live on in my heart forever. There will always be a part of you in me, your son/daughter. Sending love to you on your special day.
I thought about you yesterday and the day before that, too. I think about you all the time. Yet, this is nothing new. You are always on my mind and never far from my thoughts. Happy Birthday to the greatest mom there ever was.
I could be sad about your passing and the fact that I no longer have you with me. Yet, I am grateful for the time that I did have with you and that you were chosen to be my mom.
A mother's love is stronger than any force in existence. You were formed in her womb as a part of her. Appreciate this day, and all that your mother has done for you. Even in death, she still yearns for her child and you for her.
Mothers play many roles. Doctor, manager, therapist, scheduler, financial analyst, and most of all–friend. Celebrate your mother on her special day.
You may not have another birthday on Earth, but we will never forget. Your energy and your love lives on in your children. Happy Birthday in heaven, Mom.
The suffering has ended, and you have entered through the pearly gates. On your birthday we celebrate the life you lived and the love you showed. We are glad you are in a place where pain doesn't exist. Best wishes on your birthday in heaven, Mom. We love you.
Happy Birthday, Mom in Heaven – Poems
She is Just Away
I cannot say, and I will not say
That she is dead. For she is just away.
With a great big smile, and the wave of a hand,
She has wandered away to an unknown land
And left us dreaming how very fair
It needs must be, since she lingers there.
And you-oh you, who the wildest yearn
For an old-time step, and a glad return,
Think of her as faring on, as dear
In the love of there are the love of here.
Think of her still as just the same. I say,
She is not dead – she is just away.
A Mother's Love
A mother's love has no end. It stretches to the depths of the unknown.
Sacrificing her heart, body, and mind for the good of her children.
Encouraging patience, kindness, endurance, and a wild mind to roam.
Sleepless nights and early mornings, despite how weary she might have been."No one can ever replace your mother," they said. For her love conquers all.
With a warrior's strength and a tender heart, she takes it day by day.
Never confessing to the hardships, answering every beck and call.
A mother's love knows no boundaries, no matter what one might say.When it is her time to go, you can't turn back the time.
Life is but a fleeting moment with memories that last forever.
Love your mother while you can. Be grateful, helpful, and kind.
Make sure she knows how much you care. Question your love? Never.A mother's love is irreplaceable. It can not be duplicated.
It's inherent, nature, one of a kind. Your mother is yours and you hers.
Remember her in the days to come. Prove her love can be replicated.
By her loving child, forever and always, as it is written in the stars.So on her very special day, the day that she was born.
Remember her in all of her beauty and keep your thoughts light and warm.
Your mother was a special woman whose love was never torn.
It has and always will belong to you, in her image you were formed.
Happy Birthday, Mom in Heaven – Images
You May Also Like:
Love you, Dear Mom! | Birthday Wishes for your Mother
Happy Birthday in Heaven | Wishes for Celebrants that Passed Away
A Family Affair | Love Quotes for Mom and Dad