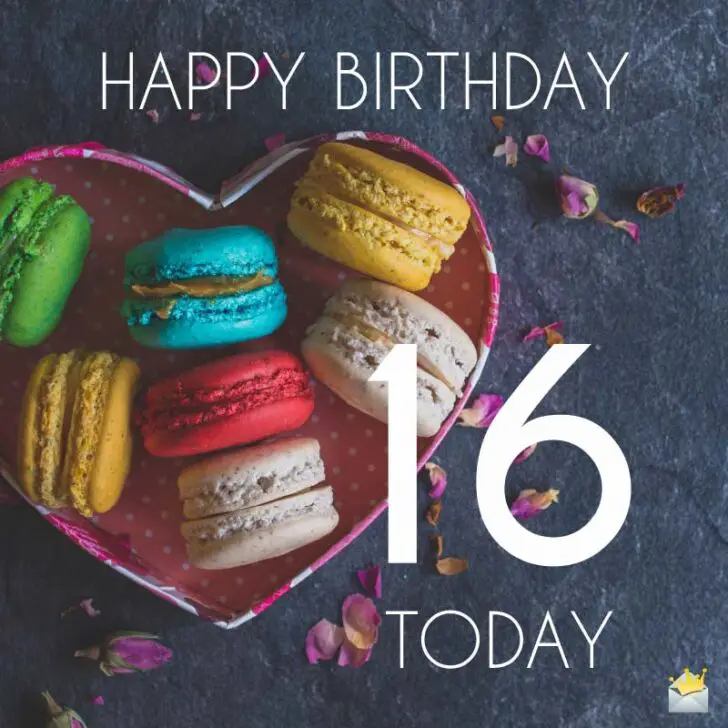 It is important to lift up the spirits of teenagers and bring positive energy into their lives so that they are inspired to achieve success as they climb the ladder of life. There is no better way to do so than having beautifully crafted messages sent to them on their birthdays.
If you are worrying about what words to put in your birthday wishes for that 16-year-old in your life, worry no more, for we have below very beautiful words that have the potential to add more color and happiness to their milestone celebration.

Happy 16th Birthday to a Boy
Hey Champ! Ready to go big on your party today? Go wild, but keep it real. Lots of success on your birthday.
God must have put in more effort to mold you because you're so complex, yet modest enough to learn. You will go far, my boy. Blissful birthday
You should enter this age with confidence, knowing that you're not alone. We've always got your back through thick and thin.
Let nothing hinder you from reaching newer dimensions in life. Pursue your passions, express yourself. After all, you're 16 and nearing adulthood. Be blessed on every side.
You're a rare kind of angel with a golden heart. You touch and inspire every life you enter. Be elevated on a special day like your birthday.
I know you don't usually like sentiments these days. But I took the time just to send you enough hugs and kisses for your journey through 16. They will comfort you whenever you feel lonely.
Courage is what you've always shown, young man. And I admire you for that. Cheers to a new age full of possibilities.
I took a vow to constantly remind you of how precious and valuable you have been to this family. We love you, son, and there's absolutely nothing you can do about that.
When it's your birthday, I get goosebumps all over because I can't seem to find the right words to express the joy you've brought to my life. May your life be filled with bright and colorful moments.
Huge doors are opening to you now that you've hit 16. Enter them with caution and wisdom, son. You deserve only the best, settle for nothing less.
Turning 16 comes with fresh responsibilities and a sense of freedom you may have never been exposed to. Take charge of both and strike a balance. I believe you have all it takes to be the best among your peers. Cheers!
Happy 16th Birthday Wishes for a Girl
Your smile could melt a thousand cold hearts so I wish you only the best of joy, happiness and laughter on your sixteenth birthday.
You've entered age 16 with so much grace and perfection. Bask in the freedom and fun the year brings.
There's nothing sweeter than a sweet girl like you having her sweet memories created on her sweet sixteenth birthday. Rock it, girl.
You're growing more beautiful each day. May the years to come bring you more favor on every side.
This is the one time you get to be 16. Come out of that shell and let's get the party started!
The best way to live life is to embrace all the challenges it presents while appreciating the lessons learnt. Life will be tough after 16 but enjoy it all the same.
Cease the day, dear. It's special because a wonderful young lady was birthed 16 years ago. Glad you're in my life.
I wish that you have the most perfect celebration and prosperous years you never imagined possible.
The stars remind me of you. Soothing yet full of light. Never lose your glow, Sweetie. It makes you unique.
It seems like it was just yesterday you were crawling around, now you're 16 and ready to drive. Time flies, so aim high. Have a memorable birthday.
Happy 16th Birthday, Son!
Today marks a very special day in your life as you prepare to take up more responsibilities. I wish you the very best in life. Have a lot of fun as you make merry on this 16th birthday of yours.
Dear son, we appreciate you for all the joy and happiness you have brought us. Today marks your 16th birthday and we wish you nothing but success and happiness in life.
It brings me much joy and happiness knowing that you turn 16 years today. Enjoy this day, and take good care of yourself, son. Happy birthday!
Today marks your 16th birthday, and this day also introduces you to a more challenging phase in life. I have never doubted your ability to make the right decisions, and I trust that you will continue to make many more great decisions in the years to come. Happy birthday, son!
My wish for you on this 16th birthday of yours is that joy and happiness accompany you in everything that you do. Be adventurous and overcome all challenges that life throws at you. Happy birthday, son!
You have grown up to be the young man every parent will want to have. On this sweet sixteenth birthday of yours, I want to wish you the finest days in the life ahead of you. Happy birthday!
Over the years you have developed into a fine gentleman. As you enter a more ambitious stage in life, I pray that the good Lord be your guide in all that you do. Happy sweet sixteenth birthday, son!
Happy 16th birthday, son! It fills my heart with great joy to that you have turned sixteen today. Drive safely as you enjoy this unique day in your life.
Words are insufficient to mark this memorable day in your life. But, I just want you to know that I will always be there for you as you journey through this new stage in life. Happy sixteenth birthday, son!
Happy 16th Birthday Wishes for your Daughter
You have grown up to be a very beautiful and intelligent young lady, and on this sixteenth birthday, which is a special day for you, we wish you prosperity and the best of health. Happy birthday pumpkin!
Enjoy a marvelous sixteenth birthday today, my beautiful princess. May God grant you wisdom and strength to overcome the rigorousness of this new stage in your life. Happy birthday, daughter!
My little Angel has gradually grown into a strong and brave young woman who is prepared to face the challenges in life. I pray that the good will Lord grant you strength. Happy sixteenth birthday!
I am filled with joy to have fathered/mothered such an amazing person like you. You have grown into a beautiful and intelligent young woman. Congratulations! Happy 16th birthday, dear!
16th Birthday Wishes for your Nephew
Wishing a gorgeous birthday to the nephew who has brought nothing but joy and happiness to the family. Enjoy this sixteenth year that life has given you.
Not every uncle/aunt is blessed like I am to have such a brilliant and energetic young man as his nephew. I want you to know that you will always have my support, especially as you drive through this very demanding stage in your life. Happy birthday.
I wish you everlasting bliss as you celebrate your sixteenth birthday. Have a great one.
Today is such a special day because I know that I have a brave and intelligent nephew who turns sixteen years today. I trust you will safely drive your friends' home tonight for the celebration of this new age in your life. Happy birthday, nephew!
You have always made this family proud, and I pray that you continue to be the light that this family has always wanted. Your family is proud of you. Happy sixteenth birthday!
Your parents would be very proud to have a son like you. And as for me, words are insufficient to express my satisfaction on the person you have turned out to be. I will support you to reach even greater heights. In the mean time, enjoy this sweet sixteenth birthday of yours.
16th Birthday Wishes for your Niece
Happy birthday to the newest driver in town! Today marks sixteen years since you were born, and ever since then you have always brought smiles to this family. I am proud to have a niece like you. Happy birthday!
You are sixteen years today, and all that I expect from a niece is all that you have been so far. Thank you for making me proud. Happy birthday.
At 16, I am confident that you will remain focused and keep on being the good girl that I have always known you for. Happy birthday, dear niece!
You have always shown signs of brilliance and exhibited the greatest of strengths, and these are key traits that will guide you to success as you enter a more challenging stage in your life. I wish you long life and eternal happiness as you celebrate your sixteenth birthday.
Hurray! Another year has been added to an amazing young woman's life. Dear niece, I wish you nothing but blissfulness in the years to come. Happy sixteenth birthday, sweetheart!
Who doesn't want a niece who has a good head on her shoulders and always strives to achieve remarkable things in life. You are the type of young woman every family wishes to have. I will always be proud of you, my dear. Happy 16th birthday!
Happy 16th Birthday Wishes for your Sister
Happy 16th Birthday Wishes for your Brother
Turning 16 comes with a lot of excitement and danger. I trust that you're ready to handle both. Cheers to a new life.
You make 16 look so cool, my dear brother. Make the best out of this year.
I wish that your coming years will be filled with more adventure, love and overwhelming joy. Happy 16th birthday.
Our bond can never be broken. You're a great role model and I cherish every moment we've shared. Wish you the very best in life.
It's your 16th birthday, brother! Let the party begin! You're growing but you're not yet an adult. Have all the fun you can before it's too late.
My wish for you today is that you experience all the good things life brings. Here's to greater heights and memorable adventures.
I could never have wished for a better brother than you. Cheers to a new age full of excitement.
May you achieve your wildest dreams and be the finest in every venture. Have a joyous birthday.
Say hello to the most intriguing time of your life. Enjoy every second of it and remember that you're the amazing brother everyone needs.
Your bravery is inspiring, your passion is unique. 16 sounds great, but not as great as you!
Happy 16th Birthday Messages for your Sister
Cheers to turning 16! Today is your big day, and we shall celebrate it accordingly. I wish your sweet 16th birthday will bring lots of joy and happiness into your life. Happy birthday.
Sixteen years on planet Earth is really a milestone, my dear sister. I hope today comes with it nothing but events that fill your heart and soul with joy. Happy 16th birthday, Sis.
May your birthday be loaded with a whole lot of fun-filled events and plenty of cakes to mark a new beginning in your life. Enjoy your 16th birthday, my beautiful sister.
Being 16 is one of the most exciting phases of a person's life. Happy birthday, my sweet sister. May your day be full of exciting gifts and happiness.
For my sweet and precious sister at 16, I wish you grow to become one of the most important women in the world. Happy birthday.
Sis, you are the most remarkable 16 year old that I know. As you mark your 16th birthday today, continue to stand tall in life. Happy birthday, dearie.
Happy 16th birthday, sweet sister. May your life forever blossom like flowers in May.
On your special day, may your life be more colorful than the rainbow you bring into my world. Happy 16th, my beloved sister.
Dear sister, may you be blessed with joy and happiness on the occasion of your 16th birthday and on all the days of your life. Have a blissful day.
On your 16th birthday, sister, I'm wishing you a life full of magical moments. Never stop believing in yourself, my dear.
As you commemorate your 16th anniversary, may your happiness be beyond imagination. Happy birthday.
Happy 16th birthday, sister. Wishing you all the happiness from all the cardinal points of the world. Love you.
Happy sweet 16th, beloved sister. May you be blessed with the sweetest things in life, and may you always see and experience things that make you smile.
You are the sweetest 16-year-old in the whole wide world. I can bet my life on that. I hope that your birthday will be as sweet as your life. Happy sweet sixteen.
Congratulation on your 16th birthday. May happiness rule over your life for eternity.
It's a delight to see you blossom into the beautiful lady you're becoming. May your coming days be filled with joy and laughter.
You only get to be 16 once. Enjoy all the good things life has to offer, and always remember that the best person to be is you. Because you are such a wonderful young lady.
My lovely sister, there's no doubt you were born for greatness. I'm so proud of you. Have a blissful birthday.
I wish that as you celebrate your sweet 16, you will only experience the sweeter moments in life.
The best thing about having you as my sister is that I also have a best friend who will always be around. I love you, sis. Let's have crazy fun as you turn 16.
Cheers on turning 16! There's so much in store for you. Take your time, be smart and enjoy your youth.
Your birthday is one of my favorite days because I get to confess how lovely you are. You're the best 16 year old I know.
As you celebrate this milestone age, be reminded of all the love that surrounds you. You are more precious than anything we can find on earth. Have a blast, my dear.
Sweetheart, 16 is a great age to finally reach. I hope you enjoy the freedom it comes with. Party hard, you deserve it.
Don't be afraid to try new things. Don't be scared to aim higher. You're 16. Rock it girl.
May your smiles never fade away as you enter this new age. Have a fun-filled celebration.
Make all the sweet memories you can, princess. It's your time to shine like the queen you are.
Happy 16th Birthday Wishes for a Friend
To a friend who has taught me to be stronger and wiser, my wish is that you never lack love. Have a wonderful Birthday.
For all the times you stood up for me, I will always celebrate you not just as a great friend, but as my hero. Enjoy your special day.
Let this day remind you that you are the greatest gift to me. Have a blast, my dear friend.
Your birthday is special because it's the day an awesome friend stepped into this world. Wish you a long and eventful life.
On this special day, I want you to know that I treasure our friendship more than any other thing. You're 16 now, cheers to having more fun.
I can't wait to have more exciting moments with you as you turn 16. You're the coolest friend and I wish we stay best friends forever.
Hey buddy! It's time to drive the world crazy with your awesome personality. I wish you a fantastic birthday bash.
There are many other 16-year olds in the world, but not one as amazing as you. May this day bring you greater joy, good health and wider smiles.
God must have had me in mind when he created you, because we fit so perfectly. I wish you the best of success and greatness in life on this special day.
I may not find the best words to describe how much I value your friendship. But from a sincere heart, I want you to know on this special occasion of your birthday that you deserve the best in life.
My dearest friend, I know you will accomplish more in your 16+ years. Let's enjoy an exciting new experience together.
Happy 16th Birthday Wishes for your Cousin
Great people like you are rare to find. I'm extremely glad to be related to such a caring person as you. Have a birthday celebration that is beyond blissful.
Wow, you turned 16 so fast! It's been a pleasure watching you grow into the intelligent young lady you are. But you'll still be my sweet little cousin. I love you.
Let's get the party rolling, dear. 16 is your chance to have your freedom and still act silly like a kid when you feel like it. Enjoy this year and many more to come.
I just dropped in to wish my brilliant cousin a wonderful birthday. May all your dreams and heart desires come true.
As you celebrate this new age, never forget the people who will do anything to ensure that you are loved and protected. I'm always here for you.
Today is the perfect day to let you know that you are the best cousin I could have ever wished for. Keep being you. Happy sixteen!
Just like you affect the people you meet with your beautiful smile, may you experience joy that will last a lifetime. Enjoy your special day.
Turning 16 means you are well on your way to adulthood. Do well to savor each moment. Grow wiser, stronger and better. I believe in you.
It feels great to know that we're family. Not only have we shared the best moments, but you are such an inspiration. Congrats on hitting 16.
My sweet cousin, you have the energy to light up a room. I'm so proud and can't wait to see the great things you're about to achieve. Best wishes on your birthday.
Happy 16th Birthday Wishes for your Grandson
May you be clothed with heavenly blessings that will cause you to shine wherever you find yourself. Enjoy your 16th anniversary.
Spending 16 years on this earth is no joke. You've done it so perfectly, my boy. Congratulations.
A joyous birthday to a grandson with the bravest young heart. You deserve a huge birthday bash.
Thank you for representing this family so well. You're 16 today and I see that you're turning into a fine young man. Keep it up, child.
16 is a mark, but there are many more years to live. Stay smart, be careful not to fall into the wrong crew and most of all, enjoy all the fun while you're still young.
There's so much greatness in you, child. I can't wait to watch you accomplish all your aspirations. Best of luck on your 16th birthday.
The only way to insure your future is to dream big. On this special day, I pray that all your wild dreams are fulfilled.
The spark you bring to this family is remarkable. I'm so proud to have you as my grandson. Have a fun-filled celebration.
Just as the dewdrops never miss the early mornings, so shall love, peace and joy never go missing in your lifetime.
You deserve a million more years on Earth because you're as precious as a Diamond. Grow in grace, young man. You're loved.
Happy 16th Birthday Wishes for your Granddaughter
My little princess is all grown up and will soon be a respectable young woman. I have no doubt that you'll make us all proud.
Kudos on finally turning sixteen. It's been a delight watching you mature into a smart lady.
I did not bring with me a bag full of sweets and toys. This time I'm dropping a heart full of hugs and kisses because you need them more now that you're 16. Enjoy your day, child.
You're my adorable angel. The one I love most. Have loads of fun on your birthday.
You may be 16 and think you're a big girl now, but you'll still remain my sweet little grandchild for life. Have a memorable birthday.
When I turned 16, I hit the road for the first time. Today is your 16th birthday, and I give you the freedom to explore life even more. There's so much to learn and enjoy in life.
I thought your mum was the cutest girl in the world, but you are a precious jewel. Have a Grand Sixteenth.
My lovely granddaughter, your sweetness is incomparable. Cherish every bit of your sweet 16.
I asked the postman to send you lots of love from your granny. He smiled and said you have more than enough. Never forget that your family adores you. Be blessed on your birthday.
The world needs a lot more 16-year-olds like my granddaughter. So obedient, kind and beautiful inside out. You're the best, honey.
---
You may also like:
200+ Cute Birthday Messages to Help them Crack a Smile!
Sisters Are Forever | Birthday Wishes for your Sister
174 Cute and Funny Birthday Wishes for your Girlfriend
A Wish for their Special Day | Happy Birthday Images