Stories of Sweetness | Birthday Quotes for my Sister
Today is your beloved sister's special day, so of course she'd be expecting to hear from you! And there is no day more appropriate to fill her heart with joy than the annual celebration of her life – her birthday.
Here are some quotes that will not only let your sister know how much you treasure her but also make her smile and inspire her to put her best foot forward.

Funny Birthday Quotes for my Sister
This year, I decided to immortalize my feelings for you by getting your face tattooed on my buttocks. Ain't that awesome!?
Every time I'm away from you and see a picture of your face, I shed tears of sadness. Happy birthday from afar, sis.
As you age and progress in life, I want to inspire you to continue to strive to be all that you can be – in other words more like me. Happy birthday!
You will always be my number 1, despite your looks. Happy birthday, sis.
As a gift this year, I promise not to reveal that you're secretly a crime fighting vigilante. Happy birthday my sister, my hero.
No matter what great things I may go out and accomplish in life, I want you to know I'll always consider you more of a man than me. Happy birthday, my sweet sis.
Now that you're old enough, I want you to finally be free and enjoy life, like a beast let out of its cage.
There's a great person lying dormant deep, deep inside you, and I'm confident one day she will come out.
Our relationship has had its ups and downs like a roller coaster, but know that I'll always be there to loosen your seatbelt if need be.
I heard that your species is going extinct, so I bought you an extra special gift this year, just in case I don't get the opportunity to do so again. Enjoy your birthday!
As sugar that rots the teeth, so is the sweetness of my sister. Happy birthday!
Even though I have a passive-aggressive fear of you, this year I decided to be brave, present you with this gift, wish you a happy birthday and also remind you of my undying love.
Sis, I've been waiting for you to reach this age to tell you the truth – you're a clone, but the very best clone we could have ever could ask for.
As a parole officer instructs a criminal to keep him out of mischief, may your words of guidance and instruction always be with me in my life's journey.
Just as your weight increases annually, my love for you also grows with each passing year.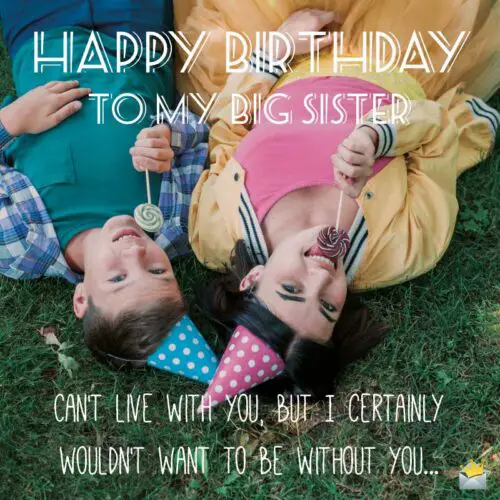 Today is one of the most-special on my entire calendar, as I get to publicly acknowledge one of the greatest blessings life has ever bestowed on me – my sister.
My sincerest wish for you on your big day is that you learn to appreciate life as much as it appreciates you. You have been born with a plethora of talents and abilities, and the future is yours for the taking!
I hope you are just as excited about today as I am as it is dedicated entirely to honoring one of the most-beautiful people in the world – you, my phenomenal sister.
Hoping that you have an exciting and colorful day, one that respects not only the loving contributions you have already made to our lives but also all of the incredible achievements that patiently await you in the future!
Thank you for being the type of person that actually deserves a birthday celebration! May this day bring nothing but big, wide smiles to your face.
You may call today 'a birthday', but I call it 'the best sister in the world day'. Love you!
Being your brother is more than a coincidence – it is a privilege. Happy birthday, sis!
As you travel down the winding road we call life, may the angels themselves protect you and show you the way.
This is a great day that we get to pay tribute to a great sister. May you squeal all day long in laughter as if you were a child all over again!
Today a star shines in heaven that illuminates our hearts in recognition of the celebration of the day you were gifted to planet earth and its inhabitants.
You are never too old for a multi-leveled birthday cake, especially one frosted with as much love as this!
May the love and positivity you experience today be your constant companions throughout your life's journey.
Beloved sister, you are so beautiful when you are smiling and happy. That is why I love this special day so much. May God grant you with so many birthdays that you eventually lose count!
Today is your day to be put on a pedestal and displayed to the world as the beautiful blessing that you are!
This beautiful day is so special that I will not even retaliate against any insults you hurl my way. I love you, sis, and hope this will be the best 24 hours of your life!
Dearest sis, may you experience a future full of only the success a hardworking and talented woman like you deserves.
As it is your birthday today, I have dedicated my entire being to making you happy. I have all of your favorite foods plus a surprise gift. Thank you for staying strong and healthy and reaching another birthday!
May today mark the beginning of the best year you ever had, and this is the same birthday wish I plan to impart on you every year henceforth!
Thank you for being everything I ever needed in a sister. May this day prove to be as festive as it is designed to be!
Sis, today as we party to your beautiful life, may joy of heaven visit your heart and never depart from it.
May the good Lord grant you good health and happiness for 100 years to come!
May everyone who crosses your path today realize they are in the presence of a star, and may you live a life highlighted by appreciation of the beautiful person that you are!
Never will I stop taking pride in being your brother/sister! Wishing you a birthday celebration so spectacular you remember it forever.
Every day spent with you is a reason to jubilate, but on this exceptional day, we are really going to go all-out and get our party on!
May your birthday be so exciting that you won't even have a need to watch any reality TV or soap operas!
Today is the most-unforgettable date on the entire calendar, where I get to spend the entire day hugging and enjoying the heavenly company of my dear sister!
This day is an extra-special occasion we only get to celebrate once a year, so I am going all-out to make sure you really enjoy it!
Your birthday is like a national holiday in this family. We thank God for adding a brand new age to your life, and we thank you for taking care of yourself along the way! Keep shinning and being beautiful.
I'm hoping that today will be so beautiful that it causes you to truly value the preciousness of your life and how much we all depend on your grace, caregiving and love.
The sweetness of this birthday cake is a representation of the delightfulness you have brought into our lives. Thank you for always being a charming little sister!
Sis, you are someone I can always count on. If that isn't a blessing, then nothing is.
Thanks, sis, for always being the sunshine that gladdens my soul. Honoring you on this day is a just a small token of my eternal gratitude.
Dearest, may God bless you for being one of the best female role models I ever had. No matter how old we get I will always look up to you!
Sis, I celebrate your strength as well as your grace and charm today. In my eyes, there is no day quite as special as the birthday of my sister!
I appreciate every single moment of my life spent with you and I look forward to spending many more years with you as you kill the fatted calf in celebration of your birthday.
It is absolutely an amazing experience to be the sibling of such an awesome sister and one with a magical personality. I am proud to have you and I am happy to celebrate you on your special day today.
I believe you deserve the most incredible birthday celebrations and an astonishing year ahead because you are simply a fascinating kind to have in this world.
It is such a huge privilege to share ties with you, dearest sister. On your birthday, all I wish for you is unbounded success and love in the year to come.
Cheers to the most beautiful and wonderful sister in this whole Universe. Reminding you on your big day that you are the best gift life has presented me with and I am so thankful for that.
It is beyond comprehension how remarkable you have been to all of us in this family. We shall forever cherish your extreme kindness and superior support in our lives. Happy birthday, sister!
I hope that your birthday brings you every peace, happiness, fortune, joy, and excitement that is available on this earth.
As you turn a year older today, I am wishing you an exciting celebration and a marvelous year ahead that is filled with many lovely discoveries.
To my sister and best pal, I wish a merry-filled birthday. Thank you for filling my heart with enormous joy and my mind with cherished memories.
To me, every day is a special day for me because I have a simply adorable sister like you. There is no amount of sunshine that will outshine the brightness you bring into my world. Happy birthday, sister!
May this momentous celebration be met by happiness, joy, and advancement in everything that you lay your hands upon. We are so very blessed and fortunate to have you in this family.
On you great day today, it is my earnest wish that peace shall find a permanent dwelling place in your heart and good fortune and favor shall follow you all the time.
Dearest sister, I am wishing you a happy and a prosperous life as you celebrate your birthday today.
As you celebrate a very special day like this in your life, it is my greatest hope that it shall open the doors for immense happiness and untold successes in your life.
May all the years to come be ones that have peace, joy, and fun overflowing in them as you mark a new age in your existence, dearest sister.
Inspirational Birthday Quotes for my Sister
Happy birthday, dear sis. I'm beyond confident that God has blessed you with all the tools to conquer any challenges you may face in the future.
Joy and prosperity are further away than you would like, but closer to you than you think! Happy birthday.
Dear sis, I hope that life takes you places so great you never imagined and that all of your pleasant dreams become a reality.
Hard to believe one day you'll be a mother, grandmother and even great-grandmother. Happy birthday, sis. I wish you many beautiful children and a life full of joy.
Every time I feel like giving up, I think about you, your strength and perseverance. Please continue being an inspiration to us all. Happy birthday.
Our family is full of great people, but you're the best! Happy birthday, and may you experience many, many more, each more glorious than the previous!
You are the strongest amongst all of us and have always been an inspiration and role model to me, even when I don't express it. Happy birthday.
May the trials, challenges and tests that continue to accompany you in your life's journey serve as the origin story for the superhero we all know lies within! Have yourself a birthday that shines like the sun.
As your days increase, may your self-esteem also grow to eradicate all forms of self-doubt and depression out of your life. Happy birthday.
You are simply splendid and worthy of the love and respect you get. May your celebration be nothing short of excitement and fun as you turn a year older today.
Dear sister, I look forward to loads of great things in this life for you because you have been the sunshine in my world and the one who gives me hope. Enjoy your birthday with unlimited joy.
Everyone will be proud to be associated with a brilliant and extremely kind lady like you. For your celebration today, I am wishing you joy and gladness that never ends.
You inspire, encourage, and support me in all my endeavors. Thanks, beloved sister, and I wish you a fabulous anniversary!
You may also like:
Sisters Are Forever | Birthday Wishes for your Sister
Live it Up, Sis! | Inspirational Birthday Messages for your Sister
Meuh! | Funny Birthday Wishes for my Sister