Welcoming A Bright New Life! | Congratulations on a New Born Baby
Babies are such blessings to our world and joy follows their announcement everywhere. Sometimes, however, when we want to share our well wishes, words fail us.
Below, we have listed a number of original and useful greetings to express our happiness with the new parents. Send these in a card, via email, or text. Take a few and combine them. You know your audience and will surely pick the perfect one (or combination) for them.

Table of Contents
Congratulations on your baby girl
 If someone you know recently had a girl baby, then you can use these congratulatory messages of warmth and support to convey your thoughts.
A new baby girl is such exciting news. May this be the first of many fond memories for your family.
Toasting to the the birth of a beautiful, healthy girl.
Welcome to parenthood! We are so excited and proud of mom, dad, and daughter.
Sending you many pink ribbons and fluffy ruffles of joy for the arrival of your newborn gal.
Congrats on your little bundle of sweetness. She's sure to be a blessing to your sweet family.
She's finally here. Onward to all the fun of diapers and midnight feedings, which are all completely worth every minute.
It's a girl, and we just couldn't be prouder to know and love your growing family.
Adding new life is an amazing journey as human being. Congratulations on the birth of your girly.
We couldn't be happier to hear that your bundle has been delivered happy and healthy. Enjoy every precious first moment with her.
So very happy to hear that she's made it to your loving arms safe and sound. We won't intrude during this bonding time, but please know that you and your child are in our thoughts.
It's a bird. It's a plane. No, it's a princess!! Many warm wishes to princess, mom, and dad.
Just wanted to drop a congratulatory line to say how thrilled we are that your new addition is here safe and sound. Bet she looks just like her, beautiful mama.
Can't wait to see if she has mom's eyes or dad's eyes. Toasting to your sweet girl and her two amazing parents.
Celebrating your newborn girl, and we know without a doubt that she couldn't have handpicked a better mother or father.
Ecstatic for you. May parenting come natural to you as you get to know the little human you've been carrying around for months now.
Sending much love and well wishes for my favorite new parents and their angelic little newborn girlie.
After nine months of patiently waiting, a tiny miracle has finally arrived, and I'm sure she's even more precious than you could've ever imagined. Absolutely thrilled to be even a tiny part of your special day.
Whether it's the first or last time, becoming a new parent is always a time to rejoice in the miracle of life. Thank you for allowing us to rejoice with you on the arrival of your lovely daughter.
A big round of applause is in order. This little pint-sized princess has just won the parent lottery!
We heard the stork finally made a little pink drop off! Hip, hip, hooray for your new ray of sunshine.
She will be at the center of all your happiest moments from here on out. Sending hugs and love to you and yours on the first of many magical moments with your daughter.
Our warmest wishes to our favorite new parents and their new gal. We are delighted to see that everything went well.
Congratulations on your baby boy
If someone you know recently had a boy baby, then you can use these congratulatory messages of warmth and support to convey your thoughts.
With hearts overflowing with happiness, we offer our applause to the new parents and their bouncing baby boy.
This is the moment your lives change forever. You're officially parents, and we have full faith that you're going to rock the role for your little fella.
This new little guy has already been blessed with the best parents, but here's to wishing for many more blessings to follow. Congrats mom, dad, and son.
We wanted to write a quick note to welcome your handsome boy to the world and wish your family all the best in the weeks and months to come.
What a happy day… your long-awaited son decided to make he's debut! We extend a warm welcome to him and congratulate you on such a monumental milestone.
This is the day you've waited for and anticipated. He's here, and he's absolutely perfect.
Sending so much love your way as you meet your little man for the first time. We can't wait to meet him, too.
Everything is decked out in blue to signify your son's arrival, but no one is singing the blues on this happy day! Congrats, my friends.
A big high five to the new mother and father.
Thank you for giving the world another reason to smile, and we can't wait for all the cuteness overload your little guy is certain to create for Facebook.
Virtual hugs to you and yours. We are delighted to hear that mom and son are doing so splendid.
We are better for having known the children in our lives, and we certainly can't wait to have your brand new baby boy be a part our old lives. Much love to you during this time of celebration.
Well done, mommy and daddy! You have a new son, and he sure is a fine addition to your home.
Fantastic news that this little guy finally decided to show up. Hope to meet him soon.
Many blessings to you and your family as you go forth into parenthood.
What a day… What a might fine day it is to welcome an infant into this world. Please accept our warmest well-wishes for him.
We know he's already stolen your heart, and we can't wait for him to steal ours, too. Overjoyed for your delightful news.
We heard your family size just grew by one hungry boy! Wishing your family all the best.
May this season of brand new life be overflowing with blessings of health and well-being for a boy baby and his fine parents.
Way to make having a kid look easy. Never doubt that you deserve every bit of happiness in this moment.
All raise a glass to a son born today. He's sure to be a treasure to us all.
A toast to a fine new lad and his very deserving parents. Sending congratulations and an application to babysit.
Congratulations on your new baby!
Before parenthood, everyone thinks they know what love means. Once the baby is born, though, true love is evident. Congratulations on your newest venture in life!
A miracle has arrived! Congratulations on your latest bundle of joy. I can't wait to meet her and spoil her rotten!
Praise the Lord for this beautiful soul brought to earth! May she be ever joyful and honoring Him daily.
Let us give thanks and praise for this wondrous child before us. He is an amazing gift and sure to change lives. Best wishes to you and congratulations!
Nine months of excitement and preparation have passed and your baby is finally here. The face, the smile, and the eyes all reflect the love you gave thus far. May they have much to reflect in the future, as well. Here's to you and your new bundle of joy!
Stars in the heavens are twinkling just for you as you welcome your baby son. He will bring you smiles and laughter, tears and sadness. Each day will be special and unique and you will grow more in love with him every day. Congratulations on your blessing from above.
Just a few nights ago, you had no idea what it meant to love someone so deeply. Now that your daughter is born, we haven't seen you leave her side. What a wonderful sight to see! Congratulations and blessings from all of us!
Rock a bye baby, held in your mom's arms. Sweetly you sleep and gently you grow. You are loved more each day than you will ever know. Welcome to the world, dear one!
Children are the world's way of letting us know that nothing ever stays the same. We are always able to change and grow, learn and develop. Whether it is in being a child ourselves or raising one, we know that time is on our side and hopes and dreams can come true. May this latest gift in your life help you to feel a refreshed and renewed, no matter how tired you may get. Congratulations to you all!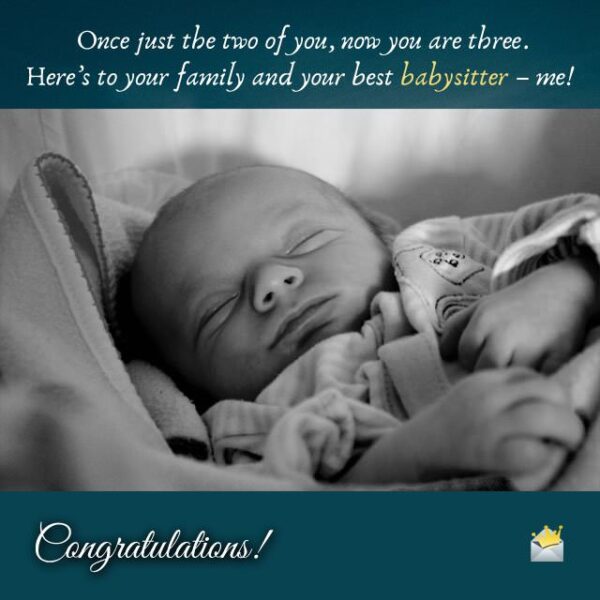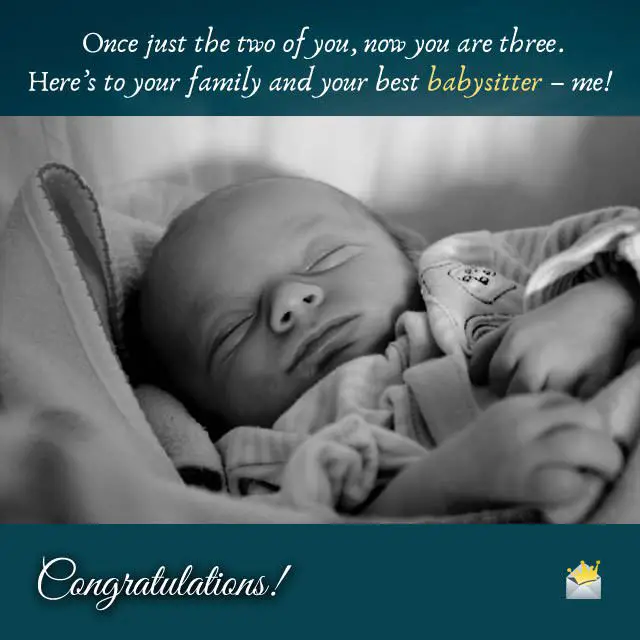 Once just the two of you, now you are three. Here's to your family and your best babysitter – me! Congratulations!
Kindness has shined upon you in the blessing of this child. She is beautiful and lovely, sweet and gentle. She is surely a gift from God! Congratulations and the best of wishes to your entire family!
Nothing stays the same; the birth of babies proves this so well. Let us all learn to adapt and grow with such gifts as these. Here's to you on your daughter's birth!
I have waited my entire life to find such a love as we have in our twins. Prayers are now answered! Congratulations, sweetheart. You are a champion of labor and love! I love you!
Way to go, mama! You did a fantastic job and now have a beautiful child to show for it. This moment will be forever etched in your memory and each time you recall it, you will feel more love than ever. After all, God's greatest blessings are in His gift of children.
Here's to you, new daddy! Your life will never be the same!
As you become parents once again, our prayers are lifted to give you strength and endurance in your joyous journey. You have blessed us incredibly throughout our friendship; we want to return that blessing in full measure. May God bless you today and always! Congratulations and give a few hugs to that bundle from us, too!
Peace and relaxation to you today and throughout the next year. Parenthood can be tiring and rough, but the smiles and laughter are so much more important. Congratulations to you and yours!
Did you ever imagine you could be so happy? That is what a gift parenthood can be. Congratulations from all of us at work! Enjoy your time off; we've got you covered!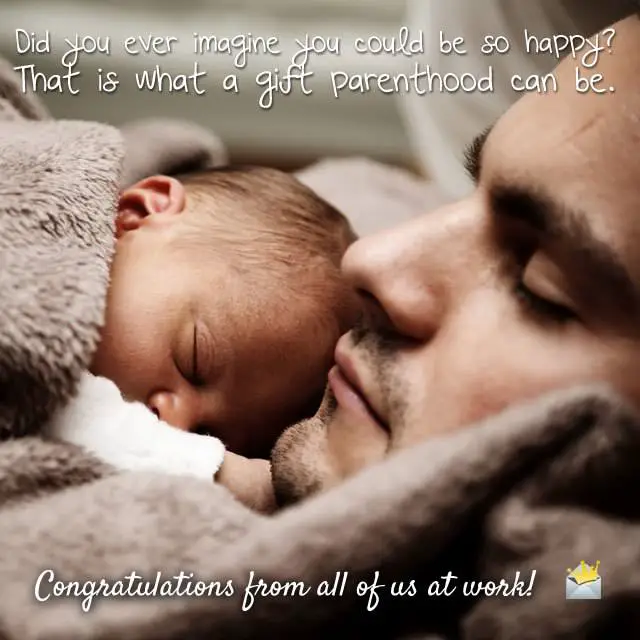 Drowsy eyes and unkempt hair, these are the joys of motherhood! But, is it worth it? More than anyone knows! Here's to you and your fun new life with that beautiful baby boy!
I can hardly believe you are a daddy. I never thought you were one to settle down, but I must say, it suites you. Congratulations to you, your wife, and beautiful baby!
Don't think of this as just the end of a nine month pregnancy, but rather the beginning of a beautiful life! Congratulations!
It's a girl! And such a beautiful one at that! Congratulations from all of us!
A new baby has arrived? I will be right over to give lots of hugs and to spoil him more than you know! Congratulations!
Your father and I are overjoyed at the news of our grandson! Get your snuggles in because it's our turn soon! All our love to you!
A whole world was born today, not just one child. Here's to you as you nurture, protect, and love this beautiful bundle. Congratulations!
The blessing of a baby is a blessing of an angel given to us on earth. Congratulations and love from us!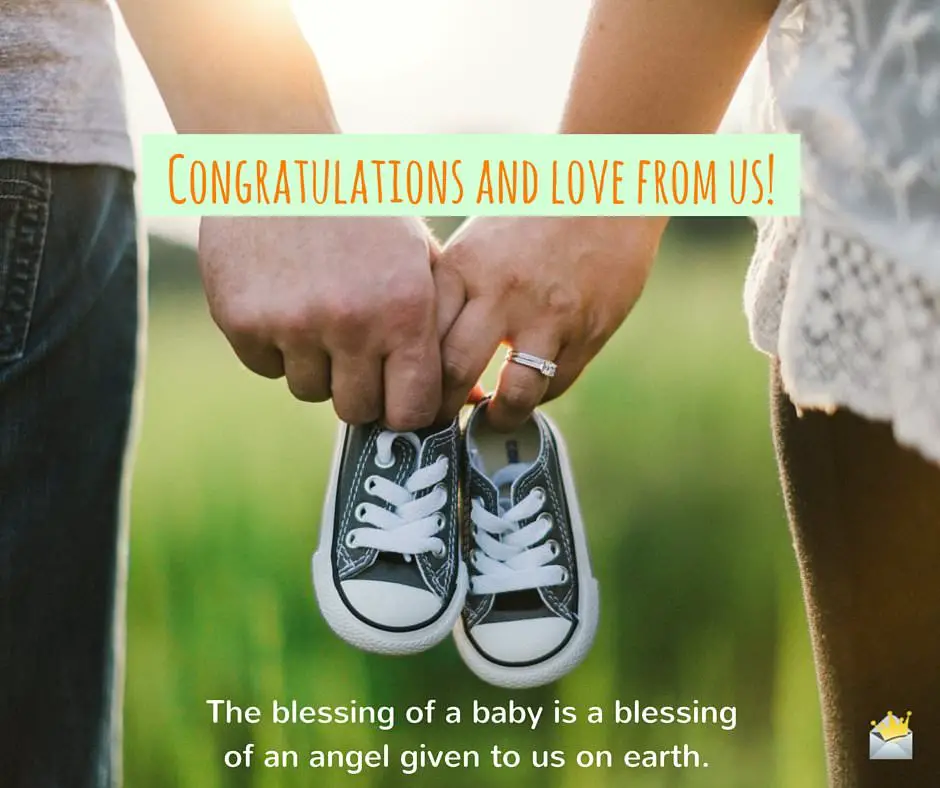 You may also like:
Two words from cute animals: Happy Birthday!
And So it Begins! | Baby Shower Wishes
Happy Birthday, Baby Girl & Baby Boy!