200 Touching Valentine's Day Quotes About Passion and Romance
Love is a sentiment that has been revered and praised. Whether it comes to romantic emotions or the altruistic need to support and care about your fellow man, it has been the main idea behind various ideologies, religions, and social theories.
Considering its importance in the world we live in today, we curated this great collection of quotes by famous people and historical figures, which proves that there is always touching to be said about love.
Table of Contents
Best Valentine's Day Quotes
Soul meets soul on lovers' lips.  Percy Bysshe Shelley
We are most alive when we're in love. John Updike
I know of only one duty, and that is to love.  Albert Camus
We loved with a love that was more than love.  Edgar Allan Poe
When love is not madness, it is not love.  Pedro Calderon de la Barca
True love stories never have endings. Richard Bach
My heart is, and always will be, yours. Jane Austen
Who, being loved, is poor?  Oscar Wilde
Everything's coming up roses – for me.  Ethel Merman
You can't blame gravity for falling in love. Albert Einstein
You are the answer to every prayer I've offered. Nicholas Sparks
I will love you my whole life. You and no other. Braveheart
Love is a game that two can play and both win. Eva Gabor
I want all of you, forever, every day. You and me, every day. Nicholas Sparks
Oh, if it be to choose and call thee mine, love, thou art every day my Valentine!  Thomas Hood
You are always new, the last of your kisses was ever the sweetest.  John Keats
It's like, in that moment the whole universe existed just to bring us together. Serendipity
Because of you, I laugh a little harder, cry a little less and smile a lot more. Happy Valentine's Day! Unknown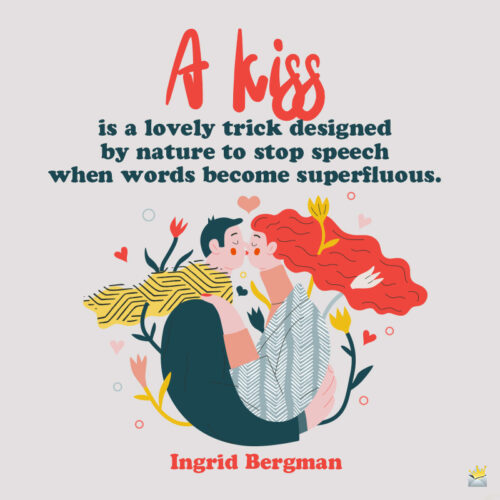 There is only one happiness in life: to love and be loved.  George Sand
Each time you love, love as deeply as if it were forever. Audre Lorde
Love isn't something you find. Love is something that finds you. Loretta Young
One is loved because one is loved. No reason is needed for loving. Paulo Coelho
You can make your better half feel special on any given day and turn it in Valentine's Day. Rithvik Dhanjani
When you love someone all your saved up wishes start coming out.  Elizabeth Bowen
Do I love you? My God, if your love were a grain of sand, mine would be a universe of beaches.  William Goldman
Love shall be our token; love be yours and love be mine.  Christina Rossetti
I love you because the entire universe conspired to help me find you. Paulo Coelho
You can always gain by giving love.  Reese Witherspoon
Every heart sings a song, incomplete, until another heart whispers back. Plato
For the two of us, home isn't a place. It is a person, and we are finally home. Stephanie Perkins
For it was not into my ear you whispered, but into my heart. It was not my lips you kissed, but my soul.  Judy Garland
Love is an irresistible desire to be irresistibly desired. Robert Frost
There is no charm equal to tenderness of heart. Jane Austen
The heart has its reasons of which reason knows nothing.  Blaise Pascal
Love is composed of a single soul inhabiting two bodies. Aristotle
Love is like the wind; you can't see it, but you can feel it. Nicholas Sparks
A kiss is a lovely trick designed by nature to stop speech when words become superfluous. Ingrid Bergman
They invented hugs to let people know you love them without saying anything.  Bill Keane
When you realize you want to spend the rest of your life with somebody, you want the rest of your life to start as soon as possible.  Harry Burns
Doubt thou the stars are fire,
Doubt that the sun doth move.
Doubt the truth to be a liar,
But never doubt I love. William Shakespeare
I love bringing roses to a woman when she least expects it.  Esai Morales
Love looks not with the eyes, but with the mind, and therefore is winged Cupid painted blind. William Shakespeare
Love is our true destiny. We do not find the meaning of life by ourselves alone – we find it with another. Thomas Merton
I'll love you, dear, I'll love you till China and Africa meet and the river jumps over the mountain and the salmon sing in the street.  W. H. Auden
Love is when the other person's happiness is more important than your own. H. Jackson Brown Jr.
If you live to be a hundred, I want to live to be a hundred minus one day so I never have to live without you.  A. A. Milne
It was a million tiny little things that, when you added them all up, they meant we were supposed to be together. Sleepless in Seattle
Love grows more tremendously full, swift, poignant, as the years multiply.  Zane Grey
Love is a condition in which the happiness of another person is essential to your own. Robert Heinlein
Loving is not just looking at each other, it's looking in the same direction.  Antoine de Saint-Exupéry
Nobody has ever measured, even poets, how much a heart can hold.  Zelda Fitzgerald
To be brave is to love unconditionally without expecting anything in return. Madonna
You don't love someone because they're perfect, you love in spite of the fact that they're not. Jodi Picoult
When we love we always strive to become better than we are. When we strive to become better than we are, everything around us becomes better too. Paulo Coelho
There is never a time or place for true love. It happens accidentally, in a heartbeat, in a single flashing, throbbing moment. Sarah Dessen
I just think Valentine's Day is a day to really appreciate the person you love, no matter who it is, and to spend time with them. I don't think it's all about fancy presents or whatever. I think it's about spending that quality time with that special person. Prince Royce
Give me a kiss, and to that kiss a score; Then to that twenty, add a hundred more: A thousand to that hundred: so kiss on, To make that thousand up a million. Treble that million, and when that is done, Let's kiss afresh, as when we first begun. Robert Herrick
How did it happen that their lips came together? How does it happen that birds sing, that snow melts, that the rose unfolds, that the dawn whitens behind the stark shapes of trees on the quivering summit of the hill? A kiss, and all was said. Victor Hugo
Funny Valentine's Day Quotes
Do you have a Band-Aid? Because I skinned my knee when I fell for you. Anonymous
If I could rearrange the alphabet, I'd put U and I together. Anonymous
Love is being stupid together.  Paul Valery
All you need is love. But a little chocolate now and then doesn't hurt. Charles M. Schulz
On a scale of one to ten, I'd give you a nine — and I'm the one you need. Anonymous
I think you are suffering from a lack of Vitamin ME. Anonymous
I'm yours, no refunds. Anonymous
If you were a transformer you'd be Optimus Fine. Anonymous
Today is Valentine's Day – or, as men like to call it, Extortion Day!  Jay Leno
Words cannot expresso how much you mean to me. Anonymous
If you were on paper, you'd be what they call fine print. Anonymous
It's better to have loved and lost than to have to do forty pounds of laundry a week. Laurence J. Peter
There is no one I'd rather lie in bed and look at my phone next to. Anonymous
Sometimes I wonder how you put up with me. Then I remember, oh I put up with you. So we're even. Anonymous
Love is a grave mental disease.  Plato
Without Valentine's Day, February would be…well, January.  Jim Gaffigan
You're the peanut butter to my jelly. Anonymous
Love is like an hourglass, with the heart filling up as the brain empties.  Jules Renard
Money can't buy love, but it improves your bargaining position.  Christopher Marlowe
True love comes quietly, without banners or flashing lights. If you hear bells, get your ears checked.  Erich Segal
I got a Valentine's Day card from my girl. It said, 'Take my heart! Take my arms! Take my lips!' Which is just like her. Keeping the best part for herself. Robert Orben
What I find most disturbing about Valentine's Day is, look, I get that you have to have a holiday of love, but in the height of flu season, it makes no sense. Lewis Black
What the world really needs is more love and less paperwork.  Pearl Bailey
Lord! I wonder what fool it was that first invented kissing.  Jonathon Swift
I want a man who's kind and understanding. Is that too much to ask of a millionaire? Zsa Zsa Gabor
If love is the answer, could you please rephrase the question?  Lily Tomlin
I love Mickey Mouse more than any woman I have ever known.  Walt Disney
I love being married. It's so great to find one special person you want to annoy for the rest of your life. Rita Rudner
I just want you to know that you're very special…and the only reason I'm telling you is that I don't know if anyone else ever has.  Stephen Chbosky
If I have learned anything, it is to keep my wife happy by sending her lavish gifts. Other men can learn from my success and send their wives and girlfriends fresh flowers for birthdays, anniversaries, and of course, Valentine's Day. Don Rickles
Cute Valentine's Day Quotes
For love, I'd do anything. For you, I'd do more. Unknown
There are never enough I Love You's.  Lenny Bruce
Love planted a rose, and the world turned sweet.  Katharine Lee Bates
You will forever be my always. Unknown
I love you without knowing how, or when, or from where. Pablo Neruda
Lovers don't finally meet somewhere. They're in each other all along. Rumi
I won't give up on us, even if the skies get rough. Jason Mraz
Real love is about weathering the terms of life together. Seth Adam Smith
Your flaws are perfect for the heart that's meant to love you.  Trent Shelton
Two people in love, alone, isolated from the world, that's beautiful. Milan Kundera
Love is a canvas furnished by nature and embroidered by imagination.  Voltaire
Love is the greatest refreshment in life.  Pablo Picasso
It is astonishing how little one feels alone when one loves. John Bulwer
If I had a flower for every time I thought of you, I could walk through my garden forever. Alfred Tennyson
Love is just a word until someone comes along and gives it meaning.  Paulo Coelho
You don't love someone for their looks, or their clothes or for their fancy car, but because they sing a song only you can hear. Oscar Wilde
A flower cannot blossom without sunshine, and man cannot live without love.  Max Muller
Love is when you meet someone who tells you something new about yourself. Andre Breton
Unless you love someone, nothing else makes sense. E.E. Cummings
I have looked at you in millions of ways and I have loved you in each. Happy Valentine's Day. Anonymous
Love is metaphysical gravity. R. Buckminster Fuller
Where there is love, there is life.  Mahatma Ghandi
This is love: to fly toward a secret sky, to cause a hundred veils to fall each moment. Rumi
Romance is the glamour which turns the dust of everyday life into a golden haze.  Elinor Glyn
Anyone can be passionate but it takes real lovers to be silly. Rose Franken
I hope you don't mind that I put down in words how wonderful life is while you're in the world.  Elton John 
Anyone can catch your eye, but it takes someone special to catch your heart. Anonymous
Grow old with me! The best is yet to be.  Robert Browning
I fell in love the way you fall asleep; slowly, and then all at once. John Green
I love you in the morning and in the afternoon. I love you in the evening and underneath the moon. Anonymous
The Eskimos had fifty-two names for snow because it was important to them: there ought to be as many for love.  Margaret Atwood
In true love the smallest distance is too great and the greatest distance can be bridged. Hans Nouwens
Know what I like about you? Everything! Happy Valentine's Day. Anonymous
Life is full of lots of things that make it all worthwhile, but none is better than your little smile. Anonymous
Love doesn't make the world go round. Love is what makes the ride worthwhile.  Franklin P. Jones
Love is when the desire to be desired takes you so badly that you feel you could die of it.  Henri de Toulouse-Lautrec
Now a soft kiss – Aye, by that kiss, I vow an endless bliss. John Keats
Once in a while, in the middle of an ordinary life love gives us a fairytale. Anonymous
Valentine's Day Quotes for Him
And suddenly all the love songs were about you. Anonymous
You stole my heart, but I'll let you keep it. Anonymous
If I know what love is, it is because of you.  Hermann Hesse
I love you because you make me ridiculously happy. Anonymous
My favorite place in all of the world is next to you. Anonymous
I will never forget the moment I realized I loved you. Anonymous
I'd rather have roses on my table than diamonds on my neck.  Emma Goldman
I'm much more me when I'm with you.   Anonymous
The best smell in the world is that man that you love.  Jennifer Aniston
Whatever our souls are made of, his and mine are the same.  Emily Bronte
Your words are my food, your breath is my wine. You are everything to me. Sarah Bernhardt
When I'm with you hours feel like seconds. When we're apart, days feel like years. Anonymous
Money is no match for the richness you bring to my life.   Anonymous
Don't forget I'm just a girl, standing in front of a boy, asking him to love her.   Anna Scott
I swear I couldn't love you more than I do right now, and yet I know I will tomorrow. Leo Christopher
From the first time I saw you, I knew you would have my heart. Happy Valentine's Day to the best husband I could have asked for. Anonymous
Happy Valentine's Day to my handsome guy. I am proud to be yours and love being with you on this day and each chance we can get! Anonymous
I love that rush, when he folds me into his arms and I can let out a sigh of relief, knowing I'm safe there. Always. Michelle Poelking
I saw that you were perfect, and so I loved you. Then I saw that you were not perfect and I loved you even more.  Angelita Lim
I've never been so scared of losing something in my entire life, then again nothing in my life has ever meant as much to me as you do. Anonymous
If you press me to say why I loved him, I can say no more than because he was he, and I was I. Michel de Montaigne
Love is more than longing gazes, dancing in the rain and candlelight dinners, but I am so glad we experience all of that and more. I love you! Anonymous
And I'd choose you; in a hundred lifetimes, in a hundred worlds, in any version of reality, I'd find you and I'd choose you. The Chaos of Stars
The real lover is a man who can thrill you by kissing your forehead or smiling into your eyes or just staring into space. Marilyn Monroe
Valentine's Day Quotes for Her
All that you are is all that I'll ever need. Ed Sheeran
A true lover always feels in debt to the one he loves.  Ralph W. Sockman
Because, a girl like you is impossible to find. Anonymous
Chocolate can't compete with the sweetness of loving you. Anonymous
Come live in my heart, and pay no rent. Anonymous
I kind of sort of maybe quite possibly like you a lot. Anonymous
The best thing to hold onto in life is each other. Audrey Hepburn
Loved you yesterday, love you still, always have, always will. Elaine Davis
I look at you and see the rest of my life in front of my eyes.  Anonymous
Turns out I like you a lot more than I originally planned. Anonymous
You are my heart, my life, my one and only thought.  Conan Doyle
In a world full of temporary things you are a perpetual feeling. Sanober Khan
You have no idea how fast my heart beats when I see you. Anonymous
You take my breath away. Always. Anonymous
And when you smile, the whole world stops and stares for a while, 'cause you're amazing, just the way you are. Bruno Mars
I love you not only for what you are but, for what I am when I'm with you. Roy Croft
I love you for all that you are, all that you have been and all that you are yet to be. Anonymous
If I had to dream up the perfect woman, she wouldn't even come close to you.  Cory Matthews
In my eyes, you are the most beautiful and tender woman in the whole world. I love you. Anonymous
Love is too weak a word for what I feel for you. One life is too small a time to express how madly I am in love with you. Anonymous
Take love, multiply it by infinity and take it to the depths of forever… and you still have only a glimpse of how I feel for you. Meet Joe Black
The single, most extraordinary thing I've ever done with my life is fall in love with you. Beth Pearson
You are the finest, loveliest, tenderest, and most beautiful person I have ever known—and even that is an understatement.  F. Scott Fitzgerald
Single Valentine's Day Quotes
I hate Valentine's day. It is a day for nothing but disappointment. Larisa Oleynik
I'm like the kid in kindergarten; I really do send valentines to everyone.  Susie Bright
I love love. Every day of my life is Valentine's Day. When you're a pathological narcissist, you have to fall in love with yourself every day. Katya Zamolodchikova
Be yourself. There is no one better. Anonymous
To love oneself is the beginning of a life-long romance. Oscar Wilde
If you have the ability to love, love yourself first. Charles Bukowski
To love at all is to be vulnerable. C.S. Lewis
The more you like yourself, the less you are like anyone else, which makes you unique. Walt Disney
Love all, trust a few, do wrong to none. William Shakespeare
'Tis better to have loved and lost than never to have loved at all. Alfred Lord Tennyson
When a woman becomes her own best friend life is easier. Diane Von Furstenberg
You yourself, as much as anybody in the universe, deserve your love and affection. Buddha
I have no notion of loving people by halves, it is not my nature. Jane Austen
Dare to love yourself as if you were a rainbow with gold at both ends. Aberjhani
Have you ever been in love? Horrible, isn't it? It makes you so vulnerable. Neil Gaiman
If someone cares about you, you won't ever have to wonder how they feel, they'll constantly remind you. Anonymous
Remember always that you not only have the right to be an individual, you have an obligation to be one. Eleanor Roosevelt
The most exciting, challenging and significant relationship of all is the one you have with yourself. And if you can find someone who loves the you you love, well, that's just fabulous. Carrie Bradshaw
Your relationship with yourself sets the tone for every other relationship you have. Anonymous
You may also like:
Sweetest Kisses! | 60 Happy Valentine's Day Wishes for Friends
Now That Cupid Shot At Me… | 81 Funny Valentine's Day Quotes
Gorgeous Partners | Valentine's Day Card Messages