Happy 30th Birthday | 60 Special and Heartwarming Quotes for a True Milestone
If you are fortunate enough to have friends as you go through life, you will want to acknowledge and celebrate their special milestones like birthdays. For most of us, the desire to express birthday wishes may be strong, but it can be difficult to come up with the best words or phrases that express how we truly feel about a friend when they reach an important milestone like their 30th birthday. Following are several wishes and congratulatory messages that will help you tell your friends how much you care and wish them a Happy 30th Birthday on their special day.

Table of Contents
Happy 30th Birthday for Her
She is special, and you want to let her know how much you care about her.
When they handed out brains and beauty, you got a big dose of both. Thank you for being such a great friend. Happiest of Birthdays!
Happy Birthday my beautiful friend! Keep shining your light on the world. We are all better because we know you!
Sending birthday wishes to a friend who is beautiful on the inside and outside. You inspire me!
Beauty and brains wrapped up in one charming package. I don't know how you do it! Sending heartfelt 30th birthday wishes your way!
You spread joy and happiness to others every day of the year. Take this one day to relax and enjoy yourself. Happy 30th birthday gorgeous lady!
You give and give and give. On your 30th, take time for yourself. You deserve it awesome lady!
You may be 30, but you still are the most naturally beautiful person I have ever known. Stay as down-to-earth as you have always been my gorgeous friend. Happy 30th!
Happy 30th Birthday for Him
He has been a good friend though good and bad and now is to the time to celebrate him.
Your strength and determination make me want to do better. Thanks for being a great friend. Happy Birthday!
There is more to us than sports and beer! We have shared good times and bad and you continue to support me every day. I appreciate you! Happy 30th!!
Hey, buddy! I wanted to be first in line to wish you the happiest of 30th birthdays!
Happy 30th birthday, handsome! You deserve every good thing that comes your way. Enjoy your special day!
Happy birthday to the bravest man I know. You have met every challenge that comes your way with grace and dignity. You are an inspiration to me!
What a great time to tell my favorite guy in the world how much I care. Here's hoping your 30th is the best birthday ever!
You lead others in work and play with a style all your own. Keep doing what you do! Happy Birthday!
Funny 30th Birthday Quotes
A friend with a sense of humor is the best.
They say men get better looking as they get older. But there are exceptions to every rule! Just kidding. Happiest of 30th birthdays to you!
Keep saving for your retirement! You're getting closer and closer and closer! Happy 30th!
Is that glitter in your hair? Whoops, I guess that's gray! Happy 30th!
One year older and one year closer to being as smart as I am! Just joking! Happiest 30th Birthday!
The Fire Department is on standby. Go ahead and light your birthday candles! Happy 30th!
This year I want to see you act crazy on your birthday. Let's see if you can stay up till 9:00! Happy day!
Happy 30th Birthday! In dog years, you'd be getting closer to your death.
I know you're almost 30. There's more food than booze in your fridge! Happy old person Birthday!
Inspirational 30th Birthday Wishes
Your friend inspires you every day and now is the time to let them know you appreciate them.
Every day I think about how special you are. You inspire everyone around you to dream big and try harder. Happiest of birthday wishes to you my friend!
You always ask the right questions to encourage others to think deeply about life and their decisions. I admire that quality in you. Best wishes on your 30th!
As we go through life together, I look to you for hope for the future. You are the best example of how to live life to the fullest. Happiest 30th birthday!
I love the way you lead with strength, wisdom, and courage. Thank you for being my friend. Happy Birthday!
The beautiful chapters of your life are before you, not behind you. I hope you never forget that. Happy 30th birthday.
Your birthday is a great time to tell you how much I love and admire you. You have the biggest heart of anyone I know. Don't ever change! Happiest of birthdays to you!
On my darkest days, I know I can count on you. You are the best friend a person could ever have. Thank you for always being there for me! Happiest 30th!
I will never know how you keep your spirits so high through everything that happens in life. I admire you for your awesome attitude. Happy Birthday!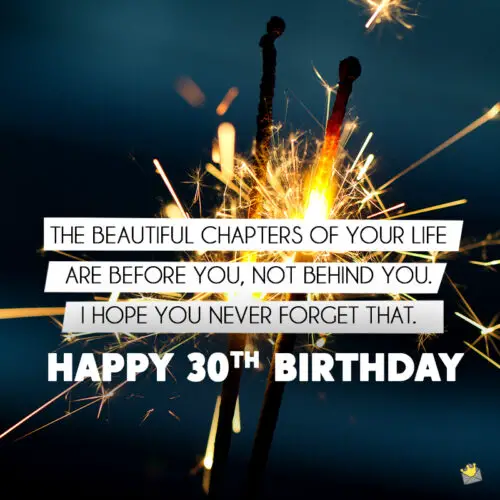 Sarcastic Dirty 30 Birthday Wishes
One of the best things about friends is being ok when you give each other a hard time.
Remember when we said we didn't trust anyone over 30? Guess, what? I don't trust you! Happy 30th Birthday!
Don't worry about becoming old when you turn 30. You're already old! Happy Birthday!
I won't make any jokes about how old you are. I feel too sorry for you! Happy 30th anyway, friend!
I hope I look better than you do at 30! Happy birthday, anyway!
Keep your chins up! Turning 30 isn't so bad! Happiest of birthday wishes to you, my friend!
I wanted to get you a birthday cake but I couldn't afford that many candles! Have a good one anyway!
If someone tells you that you don't look a day over 30, they're lying! Happy 30th birthday!
You may also like:
250 Funny Birthday Wishes that Will Make Them Smile
Messages for the Man I Love | Birthday Wishes for your Boyfriend
That Super Girl! | Birthday Wishes for your Female Friends