Best 30 Engagement Wishes for the Day They Said Yes
Engagements are milestones worth celebrating. They signify a significant change in life as we begin the journey of sharing our lives with someone else. Whether it's a friend, sister, or colleague, finding the right words to say to people in this stage of life may be at times challenging.
We thus offer you a list of well-thought-out quotes you can use to wish people getting engaged well and show them that you are delighted and excited about their new journey. We can use these messages to accompany gifts and let someone know we take their new stage of life seriously.

Table of Contents
Warm Engagement Wishes for a Friend
A friend in your corner makes life's journey worthwhile. Celebrating each other's achievements and progress is essential. Here is a list to help you wish your friend well in their engagement.
I used to think finding a friend was the best thing that happened to us but seeing you find your soulmate is the greatest joy we could ever have. Congratulations on your new journey.
We have seen you fiercely stand up for us as your friend, and seeing someone fiercely love you is the best thing that happened to us—all the best dear friend.
Seeing our friends loved and be loved is all we could ever ask for.
We found someone we could finally trust with you not only because you chose them, but you said yes.
This is us saying we approve the person you allowed to steal you from us because we can see that true love lives here, and for that, we raise our glasses.
True friends like you deserve all the love this world can offer, and we are happy the world offered you love in the form of a soulmate.
God must have had our prayer because he blessed you with a soulmate, and we could not be more grateful than this.
Nothing will ever replace the joy in our hearts when we heard you say yes. May you have all the happiness this world can offer.
The world is better because of friends like you, but marriage will even be better because you are in it now.
Funny Engagement Wishes
We can only use funny engagement quotes depending on our relationship with a potential bride or groom. Such quotes aim to add some laughter to their face but not scare them from the next chapter of their lives. Thus, remember to keep it light.
Congratulations on saying yes to having a bunch of babies; thank God they will be great to look at.
Can't wait to eat and drink expensive drinks at your wedding because the bill is on you
We finally found someone who will make you spend your money without complaints.
You reached the stage where everyone will applaud you for having children. Look at us growing up fast, huh!!
Well, look at you decide to go home to the same person for the rest of your life at least it's a face you want to see, and for that, congratulations.
I can't believe we are grown enough to stand in front of people and say how we feel. Cheers on your engagement
May you wake up to the same bad breath for the rest of your life because sharing a bed is all you get from here.
We found someone you can walk around the house naked with. This must be an outstanding achievement, and because of that, let's toast to the future.
Engagement Wishes for your Sister
Getting the correct words for your sister's engagement can be nostalgic, especially if you have gone through life very close. Here are a few inspirations for us:
I can't believe we are grown up enough to tell mom and dad who we love. I am so proud of you my dear sister and wish you nothing but the best.
I was almost sad that I was losing a sibling, but I am happy that I am gaining another one, and because of that, I wish you nothing but happiness.
No amount of happiness can express the joy in our hearts seeing you find true love. May the smile on your face always be there and may the memories of your engagement continually make you smile.
Cheers to finding a permanent roommate. Finally, someone who won't bail on the rent, congratulations to my only sister.
Thank you for taking care of us all your life. Am glad you finally found someone to take care of you and to cherish you.
When I heard you say yes, I knew that was the luckiest man in the world because the love you pour on people you love is unmatched.
Congratulations on this face of your life. May you experience joy and happiness always.
Short Engagement Sayings to Write on a Card
Engagement sayings are a way of passing your congratulatory messages to the future bride and groom. Some ideas you can use include:
You will definitely make a good partner.
The way you show up for people you care about is proof that this was a good decision.
We wish you nothing but the best in your engagement.
Life was meant to be shared and to find someone we can share our life with is the greatest thing that could happen to you. Congratulations on your engagement
The day we make up our minds to share our life marks the beginning of a beautiful chapter of our lives marked with memories, and yours could not have started any better.
Congratulations on your engagement and all the best.
If you liked it, Pin it!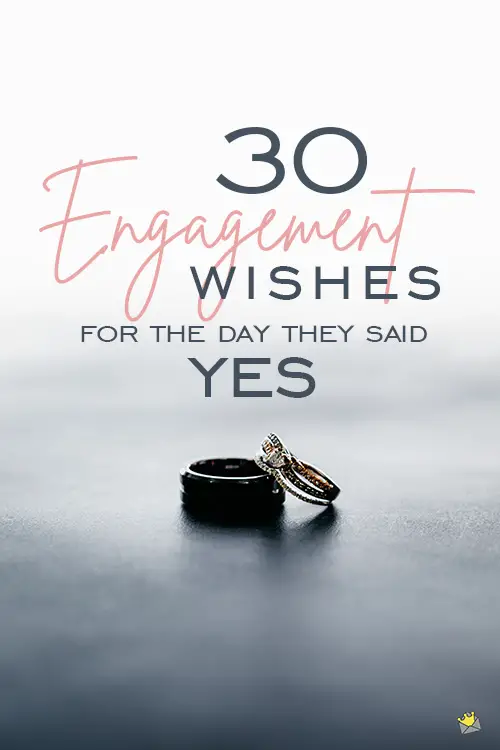 You may also like:
Messages for a Newly Married Couple | 40 Warm & Funny Wedding Greetings
50+ Best Engagement Captions for Instagram
A Very Special Day | Unique Wedding Wishes for your Friends