50+ Best Engagement Captions for Photos of a Great Moment
An engagement is a huge milestone for anyone. There are usually plenty of happy tears, smiles, laughter, hugs, and kisses to go around. When it happens, there will always be plenty of picture-taking involved to commemorate the special day. You'll want to make sure you have those photos to look back on after that important question is popped!
Of course, you'll want to show off your pictures with the best caption to go along with them, as well! When you have tons of beautiful photographs to show the world, we're here to help you make the most of them. Tell the world your big, wonderful news with engagement captions that will make them look twice.

Table of Contents
Short Engagement Captions
Give your followers a quick look into your future with one of the following captions for your engagement pictures!
I couldn't say yes fast enough!
It must be a dream, but I'm here for it!
Cheers to us, together forever!
A happy life needs a happy wife in it.
Saying yes has never felt so good!
I never dreamed I'd be so happy!
I'll never wake up with a frown with you by my side for life!
I never knew love could hit me so fast and so hard. Congratulations to us!
I've been dreaming of this day since our first date!
Countdown to the best day of my life!
Life is measured in moments, and this moment is now a permanent part of my mind.
My dream has come true.
Life doesn't get any better than being with the one you love forever.
Cute Engagement Captions for Instagram
When you want to show off your happy news, we're here to give you the cute captions you'll need to help you spread the word!
Who wants to play guess the date?
My ring finger is suddenly a little heavier!
With this circle of symbolism, I vow my ever-lasting love and devotion to you.
We can't wait to share today's wonderful news with family and friends- our engagement is now on!
This date will go down in history as one of my favorite numbers ever!
It's time to make our union a little more official!
Keep your eyes open for a save the date card! I said yes!
How could I say no to the most amazing guy in the world?
I'm a bride-to-be!
If you haven't heard the good news, we're planning to tie the knot soon!
A piece of jewelry has never meant so much to me.
Future Mr. and Mrs.!
Funny Engagement Captions for Instagram
It's perfectly okay to want to get a laugh with a funny engagement caption, even on this special day!
Even though I flipped a coin to get the answer, I'm still happy it turned out the way it did! Just kidding- I love you!
What would we do if we couldn't announce our engagement through social media? Word-of-mouth? I don't think so!
We knew we were right for one another from the start, and the fact that he knew my ring size just confirmed it!
Officially off the market. Sorry, all.
I'll be at the wedding with bells on!
Are you all ready to be bombarded by pictures?
Thank goodness social media makes announcing our engagement a breeze!
It's beginning to look a lot like a wedding day!
It may have taken a while, but we're finally on the road to marriage!
Who's ready to party? Engagement party, rehearsal party, wedding party, and even anniversary party! We're committed to it all!
I'm so ready I had the foresight to paint my nails today!
Who wants to gift me a subscription to Brides Magazine?
Engagement Captions for Guys on Instagram
We all know guys love sharing pictures as much as their significant others, so feel free to make use of the following captions to inform your followers of your big news!
I didn't have a panic attack, and she said yes to the question- today's a win for sure!
Heart attack averted- she said yes!
My heart is full now that my soulmate said yes to the most important question.
It was one of the scariest moments of my life. But hearing her say yes made everything worth it in the end.
I have never been happier to post on social media. The love of my life agreed to marry me. This moment will never be topped!
I'm ready to get hitched. Luckily, she is too!
It's a good day to hear the word "yes"!
You realize how wonderful life really is when your soulmate agrees to marry you!
I almost fainted, but she said yes before it happened. We're officially engaged!
Have you met my fiancé? I'd like to introduce her to the world!
True happiness is hearing the word "yes" over and over and over!
Like it? Pin it!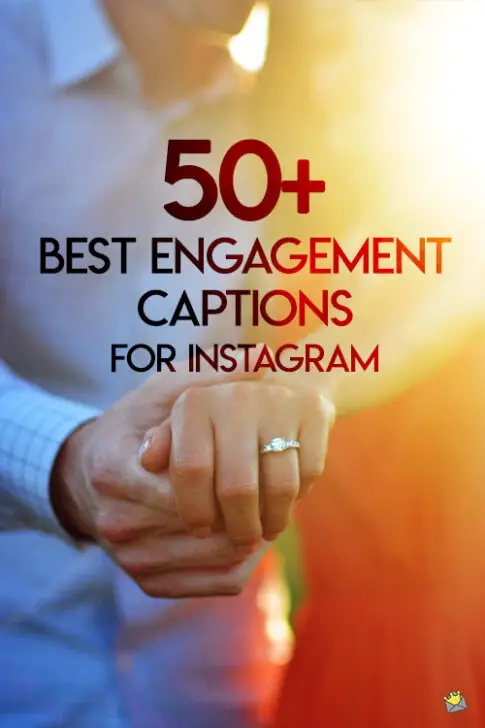 You may also like:
30 Engagement Wishes for the Day They Said Yes
50+ Smile Captions to Spread That Positive Energy
What to Write in an Anniversary Card | 124 Happy Anniversary Wishes for a Special Couple
Messages for a Newly Married Couple | 40 Warm & Funny Wedding Greetings