Messages for a Newly Married Couple | 40 Warm & Funny Wedding Greetings
A wedding is a time to share some of life's sweetest moments. Wedding days are the best for sharing thoughts and advise with friends and family who are embarking on a new part of life together, and, wedding wishes are those small sentimental thoughts we all share that can be the most cherished presents to give to our loved ones on their special day.
On anyone's wedding day these wedding wishes , just like the content of perfect greeting cards, can bring feelings of love, moments of laughter, and tears of joy to the special couple. Make memories that will last a lifetime by giving thoughtful gifts of perfect wedding wishes that will make any wedding a memorable event for years to come.

As you both grow old together, I hope and pray that your love will grow along with the years. Congrats on your marriage.
You two are like salt and pepper. Beautifully different but gorgeous together. Congratulations on your wedding day!
Years from now, don't argue about he said and she said- at the end of the day, you both said Yes! Happy wedding day to a special couple.
May your bond last forever and your love be the pen that writes your story. Happy wedding day. You two are the best!
Like colors of the rainbow, you two are better when you're together-Happy wedding day!
May your last days together be as special as your first few days as a married couple- enjoy the honeymoon you two. Happy wedding day!
I thought that there was no hope in the love game, but then you both met. Now I can say that the hunters have met their match-looks like you two have been hunted and stabbed with love arrows. Congrats on your marriage.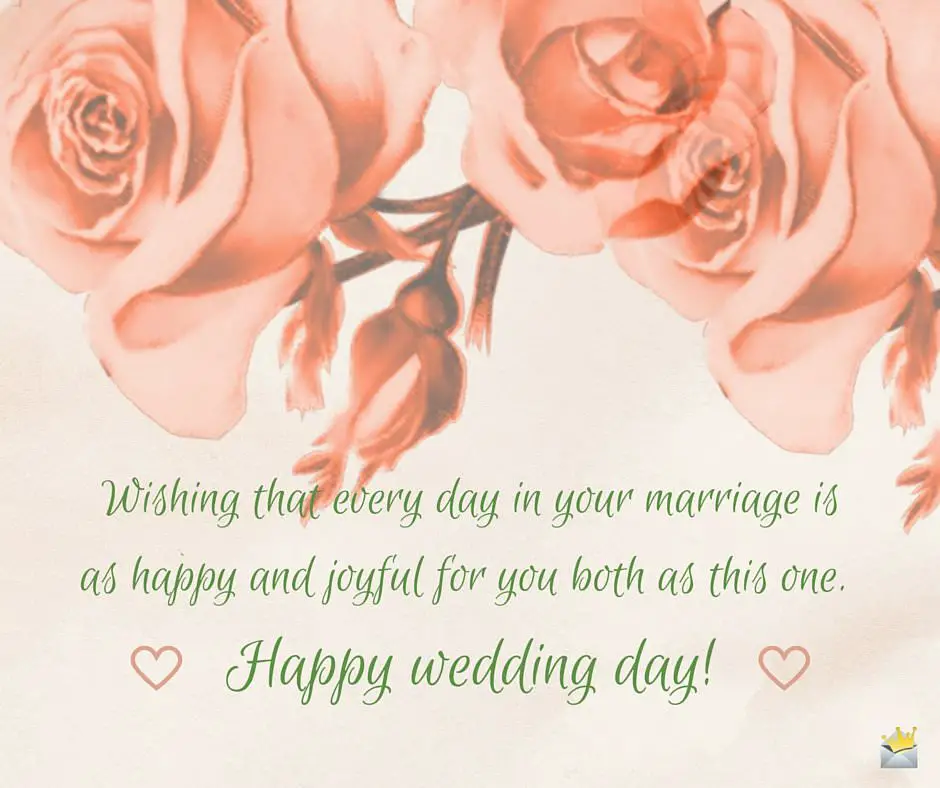 Wishing that every day in your marriage is as happy and joyful for you both as this one. Happy wedding day!
They say that family is forever. So that means you two are forever because your love has made a bond that makes you family. Congrats on your wedding day!
On your wedding day, let me share a quote from a famous film: "One may be like an apple and the other an orange, but in the end, they are both a fruit" –My Big Fat Greek Wedding- you two may be different but your love is all the same. Congrats to the bride and groom!
If the grass is really greener where you water it, then you're marriage is going to be a field of beautiful years together. Always look for the best in each other. Congrats to a stunning bride with an amazing groom.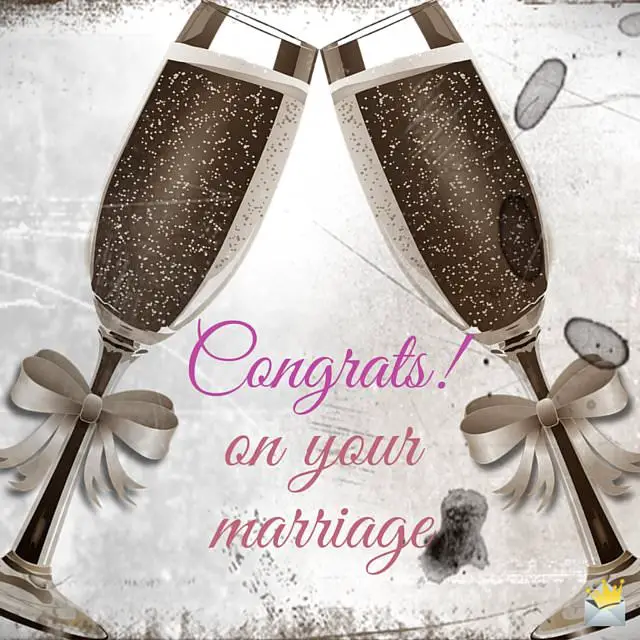 For you two I wish that your years be filled with love and laughter and that your story will have an ending of a happy 'ever-after.' Congrats!
The years will go by faster than you can imagine, but fortunately, your love is truly timeless. Congratulations on your wedding day!
Some couples fight about money- but when you have each other you are rich in every way. Make every day count by remembering to cherish what you both have together. Congrats on your marriage and may it last forever.
May the stresses and responsibilities of life never weaken your commitment to living-and may your love hold you up when life knocks you down. Happy wedding day.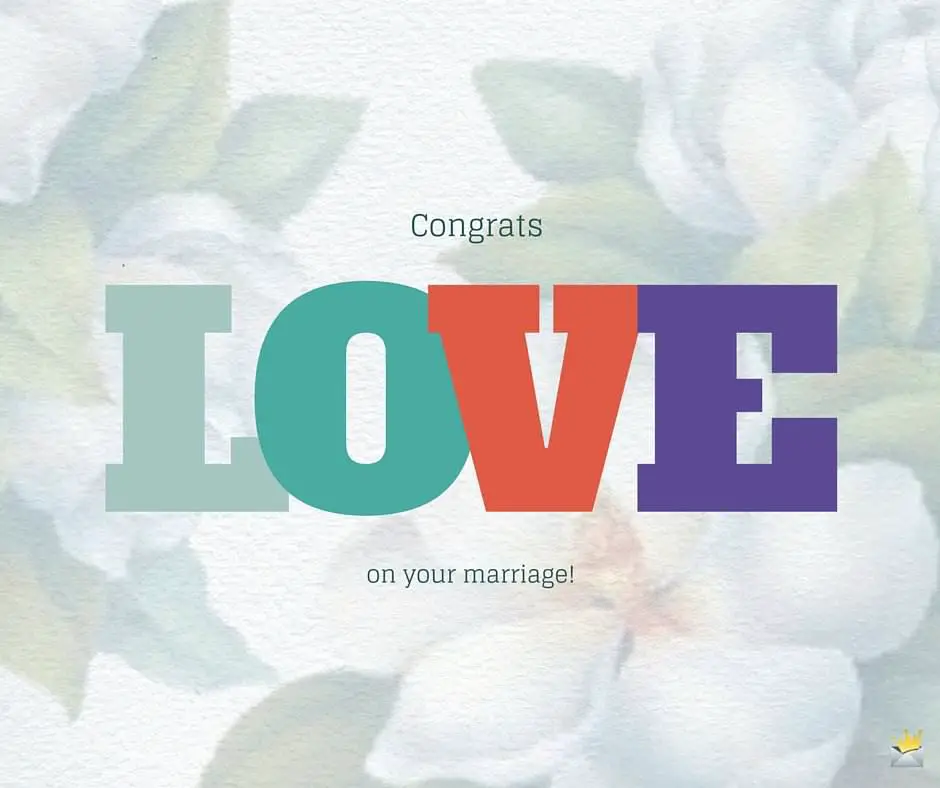 You two are the best couple I know- if it snowed on your wedding day, I'm certain your love for each other would make snowflakes fly. Congrats!
A wedding day is one to be remembered for a lifetime. I hope yours is as special today as your marriage will be for years to come. Congratulations to a very special couple.
Like the diamonds you wear on your wedding rings, may your love for each other continue to sparkle and shine forever. Happy wedding day.
If it weren't for you two, I would have given up on love. One day I hope to find the kind of love you both share. Have an amazing wedding day!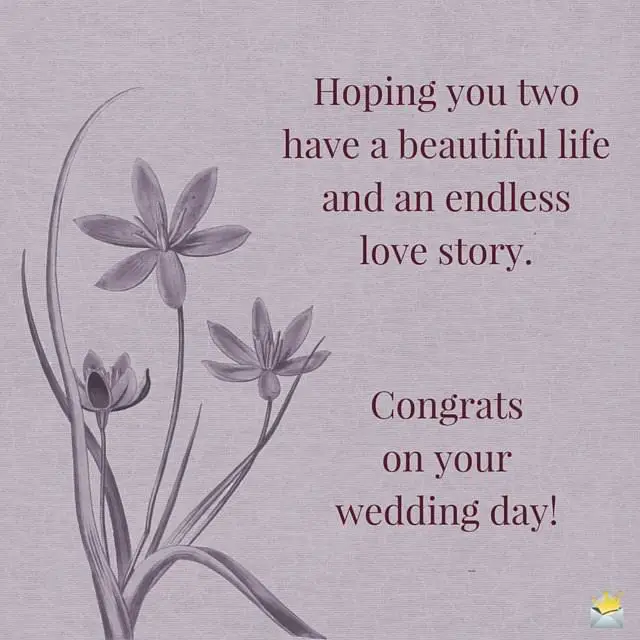 This day calls for a timeless celebration. So let's party!
Champagne, wine glasses, and a beautiful couple-this is all you need for a great wedding celebration. Hope it's all that you wished for. Congrats!
Keep on living, loving and laughing together- it's the secret to a great marriage. Happy wedding day!
My warmest wishes to a lovely couple. Congrats!
May your friendship strengthen through the years and your love grow bigger each day- Happy wedding day!
Feeling so much joy for you two as you unite two lives into one. Congrats.
Sincerest and happiest wishes on your wedding day.
Wishing you both joy, love and peace in your lives and marriage.
I'm thrilled to be able to share this day with you two- Congrats on your marriage!
Hoping this special day is filled with the light of love, the joy of fulfillment and the blessing of true happiness. Congrats on your wedding.
Watching you two get married is like watching a beautiful sunrise. God bless the road ahead of you. Congrats.
Hoping you two have a beautiful life and an endless love story. Congrats on your wedding day!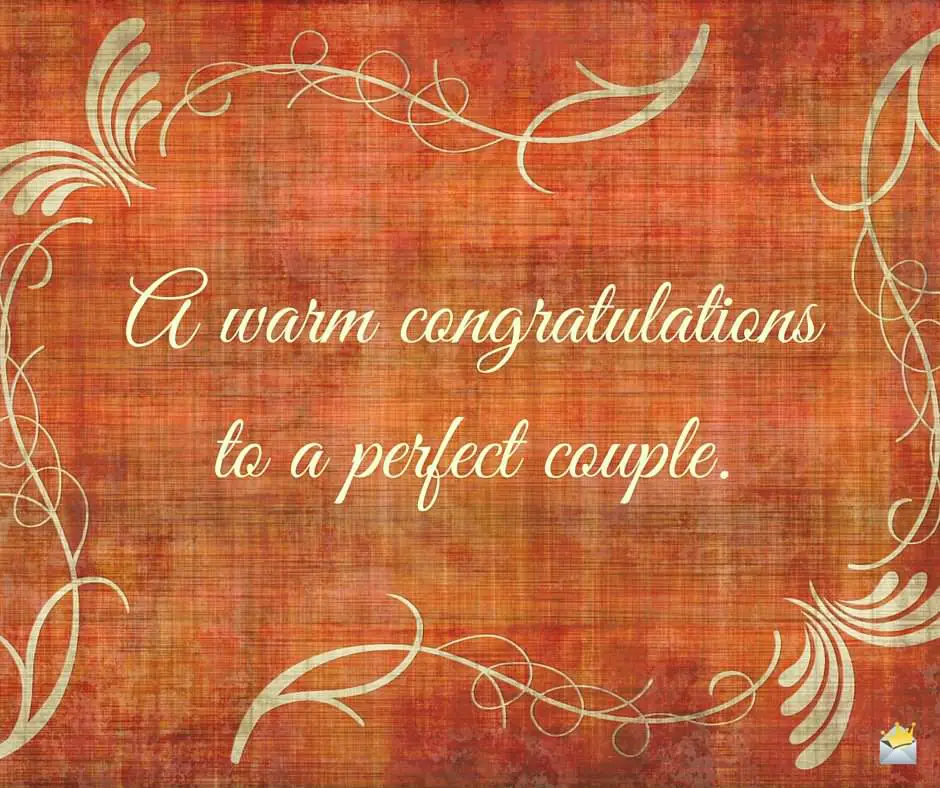 A warm congratulations to a perfect couple. May life treat you as well as you really deserve it.
Romeo, Juliet, Cleopatra and Antony, don't compare to the love you will share for eternity. Congrats on your marriage.
His tuxedo may be black and her dress is white, but your love shows that all of life's colors are more beautiful together. Congrats.
Life itself is a special event- and this day on your wedding is a rare occasion to embrace forever. Hope it's all you imagined and more. Congrats.
You may not be perfect individuals, but together you are pretty close. Happy wedding day you two!
When two great people get married there lives become extraordinary. Happy wedding day.
Life's road can be difficult, but together you will make it to beautiful destinations. Congrats.
A toast to a beautiful couple- you two deserve the happiest days that life can offer. Congratulations on your wedding day!
---
You may also like:
What to Write in an Anniversary Card | 124 Happy Anniversary Wishes for a Special Couple
30 Engagement Wishes for the Day They Said Yes
The Wisdom of Staying Together | 202 Anniversary Quotes