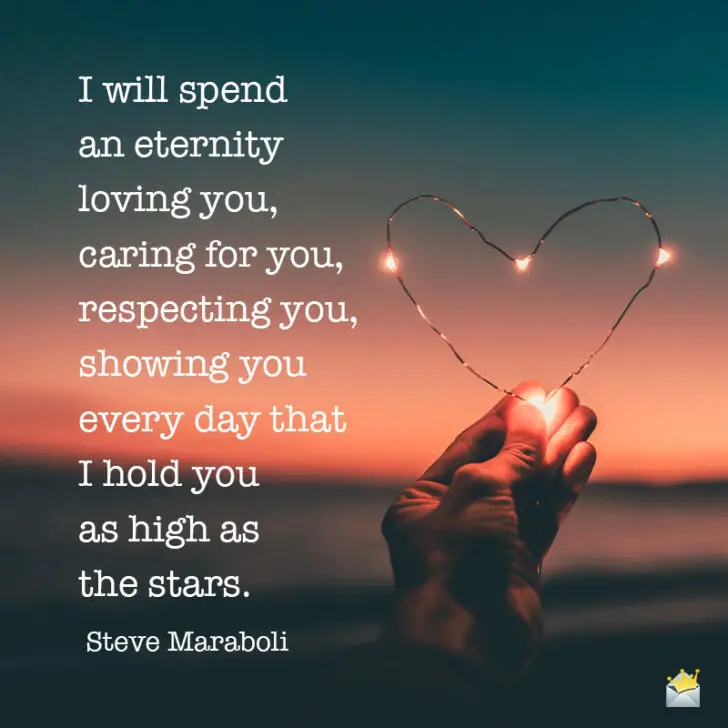 Remember that special day? Whether it was when you saw that sparkle in your beloved's eye, the day you exchanged vows or that first kiss, it should be honoured and celebrated. Anniversaries are a wonderful reminder of the exciting powerful emotions of happiness, which is what makes them so precious. Everyone should recall all the amazing reasons that bring two people together whether that was a year ago or a century ago. Going down that sweet memory lane will inspire and rejoice the thoughtfulness, the love and romance that all couples have and want, to continue their journey holding hands.
Here you are offered a sensational collection of quotes for your beloved wife, husband, friends and everyone you want to express your wishes and thoughts to on their joyful time of commemorating their love. You will also find a variety of heart warming and romantic quotes to use as captions on posts and on Instagram as well as touching and encouraging ones to write in a card. Find the perfect one to convey your passion and warmth.
Best Anniversary Quotes
When it's time to remember such an event, look no further.
If you live to be a hundred, I want to live to be a hundred minus one day, so I never have to live without you. A. A. Milne
There is no feeling more comforting and consoling than knowing you are right next to the one you love. Oscar Wilde
The greatest happiness of life is the conviction that we are loved; loved for ourselves, or rather, loved in spite of ourselves. Victor Hugo
As we grow older together,
As we continue to change with age,
There is one thing that will never change.
I will always keep falling in love with you. Karen Clodfelter
I love you without knowing how, or when, or from where. I love you straightforwardly, without complexities or pride; so, I love you because I know no other way. Pablo Neruda
Immature love says: "I love you because I need you." Mature love says "I need you because I love you". Erich Fromm
Every heart sings a song, incomplete, until another heart whispers back. Those who wish to sing always find a song. At the touch of a lover, everyone becomes a poet. Plato
You have made me a complete person. You are everything to me. And I cannot think of living life without you. And I love you forever. David Gest
A successful marriage requires falling in love many times, always with the same person. Mignon McLaughlin
I ask you to pass through life at my side—to be my second self, and best earthly companion. Charlotte Brontë
I love you not only for what you are, but for what I am when I am with you. I love you not only for what you have made of yourself, but for what you are making of me. I love you for the part of me that you bring out. Roy Croft
I love you the more in that I believe you had liked me for my own sake and for nothing else. John Keats
The secret of a happy marriage is finding the right person. You know they're right if you love to be with them all the time. Julia Child
You don't love someone for their looks, their clothes or their fancy car, but because they sing a song only you can hear. Oscar Wilde
There's no substitute for a great love who says, "No matter what's wrong with you, you're welcome at this table". Tom Hanks
There is no more lovely, friendly and charming relationship, communion or company than a good marriage. Martin Luther
Cause all of me loves all of you, loves your curves and all your edges, all your perfect imperfections. Give your all to me, I'll give my all to you. You're my end and my beginning, even when I lose I'm winning. John Legend
The secret to having a good marriage is to understand that marriage must be total, it must be permanent and it must be equal. Frank Pittman
I could not tell you if I loved you the first moment I saw you, or if it was the second or third or fourth. But I remember the first moment I looked at you walking toward me and realized that somehow the rest of the world seemed to vanish when I was with you. Cassandra Clare
Another year to create precious memories together. Another year to discover new things to enjoy about each other, and another year to strengthen a marriage that defines forever. Unknown
Short Happy Anniversary Quotes to Use as Texts or Captions
When it's time to share your anniversary pic, you might need to come up with something to say or make a deep reference to the ones that said it best, first.
You're my true north. No compass would point me in any other direction but to you. Kristen Hope Mazzola
You are every reason, every hope, and every dream I've ever had. Nicholas Sparks
For the two of us, home isn't a place. It is a person. And we are finally home. Stephanie Perkins
You are my today and all of my tomorrows. Lee Christopher
All that you are is all that I'll ever need. Ed Sheeran
I wish there was a word more than 'love' itself to convey what I feel for you. Faraaz Kazi
Grow old with me, the best is yet to be. Robert Browning
It takes a moment to say I love you but a lifetime to show it. Teresa Collins
Side by Side, Year by Year. Unknown
If I know what love is, it is because of you. Herman Hesse
I just want you to know, that when I picture myself happy, it's with you. Unknown
You are the greatest thing that has ever walked into my life. Unknown
To love is to receive a glimpse of heaven. Karen Sunde
Life is like riding a boat in the storm, but who you choosing to ride the boat with? Zybejta "Beta" Metani' Marashi
Together is a beautiful place to be. Unknown
Love is not singular except in syllable. Marvin Taylor
To love is nothing. To be loved is something. But to love and be loved, that's everything. T. Tolis
I swear when our lips touch, I can taste the next sixty years of my life. Unknown
Better than I was, more than I am. And all this happened by taking your hand. Unknown
We loved with a love that was more than love. Edgar Allan Poe
Love is just a word until someone comes along and gives it meaning. Chuck Palahniuk
In case you ever foolishly forget: I am never not thinking of you. Virginia Woolf
Even after all of this time together, I still find new ways of falling in love with you. Unknown
Marriage is not a competition. Marriage is completion of two souls. Abhijit Naskar
Love is composed of a single soul inhabiting two bodies. Aristotle
You don't marry someone you can live with. You marry the person who you cannot live without. Anonymous
Real love ought to be more like a tree and less like a flower. Mya Robarts
The richest love is that which submits to the arbitration of time. Lawrence Durrell
Trip over love, you can get up. Fall in love and you fall forever. Unknown
Loved you yesterday, love you still, always have, always will. Unknown
True love is spending one day getting married… and the rest of your life feeling glad you did. Unknown
For you wake one day, look around and say, somebody wonderful married me. Fred Ebb
If equal affection cannot be,
Let the more loving one be me. W. H. Auden
Married couples who love each other tell each other a thousand things without talking. Chinese Proverb
Where there is love there is life. Mahatma Ghandi
In a sea of people, my eyes will always search for you. Unknown
With our love, we could save the world. George Harrison
Because of you, I laugh a little harder, cry a little less, and smile a lot more. Unknown
To love someone means to see him as God intended him. Fyodor Dostoyevsky
Marriage is the beginning of an everlasting melody of love. Debasish Mridha, MD
In you, I've found the love of my life and my closest, truest friend. Unknown
Whatever our souls are made of, [yours] and mine are the same. Emily Brontë
A true lover always feels in debt to the one he loves. Ralph W. Sockman
All, everything that I understand, I only understand because I love. Leo Tolstoy
Anniversaries are like vintage wine, better and better all the time. Unknown
Being deeply loved by someone gives you strength while loving someone deeply gives you courage. Lao Tzu
Forever is a long time, but I wouldn't mind spending it by your side. Unknown
Here's to love, laughter and happily ever after. Unknown
I love you —I am at rest with you—I have come home. Dorothy L. Sayers
I love you, and I will love you until I die, and if there's a life after that, I'll love you then. Cassandra Clare
I still fall for you every day. Unknown
I swear I couldn't love you more than I do right now, and yet I know I will tomorrow. Unknown
My love for you is a journey, starting at forever and ending at never. Anonymous
Nobody has ever measured, even poets, how much a heart can hold. Zelda Fitzgerald
Real love stories never have endings. Richard Bach
You are my yesterday, my today, my tomorrow, and my forever. I will love you until the end of time. Unknown
So, I love you because the entire universe conspired to help me find you. Paulo Coelho
The bonds of matrimony are like any other bonds – they mature slowly. Peter De Vries
The good things in life are better with you. Unknown
The highest happiness on earth is marriage. William Lyon Phelps
I'll love you even when you're old and wrinkly. Anonymous
If I had my life to live over again… I would find you sooner so that I could love you longer. Unknown
In life, it's not where you go, it's who you travel with. Charles Schulz
It doesn't matter where you go in life, what you do …. It's who you have beside you. Unknown
Let us celebrate the occasion with wine and sweet words. Plautus
Life is a journey, and love is what makes that journey worthwhile. Unknown
Love is being stupid together. Anonymous
You know you are in love when you don't want to fall asleep because reality is finally better than your dreams. Dr. Seuss
True love doesn't come to you, it has to be inside you. Julia Roberts
"I am" is reportedly the shortest sentence in the English language. Could it be that "I do" is the longest sentence? George Carlin
Funny Anniversary Quotes
Being together for a long time does indeed require some good sense of humor, too. Why not let it show today?
A wedding band is the smallest handcuff ever made, I'm glad I chose my cellmate wisely. Unknown
The secret of a happy marriage remains a secret. Henry Youngman
An anniversary is where you look back at having either fulfilled Cinderella or Lord of the Flies. Fernando A. Torres
Love is one long sweet dream, and marriage is the alarm clock. Unknown
It's so great to find that one special person you want to annoy for the rest of your life. Rita Rudner
Never laugh at your wife's choices, you are one of them. Anonymous
Being married is like having a best friend who doesn't remember anything you say. Anonymous
Marriage is a three-ring circus: engagement ring, wedding ring, and suffering. Unknown
Marriage is not just spiritual communion, it is also remembering to take out the trash. Joyce Brothers
My wife and I were happy for 20 years – then we met. Rodney Dangerfield
By all means, marry; if you get a good wife, you'll be happy. If you get a bad one, you'll become a philosopher. Socrates
For marriage to be a success, every woman and every man should have her and his own bathroom. The end. Catherine Zeta-Jones
Some people ask the secret of our long marriage. We take time to go to a restaurant two times a week. A little candlelight, dinner, soft music and dancing. She goes Tuesdays, I go Fridays. Henny Youngman
The world has grown suspicious of anything that looks like a happily married life. Unknown
You're the cheese to my macaroni. Unknown
A good wife always forgives her husband when she is wrong. Milton Berle
Love is the thing that enables a woman to sing while she mops up the floor after her husband has walked across it in his barn boots. Unknown
A good marriage is like a casserole, only those responsible for it really know what goes in it. Unknown
A happy marriage is a long conversation that always seems too short. Andre Maurois
Women who marry for money and Men who marry for beauty are equally robbed in the end. Harmon Okinyo
The Dictionary defines Soul Mate as: A person who is perfectly suited to another in temperament. Before I met mine, I didn't know I was bonkers! James Hauenstein
Before I was married I learned the difference between a cheap and expensive wine after I was married I learned to drink the cheap wine. Paul Smith
"You're spooky," he said, "You knew what I was thinking."
"That not spooky," she said, "That's married." Dean Koontz
Love, n. A temporary insanity curable by marriage. Ambrose Bierce
Before marriage keep your eyes wide open, after marriage keep them half closed. Ivana Trump
Anniversary Quotes For Him
He is the object of your affection, so here are some quotes to share and remind everyone how much lucky you are to have each other.
You be my glass of wine and I'll be your shot of whiskey. Blake Shelton
And I'd choose you; in a hundred lifetimes, in a hundred world, in any version of reality, I'd find you and I'd choose you. Kiersten White
My darling husband, my heart is your home, you can always stay there. Lailah Gifty Akita
For it was not into my ear you whispered, but into my heart. It was not my lips you kissed, but my soul. Judy Garland
Always strive to give your spouse the very best of yourself; not what's left over after you have given your best to everyone else. Dave Willis
I wouldn't change a thing, as happiness you bring. You are my soulmate. A marriage made by fate. Catherine Pulsifer
In all the world, there is no heart for me like yours. In all the world, there is no love for you like mine. Maya Angelou
I saw that you were perfect and so I loved you. I saw that you were not perfect and I loved you even more. Angelita Lim
Every cell in my body was telling me that he was my happily ever after. C.J. English
I never loved you any more than I do, right this second. And I'll never love you any less than I do, right this second. Kami Garcia
Marriage is the natural state of man, and… the state in which you will find solid happiness. Benjamin Franklin
He isn't the best, neither am I. But we are the best version of ourselves with each other. And that's pretty close to Perfection. Jasleen Kaur Gumber
Sexiness wears thin after awhile and beauty fades, but to be married to a man who makes you laugh every day, ah, now that is a treat. Joanne Woodward
All the words in the world could not even begin to describe how deeply I am in love with you, from the first moment I saw you until the never-ending heartbeat you have given me. You are not only my love, but you are my soul. Emily Winters
Anniversary Quotes for Her
When it's your special anniversary, remind everyone how much she mean to you by sharing a famous quote by an important personality.
You are the finest, loveliest, tenderest, and most beautiful person I have ever known – and even that is an understatement. F. Scott Fitzgerald
I love you much most beautiful darling more than anyone on the earth and I like you better than everything in the sky. Unknown
I will spend an eternity loving you, caring for you, respecting you, showing you every day that I hold you as high as the stars. Steve Maraboli
The first time I saw your face, my lips said, "hello" and my heart said, "that's your wife". J.A. ANUM
The hours I spend with you I look upon as sort of a perfumed garden, a dim twilight, and a fountain singing to it. You and you alone make me feel that I am alive. Other men, it is said, have seen angels, but I have seen thee and thou art enough. George Moore
The day is here again, I can't remember every moment of that day, but I could remember when I first looked into your eyes. Unknown
Our anniversary is a reminder that we are blessed enough to have found our soul mate, and that life has become so much sweeter since the day we became husband and wife. Thank you for always being there to support me, to love me, to complete me. Unknown
Here's my love, take it. And, here's my soul, use it. Here's my heart, don't break it. Here's my hand, hold it and together we will make it forever. Unknown
Wedding Anniversary Quotes for Couples
Is it your friends' anniversary? Wish them the best by sharing some beautiful words.
Also read: 124 Happy Anniversary Wishes for a Special Couple
God, the best maker of all marriages,
Combine your hearts into one. William Shakespeare
The best thing to hold onto in life is each other. Audrey Hepburn
Love one another and you will be happy. It's as simple and as difficult as that. Michael Leunig
May you always have the answers to each other's most important questions. Sarah Dessen
A great marriage is not when the 'perfect couple' comes together. It is when an imperfect couple learns to enjoy their differences. Dave Meurer
Success in marriage does not come merely through finding the right mate, but through being the right mate. Barnette R. Brickner
No matter how much cats fight, there always seem to be plenty of kittens. Abraham Lincoln
Never go to bed mad. Stay up and fight. Phyllis Diller
You two love birds are together,
be there forever,
what else could be better? Debasish Mridha, MD
No finer, greater gift in the world than that: When man and woman possess their home, two minds, two hearts that work as one. Despair to their enemies, a joy to all their friends. Their own best claim to glory. Homer
Come, let's be a comfortable couple and take care of each other! How glad we shall be, that we have somebody we are fond of always, to talk to and sit with. Charles Dickens
The couples that are meant to be are the ones who go through everything that is meant to tear them apart and come out even stronger than they were before. Unknown
We are not the same persons this year as last; nor are those we love. It is a happy chance if we, changing, continue to love a changed person. W. Somerset Maugham
Love does not consist of gazing at each other, but in looking outward together in the same direction. Antoine de Saint Exupery
Are we not like two volumes of one book. Marceline Desbordes-Valmore
May your union be filled with love
Annealed by passion
Built on a strong foundation
And tempered by time.
Richard L. Ratliff
Our anniversary is a time to look back at the good times and a time to look ahead to live our dreams together. Catherine Pulsifer
The best love is the kind that awakens the soul; that makes us reach for more, that plants the fire in our hearts and brings peace to our minds. That's what I hope to give you forever. Nicholas Sparks
The minute I heard my first love story I started looking for you, not knowing how blind that was. Lovers don't finally meet somewhere. They're in each other all along. Rumi
By staying married, we give something to ourselves and to others: hope. Hope that in steadfastly loving someone, we ourselves, for all our faults, will be loved; that the broken world will be made whole. To hitch your rickety wagon to the flickering star of another fallible human being — what an insane thing to do. What a burden, and what a gift. Ada Calhoun
True love doesn't happen right away; it's an ever-growing process. It develops after you've gone through many ups and downs, when you've suffered together, cried together, laughed together. Ricardo Montalban
Anniversary Quotes for Parents
They were just mom and dad when you were kids, but then you found out they had initially been a couple!
Dad, winning Mom's heart was actually my lucky victory. Happy anniversary! Anonymous
Don't you want a relationship like your parents have? They look at each other with love and heart, not just as an asset. Kailin Gow
I respect the older people who are still holding hands, within 80 years. Petra Hermans
You two are a living example of how a couple can be committed to their love and nurture a family's growth year after year. Happy wedding anniversary to you! Anonymous
I can't tell you how often I'm inspired by the love you two share together. Sending you all my well wishes for the coming years. Anonymous
Most people find it hard to believe in "forever" but seeing the never-ending love between both of you makes me believe in "forever". Happy anniversary mom and dad! Anonymous
The only thing better than having you for parents is my children having you for grandparents. Happy anniversary Mom and Dad. Anonymous
If the apple doesn't fall far from the tree, I'm expecting to marry the girl of my dreams and being married X number of years. Thanks Mom and Pops. Anonymous
Sending you my well wishes and congratulations as you show us all what it means to build a wonderful marriage. Anonymous
Mom and Dad, I cannot begin to describe how blessed I am to have amazing parents in my life. Seeing true love through you both makes my heart happy. As your daughter/son I see perfection in both of you. I love you. Anonymous
You are the parents that all kids hope to have, you are the couple that all lovers hope to be and you both are the pillars of support that every family wishes it had. Happy anniversary to the best parents ever. Anonymous
I remember how young, beautiful and happy you were when I was a little kid. And you know, dear parents, nothing has changed since then. You're just the same: loving and being loved – that's what important. Congratulations on your wedding anniversary! Anonymous
It seems like I was born under a lucky star, because I have such great parents. You've overcome many life difficulties together and despite it your love and respect for each became only stronger. It's a real wonder and I'm happy to witness it. Congratulations on the anniversary! Anonymous
Today is a very special day for people I love more than life – it's your wedding anniversary, my beloved parents! You've already spent a lot of wonderful years together and now I want to wish you to spend even more years enjoying each other and bringing joy to everyone around! Congratulations! Anonymous
Because of you both, the world knows that truth and love exist. Keep these beliefs alive and cherish one another. Happy anniversary, Mom and Dad! Anonymous
Despite all the years, the trying times that you have both been through, yet your marriage remained strong and steadfast. When I get married someday, I hope I would have a bond stronger and steady with my partner as both of you did. I love you mom and dad. Happy anniversary! Anonymous
You both inspire me every day to be the best version of myself that I can be and to always treat those I love with respect and kindness. Best wishes for the years ahead. Anonymous
It's so many years later and yet the two of you are still the perfect example of what a happy, blissful marriage looks like. Thank you for always being my shining example. Best wishes for your anniversary. Anonymous
50th Anniversary Quotes
Being together for half a century is a true accomplishment. These quotes will help show how big of a thing it really is.
Forever doesn't feel like eternity when you're by my side. Musawir Masood
Love grows more tremendously full, swift, poignant, as the years multiply. Zane Grey
Our wedding was many years ago. The celebration continues to this day. Gene Perret
Our anniversary is just a momentary celebration, but our marriage is a timeless one. Unknown
You've been together so long you be granted an honorary P.H.D in EACH OTHER. Happy anniversary. Anonymous
He felt now that he was not simply close to her, but that he did not know where she ended and he began. Leo Tolstoy
Chains do not hold a marriage together. It is threads, hundreds of tiny threads, which sew people together through the years. Simone Signoret
Forever is a measure of time used by people who share an ordinary love. Our extraordinary love is immeasurable – for us, forever just won't do. Steve Maraboli
The most wonderful thing I decided to do was to share my life and heart with you. Unknown
A wedding is a series of special moments, strung together like beads on a chain. Sure, by themselves, they are lovely, but put them all together and you get art. Sarah Dessen
Love is not about how many days, months, or years you have been together. Love is about how much you love each other every single day. Unknown
Marriage is the golden ring in a chain whose beginning is a glance and whose ending is Eternity. Kahlil Gibran
A good marriage is a love that lingers a lifetime in one's heart; never fading, only growing in abundance with each year that passes. Allene van Oirschot
It's worked! Our marriage has outlasted all of the world leaders, except for Castro. And if we keep talking, arguing, making love and dancing to the Ramones- it'll probably keep working. Stephen King
My bounty is as deep as the sea,
My love as deep; the more I give to thee,
The more I have, for both are infinite. William Shakespeare
5-Year Anniversary Quotes
Has it been 5 years already? You are on a good path!
Why this candle?
Why this cake?
The day of my birth
is not today.
I was born
when you said, "Hey". Kamand Kojouri
Let us remember to
always rediscover one another
because we are
forever changing. Kamand Kojouri
Love, they said, burns you
and builds you.
But with you,
there's no ash.
Just light. Kamand Kojouri
I've tried so many times to think of a new way to say it – and it's still I love you – love you – love you – my Sweetheart. Zelda Fitzgerald
I am filled with gratitude at the astonishing fact of being married to someone I enjoy talking to, someone with whom I can't imagine running out of things to say. Curtis Sittenfeld
True and false fears let us refrain,
Let us love nobly, and live, and add again
Years and years unto years, till we attain
To write threescore: this is the second of our reign. John Donne
The most crucial thing to know about true love is that, it is not something you can find, rather you need to build it with the person in whose eyes you see your soul. Abhijit Naskar
2-Year Anniversary Quotes
A second anniversary means the couple is feeling comfortable being together. Share one of these quotes to celebrate.
How is it
that there was never you
until there was
and then all was you? Kamand Kojouri
Nobody can make me smile like the way you do. Christina Ricci
When you find your twin flame you also find your freedom, for there is nothing more exhilarating, wild and free than absolute soul love. Melody Lee
When I saw you, I knew the universe had mastered my love language & I'd go through any amount of anguish to be a student of its genius. Curtis Tyrone Jones
Dating is poetry. Marriage is a novel. There are times, maybe years, that are all exposition. Ada Calhoun
I find you in every echo,
I find you in every dream,
I find you in every feeling
in the depths of my inner being. Curtis Tyrone Jones
Not until I felt your sunshine,
Did I realize that I had been in the shade.
Not until I saw all your colors,
Did I realize that mine had faded…
And not until I experienced my life with you,
Did I realize that I was barely
Breathing.
NOT UNTIL I MET YOU . Suzy Kassem
True love is born out of the pyre of two committed souls. Abhijit Naskar
Sometimes people can be at two ends of a line and end up next to one another. Because intimacy and love-they're powerful enough to curve that line into a circle. Max Monroe
You May Also Like:
Great Years Together | Happy Anniversary to Us!
44 Inspiring Quotes about Finding Love
Love Working With You! | Happy Work Anniversary Wishes