Love Working With You! | 45 Happy Work Anniversary Wishes
You've likely made some close relationships wherever you work. Working together day after day can quickly make people bond and become friends. The longer you are there, the more anniversaries you will celebrate together. It's always fun to celebrate those anniversaries together.
However, providing wishes to your co-workers can be a bit of a challenge. What can you say that really expresses your feelings? Coming up with an anniversary wish can be hard, especially when you are put on the spot. This is why we are offering this collection of wishes that you can use on your co-workers. Have fun!

Table of Contents
Happy 1-Year Work Anniversary
It's been a year that you have worked with your co-worker, so here are some fun work anniversary phrases you can use to express your gratitude!
You've made it this far at work, so I expect to see you around forever! It's your one-year work anniversary today, and I just want to say congratulations on hitting that magic number!
I looked for the word "essential" in the dictionary, and I wasn't shocked to find your picture there. Hope you have the best one-year anniversary at work ever!
You've made coming to work every day a little bit better. I'm so glad you were hired for your job- have a happy one-year anniversary!
People say we are here to work and not to make friends. But I don't think that is true, because you have become a great friend in the year you have been here. Thanks for that and more!
You've done a great job for this company and I know we can expect great things to come. Congrats on a whole year of excellent work!
Your dedication to this company and your job is so very admirable. With your one-year anniversary here, I just want to say how appreciative we are for your role at this company!
I can't believe it has been one-year since you started working here. I don't have the words to fully express my gratitude that you have stayed on and through thick and thin. Congrats on making it a year!
Happy one-year anniversary to a funny, happy, positive person who simply shines at their job. This work space would be dull without your amazing contributions!
You've made more contributions to this company in one year than many people have in five. Thank you and have a great one-year anniversary!
Happy 2-Year Work Anniversary
The two-year mark has hit with your co-worker, and you probably want to commemorate the day. Here are some greetings you can use to show your appreciation!
Wow, it's been two years already! The time you have spent with this company has certainly flown by. Happy anniversary to you, and I hope to see you here for many more!
Your contributions have made this company better and brighter. We couldn't have done it without you. Hope your anniversary is as great for you as the past two years have been for us!
Words aren't enough to express the gratitude I have that you were hired for this position. Hope you have a great two-year anniversary!
We can't believe you made it to the two-year mark at this crazy company. That must mean you are one of us! Here's hoping you can last another two years, but happy anniversary to a great co-worker anyway!
Working side by side someone means really getting to know them. The past two years have been a ton of fun and I hope we have many more together!
I'm so privileged to have you in my company. You've made many valuable contributions in the past two years, so I just wanted to say happy two-year work anniversary before anyone else!
Don't let the fact that we have been here longer than you intimidate you. You already have two years in, and I doubt you want to leave us now! Have a wonderful work anniversary!
It certainly seems like you were just hired yesterday, doesn't it? These past two years have been nothing but fun for us all. Have a super special day today on the two-year anniversary of your first day!
Happy 5-Year Work Anniversary
You probably want to show your appreciation to a co-worker who has hit the five-year mark, so use the following sentiments to show them how you really feel.
Five years is a long time with a company. Our heartfelt love and congratulations for your time here!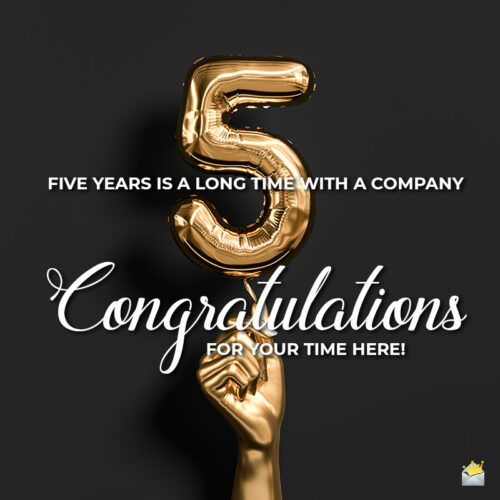 While five years is certainly a long time, we are hoping you will spend just as many more years with us. We appreciate all of your hard work and dedication! Have a happy anniversary!
I cannot believe you have been here for a whole five years! You are an inspiration to this company and everyone you meet. Have a great five-year anniversary!
Happy five-year anniversary to one of the best employees in the company. I'm thrilled to call you a co-worker and a friend!
I'm glad I can express how much it means to me that you joined us five years ago. You make coming to work easier and happier- have a wonderful anniversary!
You have grown and flourished in your position since day one. Have a super five-year anniversary, and I hope in five years we can celebrate some more!
Your work journey has hit a huge milestone- five years with one company is amazing. We are so happy you made the decision to stay with us, so we all want to say have a wonderful work anniversary!
We love having you on our work team. The past five years have been nothing short of amazing. Happy five-year anniversary to the best co-worker!
You are without a doubt an amazing co-worker, friend, and team member. Five years has flown by, hasn't it? Have a terrific day!
You have inspired everyone who works with you to do just a little better every day. Thank you for your commitment to this company, and make sure you do something nice for your five-year anniversary!
Happy 10-Year Work Anniversary
You definitely want to acknowledge a ten-year anniversary, so check out these wonderful sentiments below that can help you express your feelings!
Ten years is such an incredible milestone, and we know just how hard staying with one company can be for that long. However, you did it! Happy ten-year anniversary!
Wow, ten years already? Where has the time gone? You're a valuable team member, and we appreciate everything you have done for us!
It's been a long ten years, but full of fun and memories. Thank you for the past ten years!
Even after being here for ten years you still find passion in your work. You are a role model for the new hires, and we hope you know how much we appreciate you!
Ten years with a company is an amazing feat that should be celebrated extensively. We're hoping you stay with us at least another ten. Happy work anniversary!
Happy ten-year anniversary to a caring and compassionate employee. Without you, this whole job wouldn't shine as bright. We're hoping you stay on forever!
Having a colleague like you makes it so much easier to come to work. These ten years have been so much fun. Have an amazing anniversary!
Ten years already? What a trip! The memories we have made have been priceless, and I want to thank you for being there with us to make them.
You keep plugging away, even on the days where life is hard. Your amazing spirit and solid-gold heart are what make this company what it is. Have the best ten-year anniversary ever!
Don't ever forget that you have been the backbone of this company for the past ten years. We couldn't have done it without you. Here's hoping your ten-year anniversary is all that and a bag of chips!
Happy 20-Year Work Anniversary
A 20-year anniversary is an amazing feat that should be celebrated extensively. Check out the following messages you can use to show your appreciation!
It's not often that you can say happy 20-year anniversary to someone, but you have made it possible. You're an amazing co-worker and even better friend, so have the best day ever.
The 20-year mark is a time to sit back and celebrate. You deserve it for your hard work, dedication, and commitment to this company. We love working with you-happy 20-years!
How can we ever express our gratitude for 20-years of work? You're the best co-worker and a wonderful friend, so we are hoping this 20-year work anniversary treats you well!
Have an amazing day today! Who else could say they have been at a company for 20-years? Happy anniversary!
Your positivity is one of your best qualities. We hope you are positive you will stay here for another 20 years! Have the best work anniversary ever. You deserve it!
We could never put it in words how happy we are that you are with us. A 20-year anniversary is something special, so pat yourself on the back for a job that has been done right over and over!
Are you ready for your big day? Your 20-years have made a huge impact on this company and the people you work with. Happy anniversary to you!
An anniversary is always special, but a 20-year anniversary is a huge milestone. We are thrilled that you picked our company to dedicate yourself to. Have a super day!
You have done a tremendous amount of quality work in the past 20-years. In fact, it is too much to count. You're the best in our book, and we hope your anniversary is as fabulous as you are!
You may also like:
What to Write in an Anniversary Card | 124 Happy Anniversary Wishes for a Special Couple
Great Years Together | Happy Anniversary to Us!
31 Thank You Quotes for Employees