80+ Famous Birthday Quotes to Send as Wishes
Age and the passing of time have been the subject of everything from philosophical discussion to popular songs. Artists, authors, poets and prominent political figures had all something to say about the change that time brings to human nature, whether it's a step forward or a sign of wisdom and gratitude.
This is probably why this collection of famous quotes about time can be ideal birthday wishes when it's the special day of someone you care about. Share any quote on social media platforms or send them by e-mail or sms, and rest assured that the eternal meaning of these words can serve as a true birthday present.

And in the end, it's not the years in your life that count. It's the life in your years. – Abraham Lincoln
It is through the idealism of youth that man catches sight of truth, and in that idealism he possesses a wealth which he must never exchange for anything else. – Albert Schweitzer
Please don't retouch my wrinkles. It took me so long to earn them. – Anna Magnani
At twenty years of age, the will reigns; at thirty, the wit; and at forty, the judgement. – Benjamin Franklin
To me, old age is always 15 years older than I am. – Bernard Baruch
Middle age is when you still believe you'll feel better in the morning. – Bob Hope
You know you are getting old when the candles cost more than the cake. – Bob Hope
If you're lost you can look, and you will find me, Time after time, If you fall I will catch you, I'll be waiting, Time after time.– Cyndi Lauper
If only I may grow: firmer, simpler, quieter, warmer. – Dag Hammarskjold
Large streams from little fountains flow, Tall oaks from little acorns grow. – David Everett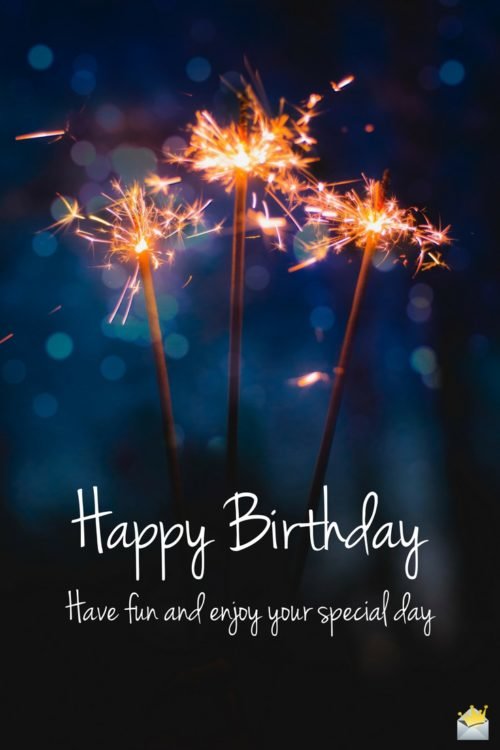 You'd scarce expect one of my age,
To speak in public on the stage,
And if I chance to fall below,
Demosthenes or Cicero,
Don't view me with a critic's eye,
But pass my imperfections by.
Large streams from little fountains flow,
Tall oaks from little acorns grow. – David Everett
Youth is a disease from which we all recover. – Dorothy Fulheim
Today you are you. That is truer than true. There is no one alive who is youer than you. – Dr. Seuss
Birthdays are nature's way of telling us to eat more cake. – Edward Morykwas
I think, at a child's birth, if a mother could ask a fairy godmother to endow it with the most useful gift, that gift should be curiosity. – Eleanor Roosevelt
You've heard of the three ages of man – youth, age, and "you are looking wonderful."– Francis Cardinal Spellman
Youth is happy because it has the ability to see beauty. Anyone who keeps the ability to see beauty never grows old. – Franz Kafka
Old age is like everything else. To make a success of it, you've got to start young. – Fred Astaire
Keep true to the dream of thy youth. – Friedrich Von Schiller
Youth is the gift of nature, but age is the work of art. – Garson
Youth is a wonderful thing. What a crime to waste it on children. – George Bernard Shaw
Nice to be here? At my age it's nice to be anywhere. – George Burns
All the world is birthday cake, so take a piece, but not too much. – George Harrison
There is no cure for birth and death save to enjoy the interval. – George Santayana
Everything I know I learned after I was thirty. – Georges Clemenceau
We are always the same age inside. – Gertrude Stein
Each ten years of a man's life has its own fortunes, its own hopes, its own desires. – Goethe
It's something unpredictable, but in the end it's right. I hope you had the time of your life. – Green Day
Time grabs you by the wrist, directs you where to go. So make the best of this test, and don't ask why, It's not a question, but a lesson learned in time. – Green Day
Time flies like an arrow. Fruit flies like a banana. – Groucho Marx
The best way to remember your wife's birthday is to forget it once. – H. V. Prochnow
Youth comes but once in a lifetime. – Henry Wadsworth Longfellow
Youth would be an ideal state if it came a little later in life. – Herbert Asquith
Time, why you punish me? Like a wave bashing into the shore You wash away my dreams. Time, why you walk away? – Hootie & the Blowfish
Women deserve to have more than twelve years between the ages of twenty eight and forty. – James Thurber
Romance novels are birthday cake and life is often peanut butter and jelly. I think everyone should have lots of delicious romance novels lying around for those times when the peanut butter of life gets stuck to the roof of your mouth. – Janet Evanovich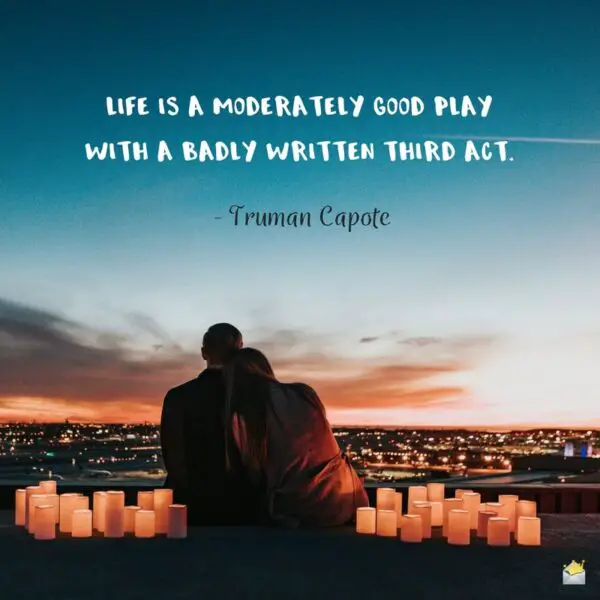 You know you're getting old when you get that one candle on the cake. It's like, 'See if you can blow this out.' – Jerry Seinfeld
At 19, everything is possible and tomorrow looks friendly. – Jim Bishop
If I could save time in a bottle The first thing that I'd like to do Is to save every day – Jim Croce
There is still no cure for the common birthday. – John Glenn
Time draweth wrinkles in a fair face, but addeth fresh colors to a fast friend. – John Lyle
You were born an original. Don't die a copy. – John Mason
You are only young once, but you can be immature for a lifetime. – John P. Grier
Birth and Death are the two noblest expressions of bravery. – Kahlil Gibran
Birthdays are good for you. Statistics show that the people who have the most live the longest. – Larry Lorenzoni
There are three hundred and sixty- four days when you might get un-birthday presents, and only one for birthday presents, you know. – Lewis Carroll
The secret of staying young is to live honestly, eat slowly, and lie about your age. – Lucille Ball
Sixteen candles make a lovely light But not as bright as your eyes tonight. – Luther Dixon
Very early, I knew that the only object in life was to grow. – Margaret Fuller
Age is an issue of mind over matter. If you don't mind, it doesn't matter. – Mark Twain
I wanted to buy a candle holder, but the store didn't have one. So I got a cake. – Mitch Hedberg
Live long and prosper – Mr. Spock
At twenty one, so many things appear solid, permanent, untenable. – Orson Welles
The old believe everything; the middle-aged suspect everything; the young know everything. – Oscar Wilde
Those whom the gods love grow young. – Oscar Wilde
It takes a long time to grow young. – Pablo Picasso
Youth has no age. – Pablo Picasso
You are young and Life is long and there is time to kill today. – Pink Floyd
Why party like it is 1999 when you can party like it is your birthday? – Prince
I just want to celebrate another day of livin' I just want to celebrate another day of life. – Rare Earth
A diplomat is a man who always remembers a woman's birthday but never remembers her age. – Robert Frost
Time is on my side, yes it is. Time is on my side – Rolling Stones
Youth had been a habit of hers for so long that she could not part with it. – Rudyard Kipling
Every year on your birthday, you get a chance to start new. – Sammy Hagar
How old would you be if you didn't know how old you are? – Satchel Paige
The day which we fear as our last is but the birthday of eternity. – Seneca
I'm not getting old. I'm getting better. – Shirley Bassey
Plant the seeds of Love in your hearts. Let them grow into trees of Service and shower the sweet fruit of Ananda. Share the Ananda with all. That is the proper way to celebrate the Birthday" – Sri Sathya Sai Baba
I intend to live forever – so far, so good! – Stephen Wright
Time keeps on slippin', slippin', slippin'…into the future. – Steve Miller
I remember when the candle shop burned down. Everyone stood around singing 'Happy Birthday.' – Steven Wright
And in the end, the love you take is equal to the love you make. – The Beatles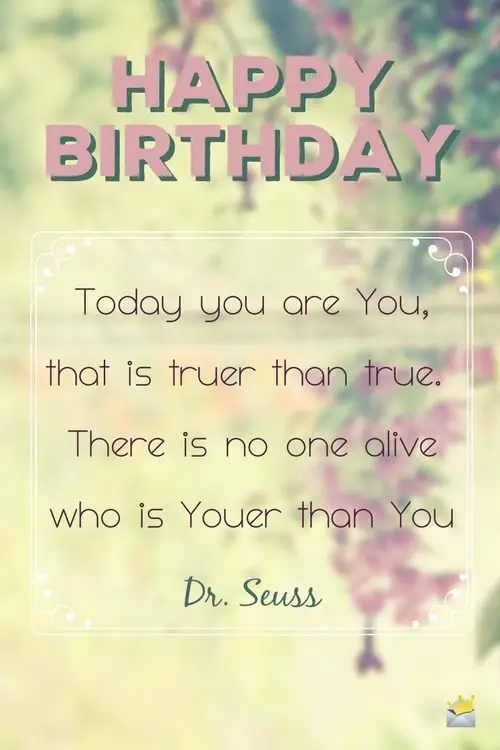 Life is very short, and there's no time For fussing and fighting, my friend. – The Beatles
Life is a moderately good play with a badly written third act. – Truman Capote
Time may be a great healer, but it's a lousy beautician. – Unknown Author
One of the signs of passing youth is the birth of a sense of fellowship with other human beings as we take our place among them. – Virginia Woolf
From our birthday, until we die, Is but the winking of an eye. – William Butler Yeats
All the world's a stage, And all the men and women merely players. They have their exits and entrances, And one man in his time plays many parts. – William Shakespeare
How far that little candle throws his beams! – William Shakespeare
To me, fair friend, you never can be old, For as you were when first your eye I eye'd, Such seems your beauty still. – William Shakespeare
The first hundred years are the hardest. – Wilson Mizner
You may also like:
150 Original Birthday Messages for Friends and Loved Ones
Unique Cute Love Quotes to Let them Know