Unique Cute Love Quotes to Let them Know
Love has many words to describe it. Love can be silly, intense, serious, heartbreaking. But it is always best to take time to stop and celebrate love in your life and to make that special someone feel loved just the same. Love quotes help you express how you feel about those you love the most. Whether you are married, single, or in a serious relationship, using love quotes is a great way to draw on emotions and feelings.
Below you will find an adorable and extensive compilation of love quotes you can use for any and every occasion. Funny, cute, sentimental, blunt and to the point, or sexy, it doesn't matter what you're looking for, the list below will get you through.

Table of Contents
Cute Love Quotes for your Girlfriend
You know I am a bad boy, right? Well, I want to be your "dealer" and I am selling happiness.
Falling in love with you is when we fall asleep together and wake up together in our dreams.
You're my dream come true and my princess too.
Without you, my life is nothing.
It wasn't love at first sight since it took about ten minutes for me to fall for you. But I'm so glad I found you.
More than anything, my one wish is to share the rest of my life with you.
Each day we share together is a moment I mark in history as another best day of my life.
Life is all about living, and I am ok living my life just for you.
If I ever have my own castle, I will make you queen.
They say dreams have real meaning. If that is true then you mean everything to me because you are all I dream about.
True love can't be hidden or changed. So here is me saying I surrender- to our life and our love together. I wouldn't want it any other way.
I know I don't have a white horse, but I have a car with an extra seat beside mine. You are the only one I want to sit in it.
You're the only, only, only, only, only one for me. That Y sure makes a difference, right?
For once in my life being happy is not something I have to work at- you make me happy every single day.
If missing me is hard then you should think about what I go through when I miss you.
Cute Love Quotes for your Wife
Since we're married, I guess you can stay with me tonight – but your clothes will have to leave.
When you stole my heart the first time we met I should have charged you right then- now I can't prove anything but you're still the only one on my list of suspects.
When heaven made angels I think they forgot to name you as angelic. I'm glad you passed for human so I could sleep by an angel each night.
I know they say we men discovered fire, but honey let me just say that you are one woman who knows how to play with it.
Little things are not always bad. I miss you a little more every time we are a part and I love you a little more each day. Add it all up and it equals a lot.
I have fallen in love a million times over – with you.
Before you were mine I spent everyday wishing I could hold you for just one day. Now that I wake up beside you I wish you will never leave.
The word love means nothing to me unless I imagine your face.
Because you love me unconditionally, you are the bravest woman I know.
I know I make mistakes but I hope you know that I protect you in my thoughts and hold you in my heart.
You are the sprinkles on my ice cream. The icing on my cake. The whip cream on my pie. I love you so much I can't lie.
Cute Love Quotes for your Boyfriend
Get that stinking cute butt over here and give me some x's and o's.
Love, hate, war, peace, jealousy, forgiveness – all those things I never knew until I met you.
I must look stupid when you are around – I always make that funny smile because everything about you warms my heart and fills my life with happiness.
Hey babe, the one time I really want to be with you is forever.
If we're going to keep fighting then I put my hands up in surrender. Your love is a weapon I can't compete with.
I have loved you for so long now that nothing you can do or say can hurt me. All I feel is your love.
They say the best things in life are not rationed or proportioned – so from now on I am all yours, truly.
I want to squeeze that butt, hold that hand, kiss those lips, and well, you get the picture.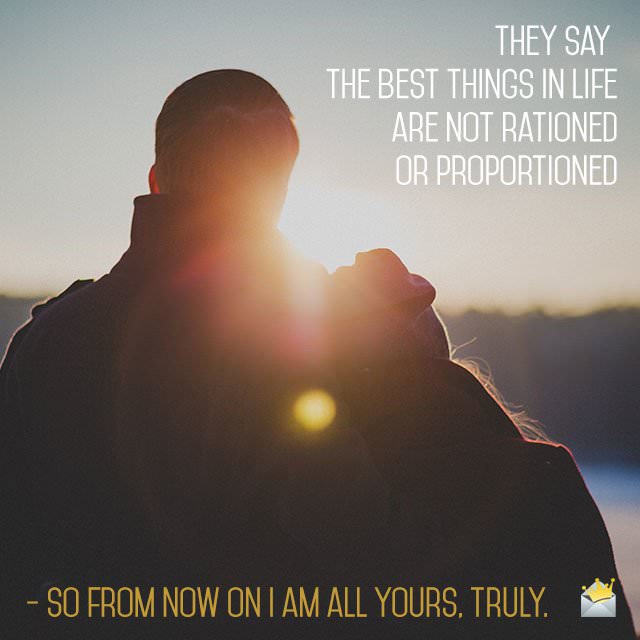 Cute Love Quotes for your Husband
They say that love is a two-way street, and maybe ours is still under construction. But that's ok, I'm not afraid to get my hands dirty you know.
Babe, I just want you to know that my heart still skips a beat every time I see you.
Hey hubby, I just want you to know that while we talk a lot about nothing, those talks mean everything to me.
My soul is like one thing we both share in our two bodies. And I don't want that to change because I love you.
Because you love me unconditionally you are the bravest man I know in my life.
I really don't want to be the best wife to you, I want to be the only wife for you. That's why I keep doing my best to love you like you deserve.
Your love is a door I want to walk through and a hand I want to hold.
I want to be the one person who can always make you smile- because that's what you do for me.
Related: Happy Birthday in Heaven, Mom | Wishes and Poems
You may also like:
40 Profoundly Cute Romantic Quotes to Share with your Love
I Love my Queen! Romantic Quotes of Love and Devotion
50 Love Quotes to Help you Express your Heart
67 Romantic Love Quotes for Him