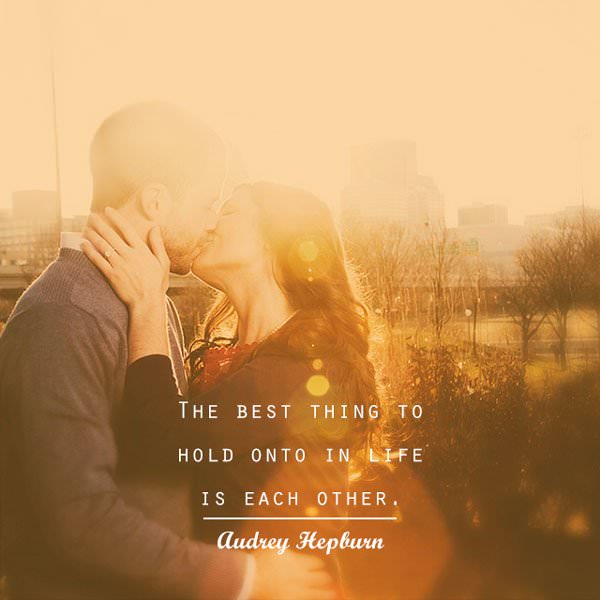 Sweet words of love are the nectar of the soul. The things we say when we are in love and those said about love have a certain power of staying on our minds forever.
In this collection of quotes, famous people speak the truth of love and on the way they meet romantic statements about this feeling that can flood the human existence and drive it to unknown lands. The words on these images are a journey to the depths of the ocean of love – and we urge you to dive in.

You know you're in love when you can't fall asleep
because reality is finally better than your dreams.
Dr. Seuss
---
You are the first and the last thing on my mind every single day.
---
If I had a flower for every time I thought of you…I could walk through my garden forever.
Lord Alfred Tennyson
---
I love you for all that you are, all that you've been, and all you're yet to be.
---
Love is like the wind, you can't see it but you can feel it.
Nicholas Sparks
---
You don't love someone because they're perfect,
you love them in spite of the fact that they're not.
Jodi Picoult
---
When I look into your eyes, all of my doubts are washed away. You are my comfort and protection. I love you today and always.
Because of you, I am no longer standing alone. Hand in hand, we take on this world together.
Each day with you is one step closer to our union. I have waited patiently for you and now you are a blessing in my life. My love for you is greater than words can say.
You are amazing just the way you are. Don't ever change for me or anyone else. I love you.
A simple 'I love you' means more than money
Frank Sinatra
---
Love is that condition in which the happiness of another person is essential to your own.
Robert. A Heinlein
---
Love looks not with the eyes, but with the mind,
and therefore is winged Cupid painted blind.
William Shakespeare
---
The best thing to hold onto on life is each other.
Audrey Hepburn
---
Your love is more valuable than gold, more precious than the rarest ruby. You are the greatest treasure.
My greatest motivation in life is to love you as though I will never see you again and to cherish every moment with you.
One second with you is better than a million elsewhere.
You hold the key to my heart in your soft, little hands; the light of my life sparkles in your eyes.
---
One is loved because one is loved. No reason is needed for loving.
Paulo Coelho
---
There are two basic motivating forces: fear and love. When we are afraid,
we pull back from life. When we are in love, we open to all that life has to offer.
John Lennon
---
Being deeply loved by someone gives you strength,
while loving someone deeply gives you courage.
Lao Tzu
---
We accept the love we think we deserve.
Stephen Chbosky
---
When we love, we always strive to become better than we are. When we strive
to become better than we are, everything around us becomes better too.
Paulo Coelho
---
Where there is love there is life.
Mahatma Gandhi
---
I love you as certain dark things are to be loved, in secret, between the shadow and the soul.
Pablo Neruda
Famous Love Quotes
Love is energy of life. Robert Browning
To love a person is to learn the song that is in their heart, And to sing it to them when they have forgotten. Arne Garborg
Where there is love there is life. Mahatma Gandhi
Love is like an hourglass, with the heart filling up as the brain empties. Jules Renard
You know you are in love when you see the world in her eyes, and her eyes everywhere in the world. David Levesque
A simple I love you means more than money. Frank Sinatra
There is only one happiness in life, to love and be loved. George Sand
When men and women are able to respect and accept their differences then love has a chance to blossom. Dr. John Gray
Love is like a mountain, hard to climb, but once you get to the top the view is beautiful. Daniel Monroe Tuttle
Take away love, and our earth is a tomb. Robert Browning
Love is an act of endless forgiveness, a tender look which becomes a habit. Peter Ustinov
A coward is incapable of exhibiting love; it is the prerogative of the brave. Mahatma Gandhi
Love is a canvas furnished by nature and embroidered by imagination. Francois Marie Arouet
Love is like a mustard seed; planted by God and watered by men. Muda Saint Michael
The greatest weakness of most humans is their hesitancy to tell others how much they love them while they're still alive. O. A. Battista
If you wish to be loved, show more of your faults than your virtues. Edward Bulwer – Lytton
I am certainly not an authority on love because there are no authorities on love, just those who've had luck with it and those who haven't. Bill Cosby
Love never claims it ever gives. Mohandas K. Gandhi
If you aren't good at loving yourself, you will have a difficult time loving anyone, since you'll resent the time and energy you give another person that you aren't even giving to yourself. Barbara de Angelis
The giving of love is an education in itself. Eleanor Roosevelt
Love is the great miracle cure. Loving ourselves works miracles in our lives. Louise Hay
How wrong it is for those who love, not to express their love. Salmon P. Chase
What the heart gives away is never gone …It is kept in the hearts of others. Robin St. John
People need loving the most when they deserve it the least. John Harrigan
Never frown because you never know who might be falling in love with your smile. Justine Milton
Love is like the measles. The older you get it, the worse the attack. Mary Roberts Rhinehart
Love makes of the wisest man a fool, and of the most foolish woman, a sage. Moritz J. Saphir
Many a man in love with a dimple makes a mistake of marrying the whole girl. Stephen Leacock
I can live without money, but I cannot live without love. Judy Garland
Love is never lost. If not reciprocated, it will flow back and soften and purify the heart. Washington Irving
Real love is feeling like being a part of that person's life almost isn't enough. It's more like a feeling that you would live in the same skin with them if you could and share every thought, heartbeat, and emotion as one. Rod Cannon
Love is a fire. But whether it is going to warm your heart or burn down your house, you can never tell. Joan Crawford
Love is when you look into someone's eyes and see their heart. Jill Petty
Love cures people – both the ones who give it and the ones who receive it. Dr. Karl Menninger
The one thing we can never get enough of is love. And the one thing we never give enough is love. Henry Miller
Love and compassion are necessities, not luxuries. Without them humanity cannot survive. Dalai Lama
The greatest possession we have costs nothing, it's known as love. Brian Jett
I honestly think it is better to be a failure at something you love than to be a success at something you hate. George Burns
I only want to love once, but I want to love everybody for the rest of my life. Lauren Ford
Who so loves believes the impossible. Elizabeth Barrett Browning
The beginning of love is to let those we love be perfectly themselves, and not to twist them to fit our own image. Otherwise we love only the reflection of ourselves we find in them. Thomas Merton
Love, like a river, will cut a new path whenever it meets an obstacle. Crystal Middlemas
Love isn't blind; it just only sees what matters. William Curry
When you're comfortable with someone you love, the silence is the best. Britney Spears
Love is a sign from the heavens that you are here for a reason. J. Ghetto
To love and win is the best thing. To love and lose, the next best. William M. Thackeray
Two souls with but a single thought, two hearts that beat as one. John Keats Absence sharpens love, presence strengthens it. Thomas Fuller
In the arithmetic of love, one plus one equals everything, and two minus one equals nothing. Mignon McLaughlin
To love and be loved is to feel the sun from both sides. David Viscott
You never lose by loving. You always lose by holding back. Barbara de Angelis
If you wish the world to become loving and compassionate, become loving and compassionate yourself. Gary Zukav
I would rather live and love where death is king than have eternal life where love is not. Robert G. Ingersoll
Love is like a piece of art work, even the smallest bit can be so beautiful. Stacie Cunningham
Love is a game that two can play and both can win. Eva Gabor
We must love one another or die. W.H. Auden
---
You may also like:
I Love my Queen! | Romantic Quotes of Love and Devotion
75 Original Love Quotes that Aim for Her Heart
A Love That's Irreplaceable | Love Quotes for my Wife