Abundant Bliss | Love Quotes for my Sweetheart
If you really want to serenade your sweetheart with sweet and profound love quotes but you just don't know where to begin, we just might have exactly what you want right here.
Gently go through our oodles of original and well written love quotes and we are certain you'd find what you need to melt your lover's heart anytime.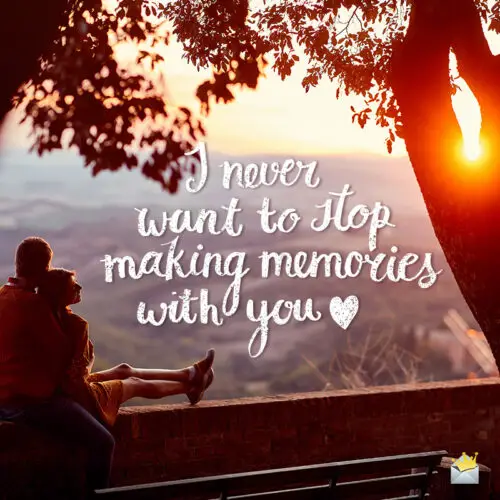 I'm so in love with the fact that I'm in love with such a wonderful girl like you.
I can't thank you enough for choosing to be the love of my life. Being your lover makes me feel so honored every blessed day. Who needs heaven when I have the love of the sweetest girl in the world?!
Babe, nothing dominates my heart with bliss like your love does. In my eyes, you are God's angel of love and happiness.
Every millisecond, my love for you grows tenfold. This means by the time you are done reading this sweet message, my love for you would have grown a hundredfold.
To love and be loved by you is the only treasure I want in life.
Your love inspires me like the word of God.
My biggest goal in life is to share eternity with no one else but you, for you are the one and only true love of my life.
Being in love with you is what I love the most in the entire universe. I will die for it any time without thinking twice.
I have realized that the more I love you, the happier my heart becomes. It is for this reason my heart wants so much to love you until the day it stops beating.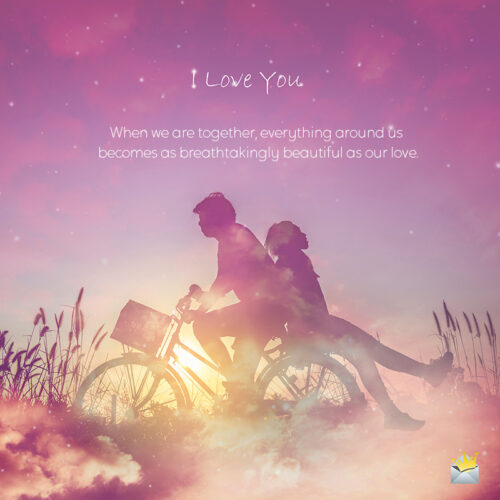 My heart doesn't need a beat to keep me alive. It needs you. Nothing else but you.
For the rest of my life, I will love you and cling to you like a leech because your love totally dominates my heart with utter joy.
Sweetheart, I vow to love and respect you for all my earthly life because you mean heaven and earth to me.
I love you so much I'm ready to give up the gift of life for you.
"To love and care for you till I die". That's the only motto of my life.
You are the only reason my heart can't stop smiling.
Everything about you is beautiful to my eyes because I love you wholeheartedly.
For me, the most important thing in the universe is the love we share.
I found the only key that opens the only door to everlasting happiness the day I found your sweet love.
I'll choose you over everything in the universe all the time because in your arms, I have everything that is precious in the universe.
In your eyes, I see God's paradise.
The day shines brighter whenever we're in each other's arms. This is fitting testament to the fact that we're a match made nowhere else but in heaven.
The love we share is as incredible as the universe. Why on earth would I want to trade it for anything in this world?!
Death is the only thing that has the power to stop me from loving you.
Your love is such a priceless treasure to me that I'd rather die than lose it.
How can I ever get enough of your love when it is utter paradise?
When love is real, it has no end. That's exactly how ours is.
When we are together, everything around us becomes as breathtakingly beautiful as our love.
God brought you and your love into my life to help me find my way out of the labyrinth of sorrow that was rapidly consuming me. The least I can do to repay you is to love you with all of my heart until the end of time.
Your love fills my heart with abundant bliss.
No matter how sad my day gets, being with you coaxes the woes out of my troubled heart. Such is the magical power of your love.
Dear darling, your arms are the one place on earth that I always desire to be, for that is where paradise on Earth exists.
With your love by my side, my life shines brighter than the sun.
No matter how dark my life becomes, your love always brings me sunny moments.
I see paradise whenever I look at you. You are the greatest happiness I derive from life.
The best relationship of my life is the one I am having with you right now.
I love being in love with you probably more than I love the air that sustains my life.
I fall in love countless times every day, every single time with the same wonderful person – you.
Being in your loving arms always solves all my problems in life.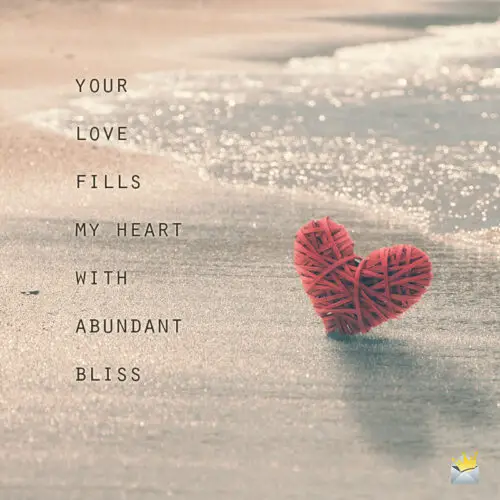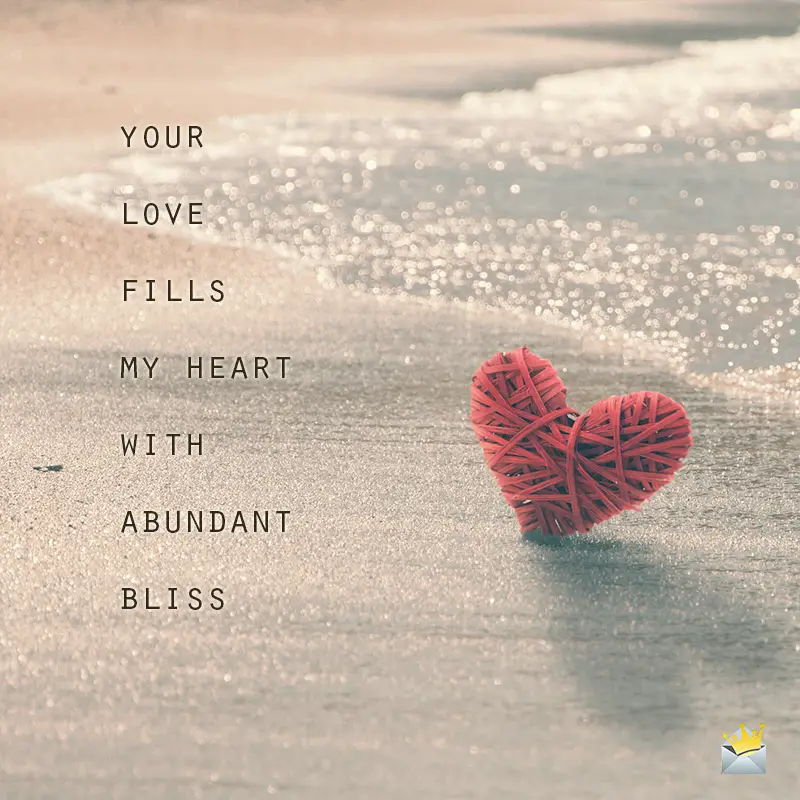 Your love is the most beautiful thing in this universe. It's the reason I glow like the sun every day. I'm so blessed to in possession of it. Thanks for renewing my fate in true love.
The greatest blessing God gave me is the priceless gift of your unconditional love, which makes my life shine like Venus in the absolute blackness of space.
Your precious love makes my life flourish in the same way the sun makes a flower blossom.
I'm yours and you're mine. I don't need anything else.
The world sees you as just my lover, but to me, you're my life. I simply can't live without you.
Your sweet love makes me feel as though I am taking a leisurely stroll on sunshine. There's nothing in this world more beautiful than that.
Loving you from the bottom of my heart is the most important thing I've ever and will ever do with my life.
The only source of the unlimited happiness that dwells in my heart is the remarkable love story you and I share.
Being with the one who you truly love and who truly loves you is the best way to experience paradise on Earth. Babe, thank you for being the man who brings me this priceless gift.
There are more than a gazillion tiny things that you unknowingly do every day that make me fall in love with you over and over again.
---
You may also like:
99 Romantic Love Quotes to Unveil What You Truly Feel About Them
44 Inspiring Quotes about Finding Love
What is Platonic Love and How Far is Romance From it?