'I Love You' Messages and Quotes for my Children
The importance of telling your children how much you love them cannot be overstated as it makes them feel important and cherished.
So go ahead and let your children know that they are highly treasured with the following heartwarming "I love you messages and quotes" that we have compiled below.

'I Love My Children' Quotes
You are the most precious gift life has ever given me, dear daughter/son. I can live in this world devoid of anything, except you.
I never knew what it was like to unconditionally love someone until you all came into my life. I would give my life for yours in a heartbeat!
When I look into your eyes, I can see the future. Every struggle I ever faced in life seems worth it now that you are here. Love you so much.
I love you all, my dear children. I hope that you all live to be 100 years old and will remain best friends throughout.
The greatest fear my mind can conceive is any of you passing away before me. Please take care of yourselves, stay strong and make me proud. The love my heart has for you is larger than the universe.
My life has transformed from living solely for myself to now being entirely dedicated to the lives of others – my wonderful children.
No matter how old, big or disagreeable you may get, in my mind you will always be the sweet little child that God has blessed my life with. Never will my heart stop loving you.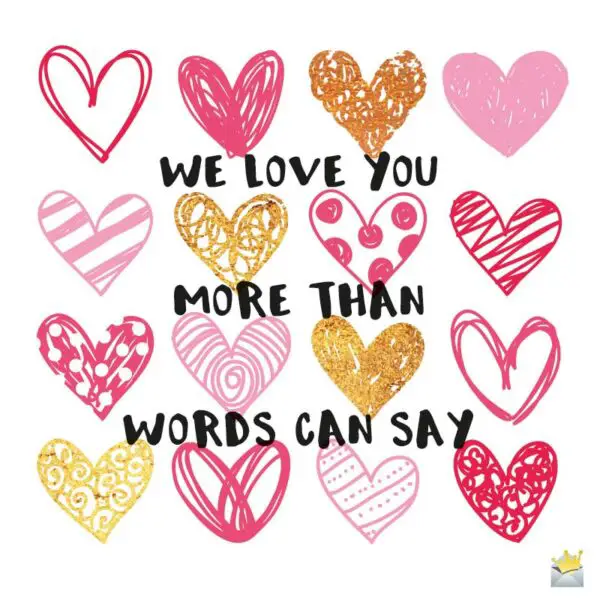 No matter who you come across in life or what type of relationships you'll form, you will never find anyone who loves you as much as I do.
I may not like you all the times, but I always love you, my dear son.
I have never been as proud of anything in my life than having and raising you, my beloved child.
You are a bundle of joy that always makes me smile, even when I don't want to. I love you more and more with every brand new day God blesses us with.
Having the responsibility of taking care of you brought out attributes I never knew were inside me. You, children, have unknowingly guided me in my personal development in so many ways. I will forever love and treasure you.
Love is an ocean whose depths I never really comprehended until I was blessed with you in my life.
Like a mama bear would give her life to protect her cubs, so has my love stood as a shield over you for your entire lives.
I love you so much that even if you don't want me in your life, I would be there, watching over you.
There's nothing more important to me in this universe than having you as my daughter. It is for this reason my heart shall treasure you until the day it stops beating.
The love I have for you, my dearest daughter, is something that cannot be expressed in words even by the greatest poet.
Son, my love for you is as everlasting as God's universe.
No matter what happens in life, I will never turn my back on you, my beloved child. I love you too much to let you face this cold world all by yourself.
Darling daughter, my love for you extends so deep that even though I know you're calling to once again ask for money, I still pick up the phone.
I know I've made some terrible mistakes in the past, but through it all, I have to believe that you still understand how much I love you.
The deepness of my love for you is something you can never fathom until the day you have children of your own.
Since having you, I can't imagine life without you. In fact you can say my life would lose meaning if I were to lose you.
When you have your own children, I hope you never make the errors I have as a parent, so that they will never misinterpret your mistakes as a lack of love.
Parents are the only people who love you enough to give you their full blessings despite your character flaws.
Of all the relationships I ever had, that with my children is the most adoring as well as the most unique, because only by looking at my child can I presently see both my future and past.
All of my children have different personalities, strengths and weaknesses, but I love them all the same – with undying, unwavering affection.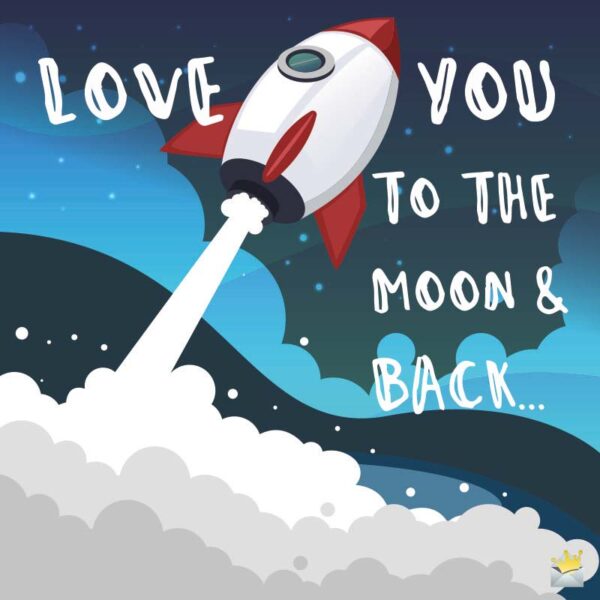 Parenthood is like you may fall out of love with the person you had children with, but you will never fall out of love with the child.
My love for you is so strong naturally that I would have to question the overall humanity of anyone who proclaims that they don't love their own children.
The air that I breathe is not even remotely as important to me as you, my beloved son/daughter. Simply put, I treasure and love you more than the priceless gift of life the universe has blessed me with.
Although my actions towards you may not always be perfect, my love for you always is.
There is perhaps no greater wish a parent has for a child then for the child to love him just as much as he loves the child, if such a thing is even possible.
Son/daughter, the greatest and most priceless possession in my life is the love I have for you.
I was a completely different, juvenile person before I had my children. Only the love I have for them could have affected such a positive transformation.
There is no thought or action, spiritual or physical manifestation conceivable that could separate me from the love I have for you, my sweet children.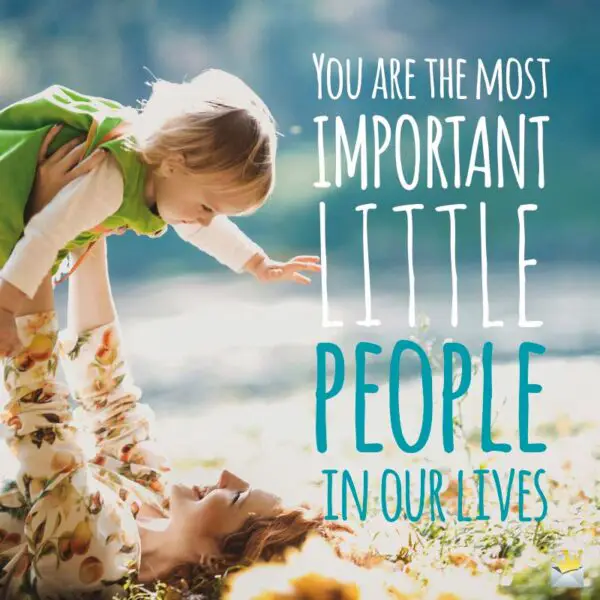 I know that I may get frustrated at times, but there's nothing I derive more pleasure from than serving and taking care of my amazing children.
I will climb every mountain on earth just to make you smile because my love for you is extraordinary.
Famous Quotes about Loving Children
A baby is born with a need to be loved—and never outgrows it. Frank A. Clark
The rules for parents are but three… love, limit and let them be. Elaine M. Ward
Hugs can do great amounts of good, especially for children. Princess Diana
Encourage don't belittle, embrace their individuality. And show them that no matter what they will always have value if they stay true to themselves. Solange Nicole
I love kids. I was a kid myself, once. Tom Cruise
Love is staying up all night with a sick child—or a healthy adult. David Frost
Your top job as a new parent is to love your baby like crazy. After showering her with affection, your next two important jobs are to feed her and to calm her when she cries. Harvey Karp
You are always in my thoughts. When you were little, I knew your whereabouts at any given moment. Now that you are…off on your own, I still always know where you are, because I keep you in my heart. Elizabeth Berg
It's not our job to toughen our children up to face a cruel and heartless world. It's our job to raise children who will make the world a little less cruel and heartless. L.R. Knost
No man should bring children into the world who is unwilling to persevere to the end in their nature and education. Plato
Nothing you do for children is ever wasted. Garrison Keillor
Anyone who does anything to help a child in his life is a hero to me. Fred Rogers
Seven things every child needs to hear: I love you, I'm proud of you, I'm sorry, I forgive you, I'm listening, This is your responsibility, You have what it takes. Josh Shipp
Too much love never spoils children. Children become spoiled when we substitute presents for presence. Anthony Witham
Children deserve to be loved and to know they are loved. They deserve to be cherished and to know they are valuable. Dave Ramsey and Rachel Cruze
The more you love your children, the more they learn to love others. A.D. Williams
If you want your children to turn out well, spend twice as much time with them, and half as much money. Abigail Van Buren
When I see children, I see the face of God. That's why I love them so much. That's what I see. Michael Jackson
I love children and I love family and I love that interaction. Because I had a really close relationship with my mother, I understand that deep powerful love, and it's so beautiful. To be a mother to a child is the most brilliant gift; it's gorgeous. Alicia Keys
The most important thing that parents can teach their children is how to get along without them. Frank A. Clark
Children learn to smile from their parents. Shinichi Suzuki
Your kids require you most of all to love them for who they are, not to spend your whole time trying to correct them. Bill Ayers
Affirming words from moms and dads are like light switches. Speak a word of affirmation at the right moment in a child's life, and it's like lighting up a whole roomful of possibilities. Gary Smalley
Parenting should always come from a place of unconditional loving. Fiona Dimas-Herd
Accept the children the way we accept trees with gratitude, because they are a blessing, but do not have expectations or desires. You don't expect trees to change, you love them as they are. Isabel Allende
I've never loved anybody the way I love my children. Katey Sagal
My feeling of responsibility for the safety and well-being of my children is so strong, that should an asteroid threaten to wipe out all life on earth, I would still hold myself responsible for their fate. Boghos L. Artinian
I love my children beyond all reason. They're my joy, even when they're wild with kid energy. Christopher Meloni
Children will not remember you for the material things you provided but for the feeling that you cherished them. Richard L. Evans
I love my children unconditionally. Gary Kemp
Even though your kids will consistently do the exact opposite of what you're telling them to do, you have to keep loving them just as much. Bill Cosby
Always kiss your children goodnight – even if they're already asleep. H. Jackson Brown, Jr.
Love is giving your kids your undivided attention and time. Kevin Heath
The depth of the love of parents for their children cannot be measured. It is like no other relationship. It exceeds concern for life itself. The love of a parent for a child is continuous and transcends heartbreak and disappointment. James E. Faust
If you raise your children to feel that they can accomplish any goal or task they decide upon, you will have succeeded as a parent, and you will have given your children the greatest of all blessings. Brian Tracy
Parental love is the only love that is truly selfless, unconditional and forgiving. Dr. TP Chia
There really are places in the heart you don't even know exist until you love a child. Anne Lamott
You have to love your children unselfishly. That is hard. But it is the only way. Barbara Bush
Love is the chain whereby to bind a child to its parents. Abraham Lincoln
Children need love, especially when they do not deserve it. Harold Hubert
By loving them for more than their abilities we show our children that they are much more than the sum of their accomplishments. Eileen Kennedy-Moore
To be a good father and mother requires that the parents defer many of their own needs and desires in favor of the needs of their children. As a consequence of this sacrifice, conscientious parents develop a nobility of character and learn to put into practice the selfless truths taught by the Savior Himself. James E. Faust
Parents need to fill a child's bucket of self-esteem so high that the rest of the world can't poke enough holes to drain it dry. Alvin Price
Your children need your presence more than your presents. Jesse Jackson
---
You may also like:
My Best Wishes to You! | Birthday Status for a Friend, a Loved One or Yourself
The Fastest Way to Their Heart | Funny Love Quotes