Invaluable You | 90 Romantic Love Messages for Her from the Heart
It is an amazing experience to find true love. Love is universal and relatable. It crosses cultural lines, language barriers and knows no boundaries. But as wonderful as love is, it can still be difficult to express these emotions in unique and creative ways. Words can be just as powerful as love, however, we often fall short of relating our feelings without running into clichés and corny sayings.
You already know this. You already know that the love of your life is both the cause of your successes and your reason for trying. Sometimes, saying so is hard. We've got you covered. Here's a collection of special messages you may want to employ. There are some for silly playful times, some for intimate times, and some for times when you need to offer a little support. Enjoy.

Table of Contents
Heart Touching Love Messages for Her
Your love is more valuable than gold, more precious than the rarest ruby. You are the greatest treasure.
My greatest motivation in life is to love you as though I will never see you again and to cherish every moment with you.
One second with you is better than a million elsewhere.
You hold the key to my heart in your soft, little hands; the light of my life sparkles in your eyes.
You are truly the love that I have been searching for all my life, even when I didn't know I was searching. You are the women I have waited for, even when I didn't know I was waiting. You truly complete me.
Kisses from your lips warm my soul. The touch of your hand melts my heart.
Your love is the greatest gain that I hope to never lose.
I could search for eternity and never find another woman like you.
I hope we grow old together and never forget the feeling we felt when we first fell in love.
I truly feel there is a reason we have met and that reason is to hold onto each other and never let go. I could never stop loving you.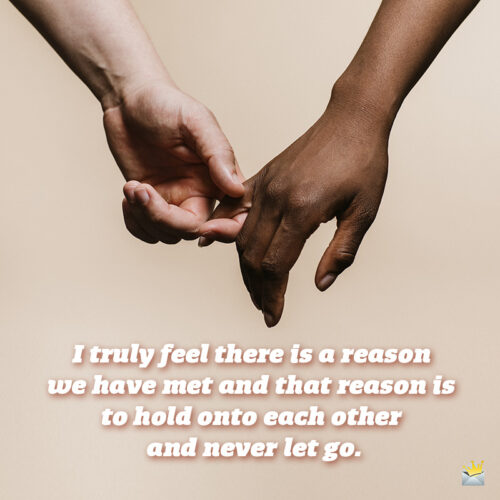 Sweet Romantic Messages for Her to Use as Photo Captions
Attach a few sweet lines of tender sentiment to your captured memories.
So, this is why they call it falling in love.
Even the air cannot help but dance because of you.
I could find you in the dark, anywhere.
With you, nothing is heavy; nothing is hard.
You seem to be a verb.
It started with that smile.
Adventures happen every time I look into your eyes.
Our bliss is primal.
May all of my trails never bring me anywhere but here.
I'm not sure what you're doing, but it is the most important thing in the world.
Stumbling, tripping, falling in it deep — with you.
I couldn't let go for the world; you are my dream come true.
Tomorrow. One more time. Just like this. Forever.
Whatever comes next is fine.
I could dance badly with you forever.
Short Love Text Messages for Her
Sometimes a hard moment or long week calls for a quick reminder.
I still love you.
Just being with you is rest and inspiration.
You've ruined me for everyone else.
You put stars in the high noon sky.
Forgiving you is an easy payment for the blessing of having you in my life.
All I want is you, quietly, warmly, and often.
Our love is bigger than both of us.
Even the thought of you puts a smile on my face.
Sometimes, when I'm alone, I just like to say your name.
I'll be kissing you very soon.
Keep loving me, and the rest is details.
I. am. all. in.
We got this far. And now we've got that going for us.
Let's just go walk and touch each other's hands.
The lens agrees with my eyes: the most beautiful woman in the world.
So, you know how I said that I love you exactly the way you are?
…Well, I still do. Be home soon.
Long Love Messages for Her
Sometimes you just have to gush; it'll be worth it.
You know that 'dreamy beach sunset with champagne' feeling? I hope to give you that feeling when we're only sitting on the kitchen floor with a jar of Nutella and spoon.
If I've ever had a moment's doubt, it wasn't you that I doubted. I can only doubt that I should be so fortunate as to have you.
Every moment of my life led me to the moment where I could look into your eyes, and that is how I know that there is goodness in the world.
I don't know how you do it. You're my rudder, my sail, and my north star all at once.
If I can make you feel a bit of the happiness that I feel when I'm with you, I will be proud of the life I have lived.
I love you. Also, I admire you. I even like you. You are the last thing on my mind before I fall asleep. But, mostly, I love you.
I'll keep working hard on me for you, if you'll keep working hard on you for me. I think that we've really got this.
I could be happy without you. But, I can no longer want to be happy without you. Making happiness with you, I have declared to be the meaning of my life from this day, forward, and forever.
It occurs to me just now that the flight of the sparrow, the curve of the tulip, and the spin of the brightest galaxy in heaven were all painstakingly crafted simply to serve as an allegory for connection between the animal parts of me and the way that you walk.
I'm not sure anymore that time always moves forward. With you, here, now, I could be convinced that all of time pours backward and forward to us, here, now. And, all of the stars that collapsed long ago and all of the stars which haven't been formed look through time to marvel at the universe in your eyes.
You could tell me anything, because it would be you telling me. That is all I need.
Perfection is just a word for the path we are on.
We are the greatest love story I've ever known.
Funny Love Messages for Her
A little playfulness, well timed, can make all the difference in the world — just like her.
If you hold me like a warm coffee mug, I will give you little trembles for your time.
You know my life was actually quite nice before I met you; I never would have believed how much better it could get.
I'm afraid we can't go out tonight… because I'm at home whenever I'm with you.
If this gets any worse, I won't even be able to imagine thinking of anything but you.
I want to grow old with you, but I know I'll always have the better end of the deal.
I'm sure that I was alive before I met you, but I'm not entirely sure why.
It is dangerous, loving you. Each time you walk by my whole life passes before my eyes.
Hey, it seems like we were really meant to be friends… but who cares? I like our way better.
The way I'm falling for you explains why gravity is still just a theory.
Of course, I could live without you. But, why would I ever want to?
Loving you has given me something to lose. That kinda sucks, but I'm oddly okay with it.
I'm going to need you to say 'yes' to a question, so that we can be on the same page about where this is going.
I know that our love means more than anything, but in case I'm wrong I'm throwing in chocolate and wine.
I don't actually know anything about love. So, I'm really lucky to be with someone who makes it so easy to do.
You may also like:
99 Romantic Love Quotes to Unveil What You Truly Feel About Them
Words of True Affection | Love Letters for my Girlfriend
50 Romantic "I Love You" Messages to Touch their Heart