175 Love Quotes that Aim for Her Heart
It is an amazing experience to find true love. Love is universal and relatable. It crosses cultural lines, language barriers and knows no boundaries. But as wonderful as love is, it can still be difficult to express these emotions in unique and creative ways. Words can be just as powerful as love, however, we often fall short of relating our feelings without running into clichés and corny sayings.
You already know this. You already know that the love of your life is both the cause of your successes and your reason for trying. Sometimes, saying so is hard. We've got you covered. Here's a collection of special quotes you may want to employ. There are some for silly playful times, some for intimate times, and some for times when you need to offer a little support. Enjoy.

Table of Contents
Short Love Quotes for Her
Your hand touching mine. This is how galaxies collide. Sanober Khan
If I know what love is, it is because of you. Herman Hesse
Never above you. Never below you. Always beside you. Walter Winchell
My heart shall be thy garden. Alice Meynell
You call it madness, but I call it love. Don Byas
If forever does exist, please let it be you…  A.R Asher
Ever thine. Ever mine. Ever ours. Ludwig van Beethoven
A hundred hearts would be too few to carry all my love for you.  Henry Wadsworth
Grow old along with me! The best is yet to be. Robert Browning
We loved with a love that was more than love. Edgar Allan Poe
It feels like the world is going to explode when I kiss you.  Alex Light
You think you're one of millions but you're one in a million to me. Brad Paisley
You are my night and stars, the fate I would fix myself to in any life.  Roshani Chokshi
All of me loves all of you.  John Legend
All is right in this world with you in my arms. Avijit Dey
You are my heart, my life, my one and only thought.  Arthur Conan Doyle
Our love cannot be measured, it just is. John Paul Stevens
To me, you are magic.  Renée Ahdieh
My blind eyes are desperately waiting for the sight of you. Richard Burton
"I love you" begins by I, but it ends up by you.  Charles de Leusse
Love is old, love is new. Love is all, love is you. The Beatles
Soul meets soul on lovers' lips. Percy Bysshe Shelley
You've reminded me to live. That's worth having something to lose.  Margaret Rogerson
I would find you in any lifetime. Kanye West
You're my favorite way to pass the time. But time stands still when you're on my mind.  Kasie West
In your life my infinite dreams live. Pablo Neruda
Love isn't all we need—love is all there is. Morgan Matson
I want you today, tomorrow, next week and for the rest of my life. I.A. Dice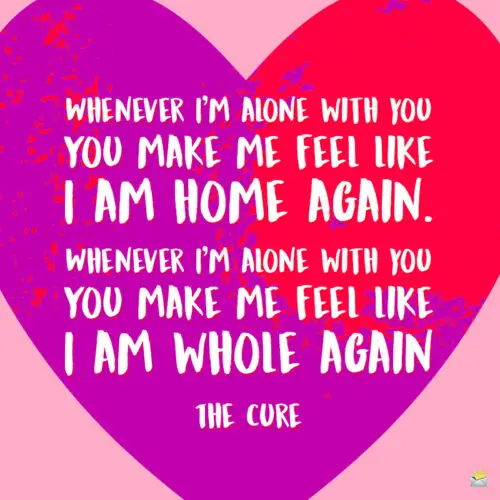 Love me and the world is mine.  David Reed
Your words are my food, your breath is my wine. You are everything to me. Sarah Bernhardt
Screw fate. I'll tear down the stars for you.  Ashley Poston
Love is the flower; you've got to let it grow.  John Lennon
In case you ever foolishly forget; I'm never not thinking of you. Virginia Woolf
You should be kissed and often, and by someone who knows how. Rhett Butler
Come, live in my heart and pay no rent. Samuel Lover
Loved you yesterday, love you still, always have, always will. Elaine Davis
Even when words fail me, you never do.  Sarah Dessen
I am who I am because of you.  Nicholas Sparks
I know by experience that the poets are right: love is eternal. E.M. Forster
I know I am in love with you because my reality is finally better than my dreams. Dr. Seuss
I never want to stop making memories with you. Pierre Jeanty
If I loved you less, I might be able to talk about it more.  Jane Austen
It's not like in the movies. It's better, because it's real.  Jenny Han
Kiss me. Kiss me as if it were the last time. Casablanca
There are never enough 'I love yous.'  Lenny Bruce
When I saw you I fell in love, and you smiled because you knew it. William Shakespeare
The story that I love you, it has no end.  Cassandra Clare
Love does not dominate; it cultivates. Johann Wolfgang von Goethe
The best thing to hold onto in life is each other.  Audrey Hepburn
My soul will find yours.  Jude Deveraux
Love is not only something you feel, it is something you do.  David Wilkerson
To live without loving is not really to live. Moliere
When love is not madness it is not love.  Pedro Calderón de la Barca
Cute Love Quotes for Her
I can't think of who I was before you ruined everything in the nicest way. Jonathan Coulton
My night has become a sunny dawn because of you. Ibn Abbad
You have me. Until every last star in the galaxy dies. You have me. Amie Kaufman
There is a madness in loving you, a lack of reason that makes it feel so flawless.  Leo Christopher
She wasn't doing a thing that I could see, except standing there leaning on the balcony railing, holding the universe together. J.D. Salinger
Yours is the light by which my spirit's born: yours is the darkness of my soul's return
–you are my sun, my moon, and all my stars.  E. E. Cummings
So, I love you because the entire universe conspired to help me find you. Paulo Coelho
But you've slipped under my skin, invaded my blood and seized my heart.  Maria V. Snyder
Now that I've known a life with you by my side, I'm not sure I could bear that kind of loneliness again.  Claire Legrand
I don't think…there's ever a boring second around you.  Jennifer L. Armentrout
I know that somehow, every step I took since the moment I could walk was a step towards finding you. Nicholas Sparks
I look at you and I would rather look at you than all the portraits in the world. Frank O'Hara
I saw that you were perfect, and so I loved you. Then I saw that you were not perfect and I loved you even more. Angelita Lim
Because of you I can feel myself slowly but surely becoming the me I have always dreamed of being. Tyler Knott Gregson
I want you. All of you. Your flaws. Your mistakes. Your imperfections. I want you, and only you. John Legend
I wish I could show you when you are lonely or in darkness the astonishing light of your own being. Hafiz of Shiraz
I wish you to know that you have been the last dream of my soul. Charles Dickens
If I had a flower for every time I thought of you… I could walk through my garden forever. Alfred Tennyson
It's like we're two trees secretly sharing nutrients underground, two stars orbiting around all the things there's no language for.  Liara Tamani
My days are brighter
My sky a deeper blue
My nights are sweeter
When I'm with you.  George Strait
You and I
Could paint the sky together
As the world goes by
We'll go on forever. Kaskade
Funny Love Quotes for Her
The two of us, we're the best kind of disaster. Apples and oranges. Well, more like apples and machetes.  Brittany Cavallaro
Love thy neighbor — and if he happens to be tall, debonair and devastating, it will be that much easier.  Mae West
A guy knows he's in love when he loses interest in his car for a couple of days. Tim Allen
Love is something sent from heaven to worry the hell out of you. Dolly Parton
All you need is love. But a little chocolate now and then doesn't hurt. Charles Schulz
As a man in a relationship, you have a choice: You can be right or you can be happy. Ralphie May
I love being married. It's so great to find one special person you want to annoy for the rest of your life. Rita Rudner
She is the only evidence of God I have seen with the exception of the mysterious force that removes one sock from the dryer every time I do my laundry. St. Elmo's Fire
True love comes quietly, without banners or flashing lights. If you hear bells, get your ears checked.  Erich Segal
Whatever you may look like, marry a man your own age – as your beauty fades, so will his eyesight.  Phyllis Diller
Before you marry a person, you should first make them use a computer with slow Internet service to see who they really are.  Will Ferrell
I haven't spoken to my wife in years. I didn't want to interrupt her.  Rodney Dangerfield
Love is telling someone their hair extensions are showing.  Natasha Leggero
Deep Love Quotes for Her
One day you will ask me which is more important—my life or yours? I will say mine and you will walk away not knowing that you are my life. Khalil Gibran
Every atom of your flesh is as dear to me as my own: in pain and sickness it would still be dear. Charlotte Brontë
With my last breath, I'll exhale my love for you. I hope it's a cold day, so you can see what you meant to me. Jarod Kintz
If I'm gonna die, I want to die having said yes to her as many times as I can. Leah Johnson
And I'd choose you; in a hundred lifetimes, in a hundred worlds, in any version of reality, I'd find you and I'd choose you. Kiersten White
No matter where I went, I always knew my way back to you. You are my compass star.  Diana Peterfreund
Not even in my weakest moment have I considered letting you go.  Judith McNaught
And when you smile, the whole world stops and stares for a while, cause you're amazing, just the way you are. Bruno Mars
My love as deep; the more I give to thee,
The more I have, both are infinite. William Shakespeare
Being deeply loved by someone gives you strength, while loving someone deeply gives you courage. Lao Tzu
How do I love thee? Let me count the ways.
I love thee to the depth and breadth and height
My soul can reach, when feeling out of sight
For the ends of being and ideal grace.  Elizabeth Barrett Browning
I cannot exist without you—I am forgetful of everything but seeing you again—my Life seems to stop there—I see no further. You have absorb'd me. John Keats
I loved her against reason, against promise, against peace, against hope, against happiness, against all discouragement that could be. Charles Dickens
If you live to be a hundred, I want to live to be a hundred minus one day so I never have to live without you. A. A. Milne
In all the world there is no heart for me like yours. In all the world there is no love for you like mine.  Maya Angelou
Romantic Love Quotes for Her
It was love at first sight, at last sight, at ever and ever sight. Vladimir Nabokov
All the time in the world is worth nothing if I don't get to spend it with you. Tricia Levenseller 
And in her smile I see something more beautiful than the stars.  Beth Revis
For thousands of nights I dreamed of making love to you. No man on earth has ever hated sunrise as I do.  Lisa Kleypas
I still haven't figured out how to sit across from you, and not be madly in love with everything you do. William C. Hannon
No measure of time with you will be long enough, but we'll start with forever. Stephanie Meyer
I think you're a fairy tale. I think you're magical, and brave, and exquisite. And I hope you'll let me be in your story.  Laini Taylor
You have a place in my heart no one else could have. F. Scott Fitzgerald
You are the finest, loveliest, tenderest, and most beautiful person I have ever known—and even that is an understatement. F. Scott Fitzgerald
I knew then that we were like two pieces of cloth, sewn together for life. Our stitches couldn't be undone. I wouldn't let them.  Elizabeth Lim
I come here with no expectations, only to profess, now that I am at liberty to do so, that my heart is and always will be…yours. Jane Austen
I knew the second I met you that there was something about you I needed. Turns out it wasn't something about you at all. It was just you.  Jamie McGuire
If I could ask God one thing, it would be to stop the moon. Stop the moon and make this night and your beauty last forever. A Knight's Tale
If I had but an hour of love, if that be all that is given me, an hour of love upon this earth, I would give my love to thee. Alice Sebold
If the sun refused to shine, I would still be loving you.
When mountains crumble to the sea, there will still be you and me. Led Zeppelin
No matter what has happened. No matter what you've done. No matter what you will do. I will always love you. I swear it.  C.J. Redwine
Whenever I'm alone with you
You make me feel like I am home again.
Whenever I'm alone with you
You make me feel like I am whole again. The Cure
Relationship Love Quotes for Her
For the two of us, home isn't a place. It is a person. And we are finally home.  Stephanie Perkins
To love is nothing. To be loved is something. But to love and be loved, that's everything.  T. Tolis
To get the full value of a joy, you must have somebody to divide it with. Mark Twain
Do not urge me to leave you or turn back from you. Where you go, I will go. Where you stay, I will stay. Shelby Mahurin
Love is what you've been through with somebody.  James Thurber
If you love them in the morning with their eyes full of crust; if you love them at night with their hair full of rollers, chances are, you're in love.  Miles Davis
To be brave is to love someone unconditionally, without expecting anything in return.  Madonna
I don't care how hard being together is, nothing is worse than being apart.  Josephine Angelini
When you realize you want to spend the rest of your life with somebody, you want the rest of your life to start as soon as possible. Harry Burns
If you can stay in love for more than two years, you're on something.  Fran Lebowitz
To be your friend was all I ever wanted; to be your lover was all I ever dreamed. Valerie Lombardo
It's like my life isn't even real to me unless you're there and you're in it and I'm sharing it with you. Gilmore Girls
Love is when the other person's happiness is more important than your own. H. Jackson Brown, Jr.
There can be no deep disappointment where there is not deep love.  Martin Luther King, Jr.
They say a person needs just three things to be truly happy in this world: someone to love, something to do, and something to hope for.  Tom Bodett
Marriage is not just spiritual communion and passionate embraces; marriage is also three-meals-a-day and remembering to carry out the trash.  Joyce Brothers
I love You Quotes for Her
Do I love you? My God, if your love were a grain of sand, mine would be a universe of beaches. William Goldman
I am catastrophically in love with you.  Cassandra Clare
I love you more than I have ever found a way to say to you. Ben Folds
I love you, and I will love you until I die, and if there's a life after that, I'll love you then. Cassandra Clare
I love you not only for what you are, but for what I am when I am with you. Roy Croft
I never loved you any more than I do, right this second. And I'll never love you any less than I do, right this second. Kami Garcia
I love you and it's getting worse. Joseph E. Morris
I love you. I am at rest with you. I have come home. Dorothy L. Sayers
I love you and that's the beginning and end of everything. F. Scott Fitzgerald
I love you right up to the moon—and back. Sam McBratney
You have bewitched me, body and soul, and I love, I love, I love you. I never wish to be parted from you from this day on. Pride and Prejudice
I love you the way a drowning man loves air. And it would destroy me to have you just a little. Rae Carson
I love you without knowing how, or when, or from where. I love you straightforwardly, without complexities or pride; so I love you because I know no other way.  Pablo Neruda
I said I love you and that's forever
And this I promise from the heart
I could not love you any better
I love you just the way you are.  Billy Joel
I've never had a moment's doubt. I love you. I believe in you completely. You are my dearest one. My reason for life. Ian McEwan
Storm clouds may gather and stars may collide, but I love you until the end of time. Moulin Rouge
Whatever happens tomorrow, or for the rest of my life, I'm happy now…because I love you. Groundhog Day
Inspirational Love Quotes For Her
Love is the only flower that grows and blossoms without the aid of the seasons. Khalil Gibran
A woman knows the face of the man she loves as a sailor knows the open sea.  Honore de Balzac
Nobody has ever measured, not even poets, how much the heart can hold. Zelda Fitzgerald
Never love anybody who treats you like you're ordinary.  Oscar Wilde
Love is our true destiny. We do not find meaning of life by ourselves alone- we find it with another.  Thomas Merton
The only thing we never get enough of is love; and the only thing we never give enough of is love. Henry Miller
You don't love someone for their looks, or their clothes, or for their fancy car, but because they sing a song only you can hear.  Oscar Wilde
For small creatures such as we the vastness is bearable only through love.  Carl Sagan
The most important thing in life is to learn how to give out love, and to let it come in.  Morrie Schwartz
Keep love in your heart. A life without it is like a sunless garden when the flowers are dead. Oscar Wilde
I seem to have loved you in numberless forms, numberless times, in life after life, in age after age forever.  Rabindranath Tagore
Immature love says: 'I love you because I need you.' Mature love says 'I need you because I love you.'  Erich Fromm
Instead of disappearing, she makes me feel reappeared. Reimagined. Her touch shapes me, draws out the boldness that had been hiding in my core. Natasha Ngan
To love or have loved, that is enough. Ask nothing further. There is no other pearl to be found in the dark folds of life. Victor Hugo
To feel the love of people whom we love is a fire that feeds our life.  Pablo Neruda
Love is of all passions the strongest, for it attacks simultaneously the head, the heart and the senses.  Lao Tzu
One word frees us of all the weight and pain of life: That word is love. Sophocles
The most precious gift we can offer anyone is our attention. When mindfulness embraces those we love, they will bloom like flowers. Nhat Hanh
There is never a time or place for true love. It happens accidentally, in a heartbeat, in a single flashing, throbbing moment.  Sarah Dessen
When we are in love we seem to ourselves quite different from what we were before.  Blaise Pascal
You know it's love when all you want is that person to be happy, even if you're not part of their happiness. Julia Roberts
You may also like:
67 Romantic Love Quotes for Him
Romantic Words and How To Use Them
I Love my Queen! | Romantic Quotes of Love and Devotion