Goodbye Messages When You or a Colleague Leave the Company
Having good workplace relationships is an important part of your professional success, and it makes the daily work grind go down so much smoother. Working and collaborating with others so closely inevitably creates close and meaningful ties with your co-workers. They become your work family. After all, the typical worker will spend around one-third of their days at work with their professional peers and superiors.
Yet, life doesn't stand still for anyone. Sometimes, you have to move forward to new opportunities and leave the kinship of your work family. When it's time to move onward to a different job, saying goodbye can be hard. Here are some messages to convey your heartfelt goodbyes.
Table of Contents
You're Leaving: Serious Goodbye Messages For Coworkers On Your Last Day
 This is your last with your company before you retire or move on to a new job. Here are some warm messages to help you say your goodbyes to beloved coworkers:
It's been an honor being a member of this professional family. While I hate to go, I know that I leave it all in very capable hands.
Farewell to the best coworkers I could've ever asked to stand beside. Thank you all for making my work days bright and productive, which is a big part of my success in moving forward.
What a pleasure it's been to work with such a terrific group of coworkers. It's extremely difficult for me to leave you all, but I know you understand my decision to seize the opportunity before me.
Saying goodbye to you, my work family, is one of the hardest things I've done in my professional life. Please know that you've all taught me so much – from teamwork and communication to easiest way skills and patience… in that, a little piece of each of you will be coming along with me.
With a very heavy heart, I'd like to offer all my coworkers a parting message on my last day with our company. I appreciate all your well-wishes, congratulations, and words of encouragement, and I sincerely echo them right back to you.
I can't express the positive impact you all have had on my life in working with you daily. Whether a busy or dull day, you made coming to work not seem like a job at all, and I will forever cherish those moments.
You're Leaving: Humorous Goodbye Messages For Coworkers On Your Last Day
It's your last day, and you don't want it to get too heavy, serious, or sad. Leave your coworkers with a laugh-worthy goodbye message like one of these:
Have no fear about me going gently into any still night just because I'm leaving this fabulous rowdy crew. I plan to cause just as much ruckus at the new place, and, yes, I will send pictures.
Can you believe it's my last day, and I'm not even being escorted out of the building in a straitjacket? Not the exit we talked about, but I'm sure going to miss this crazy bunch.
The best present my coworkers gave me was not being like Christmas lights. We all hung around together stringing up some twinkling work, but, unlike Christmas lights, you were ALL bright and actually worked.
I wonder if I should reconsider my resignation? Now, I've got to find an entirely new set of coworkers to blame for everything; steal parking spaces from; conspire with; extort for who gets the coffee; and, if we have time, get some excellent work done with.
Thanks for all the emails and texts on how much you are all going to miss me and don't know what you'll do without me, and, to answer the ASAP questions you all had in the PS: 1) my current office measures 12x a lot of nerve 2) no, I will not be naming anyone as beneficiary for my awesome pen collection 3) yes, you can always call me anytime you can't get my old desk drawer to unlock.
If great coworkers make work seem like play, then this was most certainly the biggest, baddest trampoline park around.
Coworkers can be like the internet… 20 tabs open but half of them are frozen mid-spin when you need them the most. Thank you, my amazing coworkers, for not being like the internet.
I'm so happy that we never had to celebrate a single negative coworker day, such as national slap your annoying coworker day, make your lazy coworker chug the water cooler day, or any of the others, and many thanks that I never had to call in sick on those days. I can only hope my next group of coworkers are half as amazing as you all.
You're Leaving: Saying Bye To Your Boss On Your Last Day
Your boss has played an important role in helping you open this new chapter in your career. These messages can help you convey your parting thoughts:
My appreciation doesn't have words for all the professional skills you've helped me acquire, direct, and fine tune during my time with this great company. You are an asset to both it and me, and I can only hope that my next boss is half as invaluable.
It's been a pleasure working under your leadership. Thank you for demonstrating that the path to success is paved with hard work and stellar ethics.
As a boss who puts the action in verbs, you've inspired me to be the most productive and dedicated employee I can be here, and that's an attribute that's greatly contributed to my success. Know that I will miss your leadership, but I will carry on a better employee because of it.
I dedicate this final workday to you, my esteemed boss. Thank you for always taking the time to lead, not just direct, and show, not just tell.
It's not without much pondering that I've completed this final work day with you as my boss. I value all the lessons I've learned and skills I've acquired under your direction, and I know they will certainly serve me well in the future.
Bosses like you are the epitome of professionalism and are the measure of an organization's successes. Thank you for bringing your best to work everyday and for expecting nothing less of your employees.
As I open the next chapter of my professional life, I take with me a great appreciation for the team, especially you, my boss, that's helped me turn that previous page. It's been amazing, and I do hope that we get to write another chapter together in the future.
From friendship, unity, mentoring, to leadership, your employees would look long and hard for a better boss. Wishing you nothing but success as I say my goodbyes today.
A Coworker Is Leaving: Sending Them Off With Your Best
You're often equal parts sad to see them go and elated for their successes when a coworker decides to leave their job. Use these words of support to send them off with your best:
What a treasure you've been to work with at this company. Here's to an even bigger, brighter, and more successful future at your new job.
We hate to see you go, but we are so excited to see what your future holds at this new and exciting job. Good luck, and don't forget to send us updates!
It's time to spread the love. Your integrity and work ethic have been absolutely contagious here, inspiring us all to be the best we can be. So, we are confident that you'll excel just as well at your new job, even if we will miss you like crazy here.
It may sound lame, but our office just won't be the same without your flame. We will do our best to accept the rest, but don't be surprised if we detest who gets you next.
We bid farewell to a beloved work family member today as we wish you nothing short of the best in what you do next. Thank you for all you shared and devoted to our team.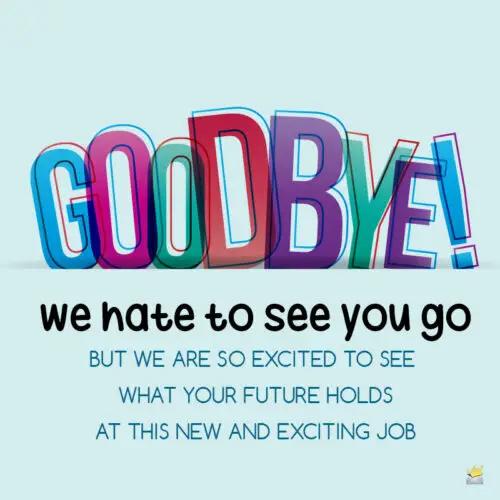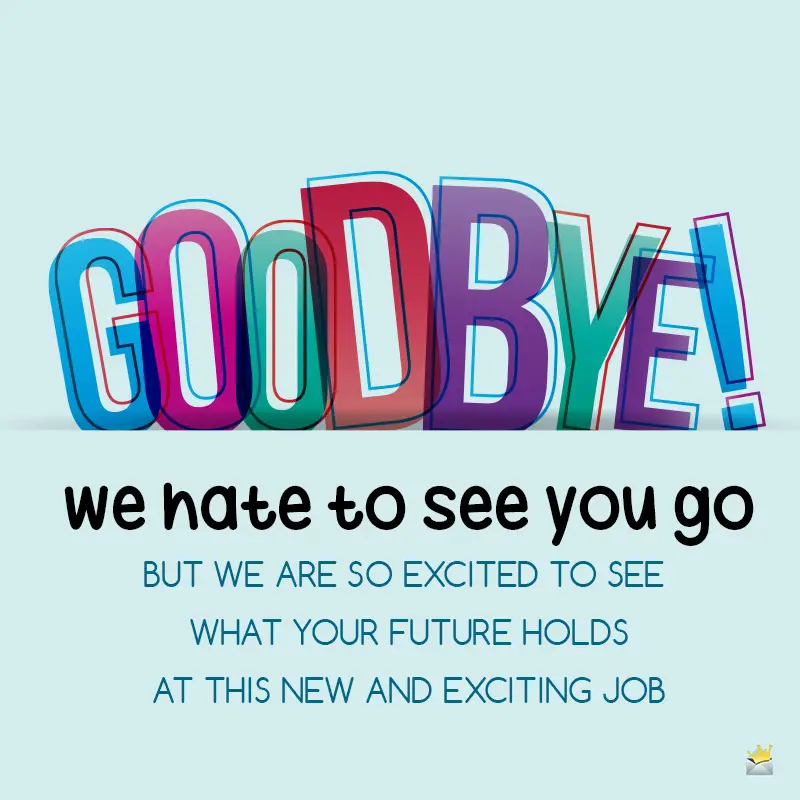 By being one of a kind, we are sure to never find another member that perfectly fits just like you have in our team. But, we want you to go forward in capturing your own professional dreams and in knowing we will always be cheering for your success.
Does your new employer realize what an asset they've gained today? Your enthusiasm, excellence, effort, and ethics have all contributed to our dream team, and we will miss your dearly, but we are all rooting for your happiness as you embark on this new path.
All good things must come to an end. For us, our time with you is over, but some lucky group's clock has just started to tick.
You may also like:
Retirement Wishes from the Heart
Good Luck in Your Future Endeavors | Wishes for New Businesses, Startups and Entrepreneurs
A Colleague's Special Day! | Birthday Wishes for a Coworker