Happy Trick-or-Treating | 40 Famous and Original Halloween Quotes
Halloween has crossed our paths once again, and we are here to make the occasion more meaningful by presenting both famous and original quotes pertaining to this haunted holiday.
So kick back, grab a bowl full of corn candy and enjoy!
Famous Halloween Quotes
Acting is like a Halloween mask that you put on. River Phoenix
I love the spirit of Halloween and the energy that comes with it. Katharine McPhee
Halloween is an opportunity to be really creative. Judy Gold
Halloween is not only about putting on a costume, but it's about finding the imagination and costume within ourselves. Elvis Duran
Some people are born for Halloween, and some are just counting the days until Christmas. Stephen Graham Jones
But I love Halloween, and I love that feeling: the cold air, the spooky dangers lurking around the corner. Evan Peters
I'm a really big fan of all things macabre in general; Halloween happens to be my favorite holiday. Dove Cameron
I love, love, love, Halloween. I love dressing up – I think it's rad! Lauren Cohan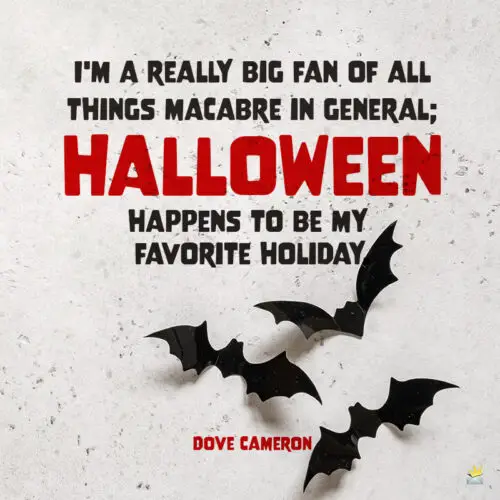 Halloween starts earlier and earlier, just like Christmas. Robert Englund
I love scary movies. I like blood and gore, and I love Halloween movies. Carrie Underwood
Seems like Americans just want it to be Halloween all year. The holiday just keeps getting more popular. Amity Shlaes
This Halloween, the most popular mask is the Arnold Schwarzenegger mask. And the best part? With a mouth full of candy you will sound just like him. Conan O'Brien
A grandmother pretends she doesn't know who you are on Halloween. Erma Bombeck
Halloween is my favorite holiday, and I always go all-out with my costumes. Ginnifer Goodwin
If ever there was a holiday that deserves to be commercialized, it's Halloween. We haven't taken it away from kids. We've just expanded it so that the kid in adults can enjoy it, too. Cassandra Peterson
All my life, I have been a celebrant of Halloween. For me, it is the most important day of the year, the turning point in the old pagan calendar. John Burnside
Halloween is bigger than Christmas in America. I've experienced it in New York, Los Angeles and Washington D.C., and if you're in the right neighborhood, every house is decorated with spooky ghosts, spider webs, and jack-o-lanterns. Rhys Darby
Halloween is one day of breaking out of your shell, one day you can be completely expressive, where the world gives you license to dress up. Chris March
I was kind of a dark kid. I loved Halloween, and I loved vampires and the black and white old monster movies. Joe Manganiello
I really love scary movies, so I'm all about Halloween. Normani Kordei
My house is basically like Halloween, 365 days a year, with my son. Alex Kurtzman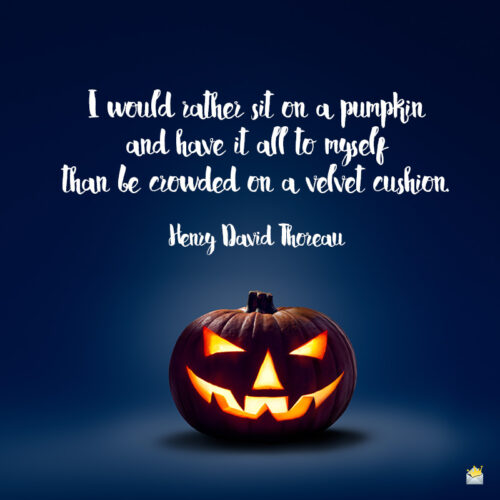 Funny Halloween Quotes
No trick or treaters came to my house for Halloween. For some reason, people around here are scared of me. Glenn Danzig
On Halloween, kids get to assume, for one night, the outward forms of their innermost dread, and they're also allowed to take candy from strangers – the scariest thing of all. Kate Christensen
This Halloween the most popular mask is the Arnold Schwarzenegger mask. And the best part? With a mouth full of candy you will sound just like him. Conan O'Brien
On Halloween, the parents sent their kids out looking like me. Rodney Dangerfield
There is nothing funny about Halloween. This sarcastic festival reflects, rather, an infernal demand for revenge by children on the adult world. Jean Baudrillard
I'll bet living in a nudist colony takes all the fun out of Halloween. Anonymous
I see my face in the mirror and go, "I'm a Halloween costume? That's what they think of me?" Drew Carey
I would rather sit on a pumpkin and have it all to myself than be crowded on a velvet cushion. Henry David Thoreau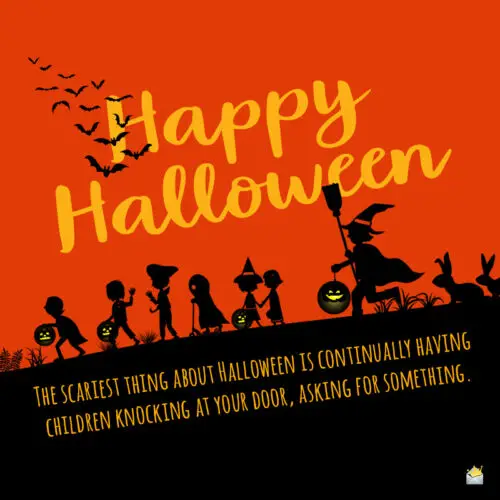 Happy Halloween Quotes
If everyone dresses like superheroes on Halloween, then how can you tell if a real one passes by? Happy Halloween!
There's nothing I love about Halloween more than watching some of my favorite entertainers dress up as idolized characters from childhood!
Second only to Christmas, Halloween is the holiday that brings the most smiles to children's faces!
If Halloween is a day dedicated to ghosts and spirits, then I think it's safe to say that their hands down favorite food is candy!
Halloween is a good day for the spirit but a bad day for the teeth. Happy Halloween!
Halloween is the only day of the year where everyone feels confident to let everyone else know what they actually fantasize about.
The scariest thing about Halloween is continually having children knocking at your door, asking for something. Happy Halloween!
There is no day of the year people are more reluctant to open their front doors than on Halloween, and it's not because they're afraid of monsters!
Halloween is one of those holidays like Christmas and Easter that is simply impossible to ignore.
Halloween features lots of cool candy and treats but unfortunately no type of special dinner. Halloween is like the desert to Thanksgiving!
You may also like:
92 Original and Appreciative Happy Thanksgiving Quotes for your Family
A Result or a Source of Joy? | 55 Smile Quotes
Grateful for my Buddies | 44 Happy Thanksgiving Quotes for Friends