You Rock! | Birthday One-Liners
Birthdays are an important and fun celebration for everyone on a yearly basis. It marks the anniversary of his or her birth and is a celebration that he or she is still alive and well. Especially as people get older, making light of an anniversary via birthday one-liners makes the age transition much easier for the birthday man or woman.
Making short birthday jokes can be challenging, but we have a solution for you so you can still crack a joke and not upset the person you know that will be celebrating an upcoming birthday. So go ahead and treat that birthday boy or girl to any of our well-written one liners below.

Table of Contents
30th Birthday One-Liners
Turning 30 is only the beginning of getting older because you are no longer in your 20s. Have no fear: the 30th birthday one-liners are here!
Turning 30 means you're just that much more sturdy…with everything!
We hope you didn't blink when you were 20 because now you're 30!
Miss 30 never looked so pretty! Strut your stuff and enjoy your day.
Mr. 30, you're not so nerdy! You're 30 years smart!
You're 30, so what now? Blow out your candles and moo like a cow!
30 is the new 20, so embrace being 20 for a second time!
Best wishes to the 30th birthday boy! Because it's great to to be a kid at heart!
No more 20s left? Live your 30s like you're in your 20s!
You definitely won't get carded at clubs now. Drop it like it's hot on your birthday!
You're 30, Mommy! Enjoy breakfast in bed, pretty yourself up, and go night on the town with the girls!
You're 30, Brother! Go fishing, play video games, or whatever you love to do!
40th Birthday One-Liners
Becoming 40 does not have to mean it's time for a mid-life crisis. Take some of the 40th birthday jitters away with some of these birthday one-liners.
Oh lordy, someone's 40! But you still got the moves, man (or girl)!
Best wishes on your big 40, you cute little shorty!
Enjoy your 40th birthday bash, you party animal! Party like you've never partied before.
Where did the years go Mr. (or Miss or Mrs.) 40? Enjoy your day to the fullest!
You've seen it all before turning 40 or so you thought! Your 40s will be fun and challenging with the many changes to come good and bad.
Hey, grumpy pants. Smile! It's your 40th birthday.
Here's a toast to your 40th! Just don't get a hangover.
The big 40 means you're a 4.0 GPA. Perfect age to be then!
Raise the bar on your 40th and be spontaneous today. You only live once!
Why did the 39 year old chicken not cross the road? Because he didn't want to be 40! You cannot be this chicken, but have a great 40th birthday!
50th Birthday One-Liners
The gray hair on your head may start growing, but we can lighten the mood for you with these funny birthday sayings!
50 is a thrifty age! Start saving for retirement and golden age vacations!
Happy 50th Birthday, Super(Grandma or Grandpa)!
Hey, gramps! You rock our world so have a great 50th birthday!
50 means you're that much more pretty (or handsome) in looks and wit.
Yee-haw, partner! You're 50 today. Saddle up for the golden years ahead!
Some tortoises can live to be 100 and you're halfway there. Live life, don't hide in your shell too much, and best wishes on your 50th!
Don't chicken out from rocking this 50th birthday hoe down.
Cracks in your joints are the least of your problems at 50. Life gets more fun from here enjoying your family and hobbies!
60th Birthday One-Liners
Retirement is not that far away, so relish in the victory of your young years well-lived with some of these witty birthday sayings!
60 is the new 30. Do you feel 30 yet?
Your golden years are here. Best wishes on your 60th birthday!
Don't worry about your wrinkles. Enjoy your 60th birthday!
While dying your gray hair and filing for retirement, don't forget to enjoy your cake on your big 60!
Did you ever think you'd wake up and be 60? Don't fret; join the club. We've all got grays!
60 is a roller coaster of emotions. Stay on the happy part of the roller coaster and embrace being 60.
Turn the 6 and the 0 around and you're "06" again! Happy 60th birthday to you!
60 is such a beauty! And you're making it look sexy.
Birthday One-Liners For Friends
As we celebrate you today, let's remember to also thank your parents for not using a condom on the day you were conceived.
Happy birthday, buddy. I love your mother for not aborting you.
In certain remote places in the world, you'd either be crucified or revered as a god for becoming this old.
Happy birthday! The way you are going, I have no doubt in my mind that you will live as long as the Rolling Stones' career.
Old age is the number one fear on planet earth. Death is number two.
Happy birthday to a wonderful friend who is so old his birth certificate has expired.
Another year older, another reason to be happy that your chances of dying young have been drastically reduced.
How do you expect me to remember your age when you keep changing it more than you change channels on the TV?
Being your friend makes me so happy because I'm guaranteed of at least a free cake every year.
Single Line Birthday Messages for your Brother
May your life be as long and graceful as Gandalf's beard.
I used to keep just a single fire extinguisher near your birthday cake, but now I keep a dozen extinguishers near it. Happy birthday.
Dang! You've eventually reached the age where it becomes necessary to conceal your age like a murder weapon.
OMG! You've finally been inducted into the Old Farts Hall of Fame.
If old age were a competition, you'd win easily because you are good at it.
Don't be sad that you have become older today, for old age is God's way of telling you He loves you.
If God blessed people according to their age, you, my dear brother, would be one heck of a blessed guy!
No doubt about it – you're old! Happy birthday!
Birthday One-Liners For your Sister
Dearest sis, today being your Big Day, I pray God will give you a VIP treatment.
You have no idea how blessed you are to be my sister. May God keep pouring such wonderful blessings on you.
Your real age is precious to me. And I am passionate about shielding it from the outside world.
It appears your youth is beginning to abandon you. What did you do to it?
Old age. The cross we all have to bear.
If you want a great place to hide your real age, the best place is on page 2 of Google since nobody ever bothers to look there.
Before you start blaming God for making you old, take a moment to count the numerous blessings He has bestowed on you.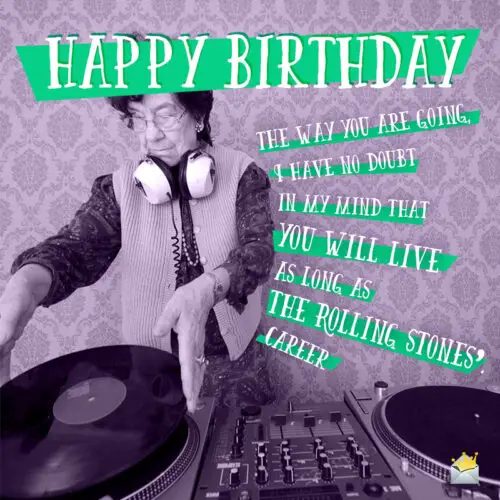 One-Line Birthday Wishes For Mom
Happy birthday! Now I am completely certain that you, my sweet mother, are a descendant of the great Methuselah.
Sweet Mom, the older and wrinklier you get, the more I love you.
May every brand new wrinkle on your face bring with it enormous blessings in your life.
Don't try counting the candles on your cake, for they are countless.
Mom, celebrate this great occasion of your life with the knowledge that I can't live without you just like mankind can't live without Facebook.
God uses our birthdays to enrich candle companies. And in your case, fire extinguisher manufacturers as well.
Mother, I'm 100% certain that you'd be richer than Oprah Winfrey had God increased your wealth in the same manner He is increasing your age.
Birthday One-Liners for Dad
Dad, now is the ripe time to start changing your age. I mean it.
Dearest Dad, can you please find it in yourself to drastically bring down the rate at which you age! I love you.
I look at you in great admiration – as though you were the one and only Superman. Happy birthday, Dad.
Don't let getting old bring you down; look at the brighter side of life. You still have some hair on your head.
Happy birthday. I love you more than Shaggy and Scooby-Doo love food.
I know at this point, you miss your youth more than Bruce Willis misses his hair, but take solace in the fact that you are still the father of the world's most awesome son/daughter – me!
You might have become an old fart, but you are still my beloved father. Happy birthday!
Happy is he who is bold enough to lie to the world about his actual age. Happy birthday!
Your age might be growing like a wild fire, but you are still the coolest dad on earth.
Birthday Love One-Liners
Babe, you mean more to me than my paycheck. And this is coming from someone who loves stacking paper.
Happy birthday, sweetheart! I will love you until the day God gets tired of holding the whole world in His hands and drops it.
Your birthday is the best time to tell you my love for you will never go on holidays because you do for me what even a billion dollars can't do.
Every single person in this world is born with an incurable addiction. Sweetheart, mine is you. Happy birthday.
Babe, on your birthday, it's important you know that my love for you is bigger than Kim Kardashian's famous bootylicious behind.
Today, I pray that God will let nobody kiss your lips unless that person is me. Happy birthday.
Celebrate this special day, knowing that I love you as much as Americans love flying the American flag everywhere.
Birthday One-Liners For your Ex
Happy birthday! Now is the perfect time to bury your birth certificate and start lying about how old you really are.
As you officially become an old woman/man today, you will encounter a lot of challenges, but I know you will surmount them with ease because you are one of the strongest persons I know. Happy birthday.
We might no longer be an item, but your real age is still safe with me. Happy birthday.
As you stare at your birthday cake, I hope you are able to resist the temptation of counting the candles illuminating it.
Since I still love you and care about you, today, I pray that your blessings will multiply like the candles on your cake.
On your birthday, I deem it necessary to let you know that I miss you as much as the Obamas miss living in the White House.
You may also like:
250 Funny Birthday Wishes that Will Make Them Smile
That Super Girl! | Birthday Wishes for your Female Friends
The Fastest Way to Their Heart | Funny Love Quotes