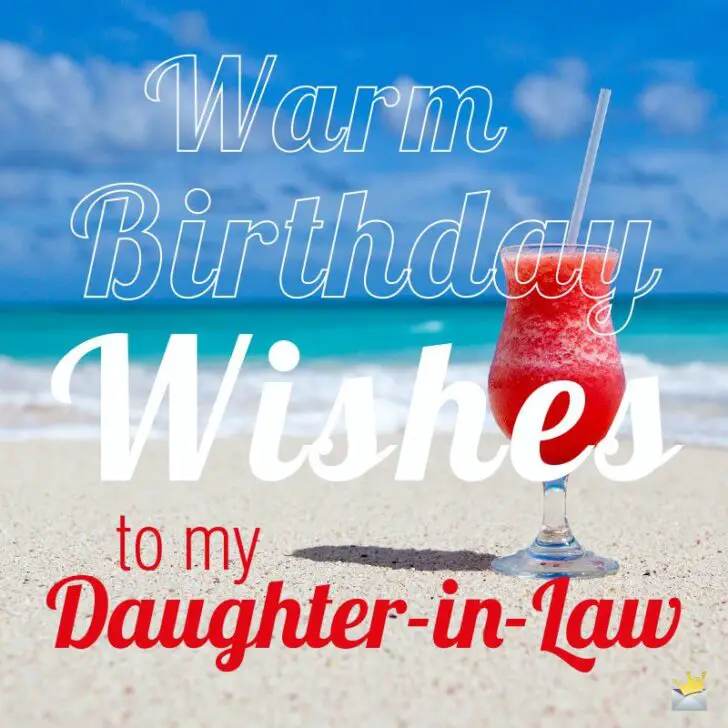 Looking for some sweet birthday wishes for your daughter-in-law's birthday celebration? You should consider looking no further because we've got tons of that right here for you!
Feel free to choose from our vast collection of original wishes to transform your beloved step daughter's birthday into a truly exciting experience that will linger on in her mind for a long time to come.

Funny Birthday Wishes for Your Daughter-in-law
Wishing a happy birthday to a daughter-in-law lucky enough to be blessed with the world's greatest mother/father-in-law.

Happy birthday, daughter-in-law. My birthday prayer for you is that you will never be friends with poverty.

Happy birthday, dearest daughter-in-law. I can't thank you enough for not being an evil daughter-in-law to me.
May poverty not wait until the end of the month to visit your enemies; may it visit them right after payday! Happy birthday!

Thank you for making my son somebody. He certainly would be nothing without you – just like a teenager would be nothing without his/her smartphone and social media account. Happy birthday!
Daughter-in-laws are supposed to be difficult and kinda witchy, but you are different. May God bless you abundantly for not being a witchy in-law. Happy birthday.

Happy birthday! Did you know that countless science-backed studies have proven that the number one cause of death on planet Earth is as a result of too many birthdays?!

As we celebrate your birthday today, dear daughter-in-law, my mind can't stop thinking about the rumors claiming you are so old the first car you ever owned was a covered wagon. I hope you can use this occasion to clarify that issue once and for all!
Sweet Birthday Wishes for Your Daughter-in-law
I wish you could see your amazing personality when you look into the mirror. You're the best! I can't put into words how blessed I feel to have you as a daughter-in-law. Have the most glorious of birthdays!

If I were the custodian of all the happiness in the world, I would give it all to you in a heartbeat because you truly deserve it. Happy birthday, sweet daughter-in-law!

You are not only my amazing daughter-in-law but also a true friend. What else could I ask for in life?! Happy birthday, my dear!

I really hope something amazing and beautiful happens to you on this special day of your life. Happy birthday!

There are billions of women in this world, but you are the only one who brings happiness to my son. For that, I say thank you. Happy birthday.

Loving and treasuring you is part and parcel of this family's DNA. Happy birthday.
May everything under the sun be good to you as you have been good to this family. Happy birthday, daughter-in-law.

Just like all the rivers on earth run into the sea, may all the happiness in the world run to your heart and make it a dwelling place forever. Happy birthday.

May your blessings, happiness and good fortune be multiplied today. Enjoy your Big Day, my dear.

Excellent daughter-in-laws are one of the rarest gems in the world to find. We are so blessed to have an excellent daughter-in-law in you. Happy birthday!
Happy birthday, daughter-in-law. Thank you for always staying on the same wavelength with me.

You're are the nicest and most beautiful daughter-in-law in the world. I often have to

pinch myself to realize that having a wonderful daughter-in-law like you isn't all a dream. This family is beyond blessed to have you in it. Happy birthday.

May blessing come down from heaven like rain and envelope you – today and until the end of time.

Dear, you're the best daughter-in-law a family could ever have. We are so glad and blessed that you are ours and ours only. Have a great anniversary!

Happy birthday to the genius who created a good husband out of our son! Sweetheart, may you forever reap happiness in all your endeavors. We love you.
Having a daughter-in-law like you is one of my greatest blessings in life. Have the happiest of birthday celebrations, dear daughter-in-law.

Wishing a remarkably happy birthday to a remarkably wonderful daughter-in-law. My dear, ever since you became part of this family, you have always made me the proudest father/mother-in-law alive. Thank you so much for that.

An amazing daughter-in-law like you is the reason our lives are so blissful. May this special day of your birth bless you with the priceless treasures of life. Happy birthday.
Inspirational Birthday Wishes for Your Daughter-in-law
You've climbed mountains and crossed streams to reach this acme. Yet, there's still more to do, and I exhort you to keep the fire burning. You can achieve all your cherished dreams, my dear. Happy birthday.

Your tenacity and willingness to pick up from where you failed will take you to incredible peaks in life. Just know that I believe in you, and pray for you each day. Good luck and have yourself a super duper happy anniversary!

Dearest daughter-in-law, as we commemorate your birthday today, I encourage you to view life's troubles as nothing but a refinement process that makes you finer and stronger over time. Keep going, my dear!

Start by doing what's small, then what's okay, and before you know it, you would have done what's amazingly unheard of. That's just how the school of life works. Happy birthday!

In this life, those who really want something are willing to go the extra mile to grab what they want. Here's to more vigor and mental toughness for attaining all the ambitious goals of yours. May your Big Day be as beautiful as you are!

My dear daughter-in-law, trying to be someone you are not is nothing short of an exercise in futility. Instead, being yourself, who's very special, will help to unleash your inner glory. Wishing you the very best on your Big Day!
My sweet daughter, what people think about you and your past mistakes is not as important as what lessons you've learned from them. Keep moving forward and be happy. I'm glad to have you in my life. Happy birthday!

True progress lies not in completely avoiding mistakes but in making mistakes and learning rather quickly from them. Stay learned and positive, beloved daughter-in-law. I hope you enjoy every moment of your Big Day!
---
You may also like:
Happy Birthday Wishes for your Sister-in-law
Did I Actually Miss your Special Day? | Belated Birthday Wishes
Birthday Wishes for your Brother-in-Law