Birthday Wishes and Poems for my Ex-Girlfriend
Indubitably, some ex-girlfriends, no matter how sour the relationship ended, deserve a message of goodwill on their birthday, at least for the awesome memories they left us.
In light of this, here are some nice wishes and poems that you can send to your old flame on her birthday. All the best with it!


Birthday Quotes for your Ex-Girlfriend
Today, may the air be filled with peace, joy, love, and happiness all for your sake. It's a special day for you, and I'm happy to share in it.

My dear, you occupy a very special place in my heart, and that is why even though I can no longer be there for you as a lover, I promise to be always there for you as your best friend. Happy anniversary.

Your pulchritude was surpassed only by your wit and amazing companionship. It's rather unfortunate we had to go our separate ways. Happy birthday, nonetheless!
We parted ways because we didn't meet eye to eye on certain issues. Notwithstanding, you were a woman of substance and great depth. Enjoy your birthday!

Seeing you thrive even after our separation is testament to how strong and phenomenal you are. I pray for blessings and bliss for you.

Not even the demise of our relationship can erase those beautiful memories we made together. Boy, was I so wrong to let you go. Enjoy today to its fullest.

I still can't get over the fact that the warm, loving, bubbly lady I knew is no longer with me. However, I take consolation in the fact that the decision to split was in our best interests.

You were an amazing teacher who helped me to manage my excesses and harness my strengths. Long may you continue to teach. Enjoy this blessed day to the max!
My dear ex-girlfriend, I regret letting you go. If I could reverse time, I'd start all over with you and treat you like the queen that you really are.

We may have plans of our own but God's plans for us always prevail. In retrospect, our relationship was not preordained. But, today, I want to thank you for the ride, and wish you a happy birthday!

We may be separated, but I still have a part of you in my life that I'll forever cherish. And that's something I will never let go. Wishing you the happiest of birthdays!

If someone told me we would separate I wouldn't have believed them because the love we shared was truly special. I'm so sorry that I messed everything up.

I might have lacked the courage and will to make our relationship work, but I'll do everything I can to make our friendship last until the end of time. Enjoy your day to the max!

I pray that this year will be one of progress, transformation, cheer, and self-reflection because you gave me all of those and made me a better man.
A day never passes when I don't reminisce our late night chats and cuddle sessions. I miss you. Enjoy your day.

You left a void that I struggle to fill to this day. I still love you, and hope that you'll find a partner who will treat you way better than I did. Have a blast!

My dear, you were my first love, who stood by me through thick and thin. I don't think I would ever find someone as special as you to fill the void in my soul.

Since you left, I spend every moment of my life finding it hard to believe how foolish I was to let a blessing as marvelous as you walk right out of my life. You were my greatest blessing from above. Happy anniversary.

My dear, our romantic relationship might have died, but our friendship will last forever.

Birthday Poems for your Ex-Girlfriend
You were an amazing friend and lover
Your loving heart made me the happiest man alive
Yet I never took a moment to appreciate you
I thought your love was something I didn't need to survive
How wrong I was
Your love was indeed a priceless blessing to me


Happy birthday, my dear
Woman, you are all things good and wonderful
You are all things beautiful and joyful
You brought happiness into my life
Yet I could never make you my wife
I don't blame you for leaving me behind
I was so foolish and blind
Never again will I take true love for granted


Happy birthday to you
Ships are prepared for battle
Trinkets are given to the little
Treatments are given to the feeble
But love, and only true love, is given to the wonderful
A truly wonderful woman you are


Happy anniversary to you
You were a comforter in my times of sorrow
With you, I always felt optimistic about tomorrow
I was a sweet companion to you in times of loneliness
With me, there was no room in your heart for sadness
You were a bastion of hope to me in times of despair
I was a rock of inspiration to you in times of hopelessness
Together, we were indeed a phenomenal pair


Happy birthday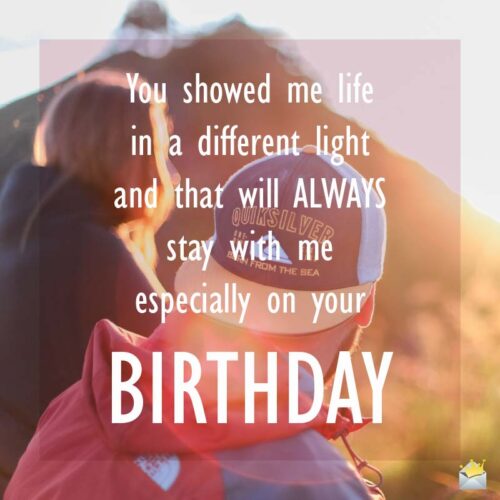 Great is her aura
The sun bows to it
The moon gives way to its might
The waters calm at its presence
And the beasts of the field are tamed by its unifying factor
Many are the men who yearn to taste of it
But only the truly blessed get to experience it
Oh how foolish I was to abandon it, for it was my very source of happiness


Happy birthday to you
Her name is woman
She complements and makes whole a man
From her comes man yet she comes from man
Her words are sweeter than honey, and her counsel, better than wine
Her pulchritude can launch two thousand ships
While her tongue can destroy ten thousand more
She gives womanhood and motherhood meaning
And makes life worthwhile


Happy birthday
For my happiness, you spent your last cent
Yet I turned into a serpent
And caused you to cry
If you take me in again, I promise I will repent
And make your tears dry
I promise I will treat you right
And let you stay in my heart without paying any rent
I will cling to you with all my might
If you give me one more chance


Happy anniversary
You may also like:
250 Funny Birthday Wishes that Will Make Them All Smile
Happy Birthday! | 150 Original Messages for Friends and Loved Ones