99 Funny Ways to Say Good Morning
Waking up that someone special in your life with some light-hearted good wishes is a perfect way to let them know that you care. Sometimes those kind and whimsical words can be the very thing that turns a tedious morning into a wonderful and productive day. Everyone knows how important it is to have a little humor in your life. Frankly, we should all strive not to take life too seriously.
The morning is an ideal time for reaching out to those that we love and give them a friendly reminder that we're rooting for them. We guarantee that your loving and playful words will most certainly be appreciated.

Table of Contents
Funny Good Morning Texts for her
Brighten her day with some whimsical words to help her start off the morning right.
Wake up, Sunshine! It's the start of a whole new day! The sun is shining and the birds are singing and, oh wait, that's just the kids screaming for breakfast? Uh, I guess you should get up. Have a great day!
Before we were married, I used to dream about waking up next to you. Now that we are married, I wake up next to you dreaming. Here's to you having the best day ever.
Good morning, my love! You are never as beautiful to me as you are in the morning. I think that's because you haven't read any news yet. Hugs to you and have a great day!
Shh. If you tip toe, mornings can be the most peaceful and personal time of the day. The moment everyone wakes up, all is lost. So shh, enjoy it as long as you can!
Rise and shine, Honey! After you make the bed, clean the house, cook all the meals, fix the TV, power wash the siding and rotate the tires, make sure to have a great day!
There's nothing more magical than waking up under the stars. Unless you've never been camping. Like ever. Hmm. Better figure out what happened and then you can have a nice morning.
When I told you to dream big, I didn't mean for you to sleep all day! Wake up and have a fantastic day!
Remember when we used to get up and jog five miles before dawn? I don't either. Hope you have a great start to your day.
Wake up! Wake up! I wanted to be the very first person to wish a happy birthday!! Oh, wait. It's not your birthday? I guess you can go back to sleep. Hope you have a, uh, nice day anyway.
Funny Good Morning Texts for him
Make the start of his day special with some fun words from someone who cares.
There's nothing better than waking up next to someone who is so warm and affectionate. After the dog leaves, though, we finally get the bed to ourselves. Have a wonderful morning!
I'm looking into my crystal ball and thought I'd start your morning off with a prediction — you will never regret showering your beloved with gifts, praise and love. Just a thought! Have a wonderful day!
Good morning! You've got the whole day ahead of you and the possibilities are endless, like natural numbers, infinite space and your laundry. Have a super good day.
When you wake up in the morning, the good news is you have your whole day ahead of you. The bad news is also that you have the whole day ahead of you. Have a positive attitude and a great day!
Remember this sage advice — any day you wake up is automatically not the worst day of your life. With that in mind, hope you have the best day ever!
They say the early bird gets the worm but no one ever specified that "the worm" meant having to shovel the driveway. Hope you have a nearly perfect, snowy day.
While I love those before-you-shave morning kisses, they are a teeny bit rough. I'm saving a ton on exfoliants, though, so there is that. Hope your day goes as smoothly as my cheeks feel.
Mornings wouldn't be such a struggle if they were in the afternoon. Hope you have a (yawn) wonderful day!
Good morning! You won't have to worry about a thing today, I've got everything under control. Oh, that worries you even more? You may be on to something. We can have a great day together.
Funny Good morning wishes for every working day of the week
No matter what day of the week it is, your warm words and wishes will be a welcome surprise to someone in your life.
Good Morning, Monday!
Happy Monday! It's a fresh start to the week. Pledge to yourself that you'll be on top of everything, and they'll be no procrastinating this week. Or you could just wait and do that next Monday. Have a great week!
Good morning! It's Monday. Thank goodness no one expects you to change the world on a Monday. You have all week for that!
Good Morning,Tuesday!
It's Tuesday! That means you don't have to worry about it being Monday again for the next six days! Hope you have a great day!
The best and most wonderful thing about Tuesday morning is that it's not Monday morning. Hope you have the best morning, no matter what day it is.
Good Morning, Wednesday!
Good morning! Relax, Baby, It's Wednesday. You know what that means? You still have three whole days to pick out what you're going to wear Saturday night!
Just because Wednesday's child is full of woe doesn't mean you have to be! Hope you have a fantastic mid-week morning.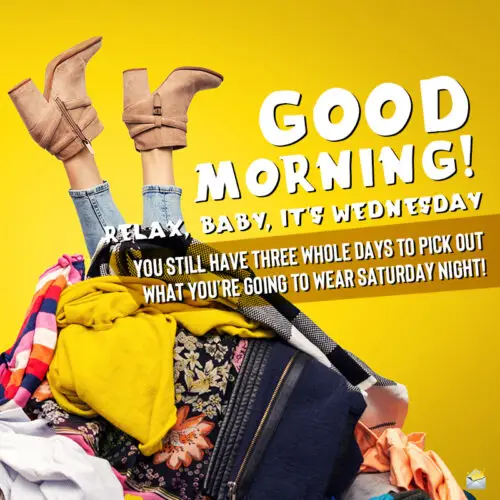 Good Morning, Thursday!
It's Thursday! You have just enough time to modify those goals you made on Monday so that everything will be nicely wrapped up by the weekend! Hope you have a great day!
Waking up on Thursday is like being in the home stretch of the week. You're almost at the weekend, Baby! You've got this! Hope you have an ultimate morning.
Good Morning, Friday!
If you never put off tomorrow what you can do today, then what would the end of the week be for? Hope you have a wonderful Friday morning!
As far as I'm concerned, the weekend starts as soon as that alarm clock goes off on Friday. If only my boss felt the same way. Hope you have a great day!
You May Also Like:
220 Good Morning Quotes to Make Them Shine Bright
The Best Good Morning Images to Inspire a Better Day
Carpe Diem! | 180+ Motivational Good Morning Quotes
Blessed by the Sunrise | Inspirational Good Morning Messages
A New Day Dawning | Good Morning, My Love!